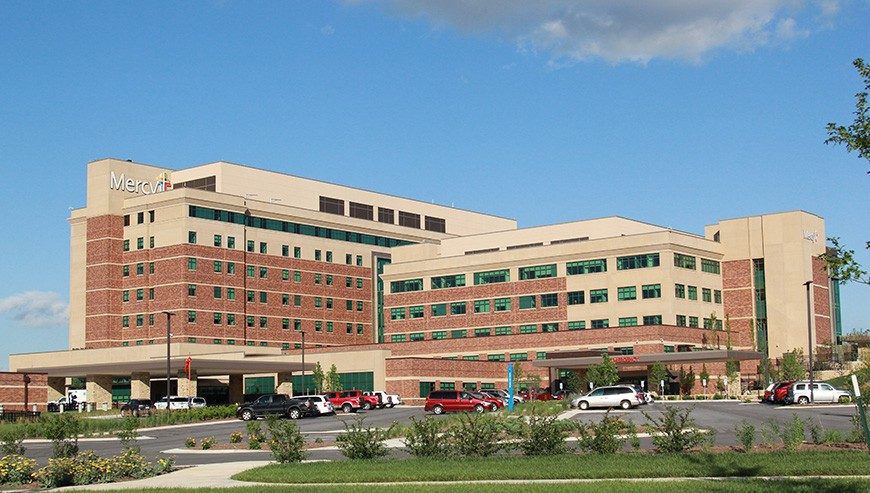 Mercy Hospital Joplin has been a healing presence in the Joplin region for more than 125 years.
Behavioral Health
Convenient Care
Ear, Nose and Throat/Allergy Services
Family and Internal Medicine
Gastroenterology
Home Health and Hospice
Nephrology
Palliative Care
Pediatric Surgery
Rheumatology
Wound Care and Hyperbaric Medicine
Recognized by the American College of Cardiology in the 2021 U.S. News & World Report "Best Hospitals" issue for commitment to hospital care for heart patients.
Named the only Top General Hospital in Missouri and one of only 45 Top General Hospitals nationwide by The Leapfrog Group. 
Awarded highest possible grade seven consecutive times since 2015 by The Leapfrog Group. Scores released twice a year. 
Named 100 Top Hospital five times by Thomson Reuters
1896: Sisters of Mercy establish hospital in Joplin
1968: St. John's Regional Medical Center opens at 2727 McClelland Blvd.
1996: Catholic Health Initiatives becomes St. John's sponsoring organization
2009: Rejoins Sisters of Mercy
May 22, 2011: EF5 tornado destroys hospital
May 28, 2011: Mercy opens 60-bed temporary tent hospital to serve the needs of Joplin
August 2011: Modular hospital opens, replacing field hospital
2012: Mercy opens pre-cast concrete hospital with full-scale emergency department and birthing facilities that is 30 percent stronger than former hospital
2015: 900,000-square-foot, $435 million Mercy Hospital Joplin opens to serve Joplin's growing needs (four times the size of the 2012 facility) and featuring unprecedented "storm hardened" safety features
2018: Mercy opens 8th floor of hospital for inpatient behavioral health services. 
$60 million data center provides fail-safe protection and power. When an EF5 tornado struck Mercy's Joplin facility in 2011, patient records electronically backed up at offsite data center were immediately available.
MyMercy, a free service, allows patients to connect online with their doctors, plus see medical information, view test results, renew prescriptions and schedule appointments using a personal computer or smartphone.
New in 2017 is Mercy Bedside, patients can use a tablet to access vital signs and lab results, learn about their care or condition, access health education, view daily schedules and get to know their care team.
With vICU, Mercy monitors hospital beds. More than 40 board-certified, critical-care physicians and 60 critical-care nurses help monitor remote patients, reducing length of stay, mortality, ventilator-associated pneumonia and central blood line infections.
Smart pumps reduce medication errors through programmable dosing equipment.
Pharmacy robotics provides patient medication dispensing system aided through the use of a department robot.
Surgical robot that assists in complex surgical procedures, including OB-GYN services. 
135,887 visits
---
Outpatient
$1.8 million
---
Traditional Charity Care
$324,000
---
Unreimbursed Medicaid
33,510 visits
---
Emergency Room
88 Locations
---
Clinic and Outpatient
5,252 Surgeries
---
Inpatient & Outpatient
2,109 Co-workers
---
Hospital Based
76 Physicians
---
Mercy Clinic
10,741 Discharges
---
Acute Inpatient
1,238 Births
---
Maternity Services
Mercy
, one of the 20 largest U.S. health systems and named the top large system in the U.S. for excellent patient experience by NRC Health, serves millions annually with nationally recognized quality care and one of the nation's largest Accountable Care Organizations. Mercy 
is a highly integrated, multi-state health care system including
 more than 40 acute care, managed and specialty (heart, children's, orthopedic and rehab) hospitals, 
convenient and urgent care locations, imaging centers and pharmacies. Mercy has 
900 physician practices and outpatient facilities, more than
4,000
physicians and advanced practitioners and more than 40,000 
co-workers serving patients and families across 
Arkansas, Kansas, Missouri and Oklahoma. Mercy also has clinics, outpatient services and outreach ministries in Arkansas, Louisiana, Mississippi and Texas.
Jordan Larimore
Carthage, Columbus, Joplin