Patient Care Technician Natasha Benton was nominated for a Tulip Award at Mercy Jefferson by a patient family member for her "Momma" approach to care for a patient she worked with on two separate visits.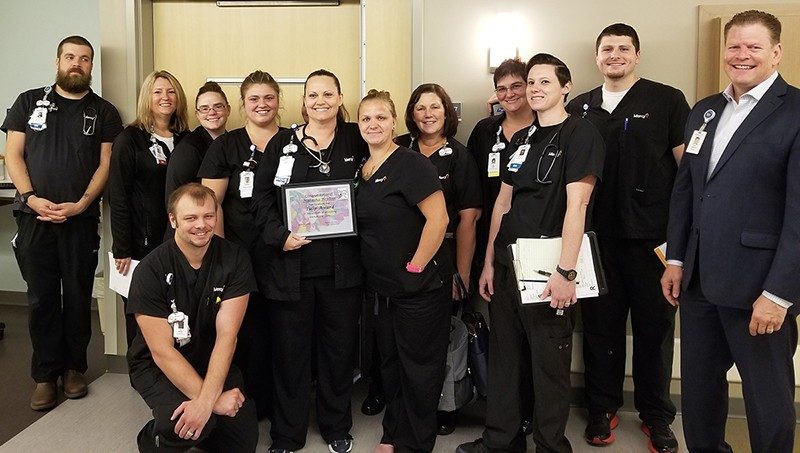 The Medical and Surgical team on the First Floor of the new Mercy Jefferson Medical Tower B celebrated Natasha's Tulip Award with her.
"Natasha made my husband Kenny feel more like a person than just another number or patient," the nomination said. "She was encouraging and compassionate not only this time (April 2018) when he was hospitalized, but also back in September of 2017."
"She explained to him, although she understood his pain, she still was a 'momma' at heart and wanted him to get up, moving around, and walking because she refused to let him get worse by possibly getting pneumonia by lying in bed."
"Once up, he said 'thank you' to her because she was right. He felt better the more he got up. She checked on him and me often, offering anything to keep us more comfortable."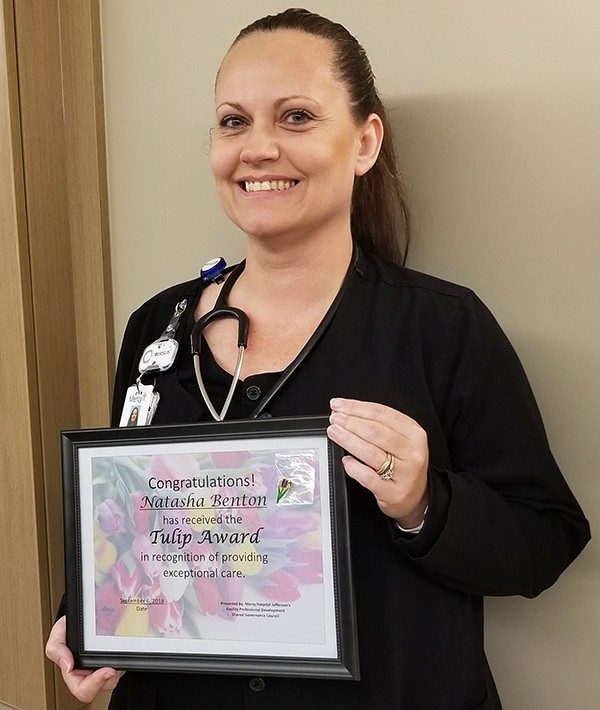 Natahsa was recognized for her caring and compassion.
Natasha received a framed certificate, flowers, a tulip pin to wear on her badge, and custom, tulip-shaped cookies to share with co-workers in her department.
Presented by the Professional Development Shared Governance Council, the Tulip Award recognizes techs and assistants as nominated by patients, visitors and co-workers. The council received 68 Tulip nominations for the quarter. Each nominee receives a certificate acknowledging their recognition. 
You can help to continue to recognize our outstanding PCA/PCT/PSAs by nominating them for an award.