May 2, 2019
Mercy Hospital Jefferson nurses are frequently recognized for going "above and beyond" the call of duty, but the situations described in two separate DAISY Award nominations for Mercy Wound Care nurse Chandra Stueve, RN, may have pushed expectations even higher.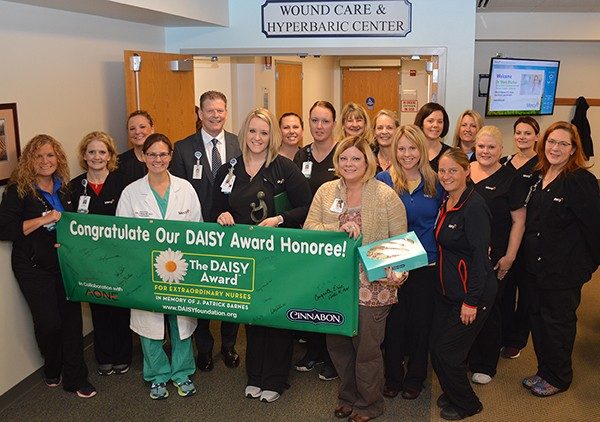 The Mercy Wound Care and Hyperbaric team surrounds DAISY Award winner Chandra Stueve at the presentation this week.
Molly Gollihue, RN, was caring for a patient whose health was declining, so she called on Chandra for assistance, and they called a Rapid Response alert to bring more medical help to the patient's bedside.
"Knowing she was by my side kept me calm in the situation," Molly wrote on the nomination form. During the bustle of activity, the patient had a bowel movement and soiled everything around, including his nurse. "Chandra cleaned me up, got me new scrub pants and cleaned up the mess all over the floor, and she scrubbed my shoes for me!"
"She's amazing," Molly concluded. "This entire situation would not have run as smoothly as it did if Chandra wasn't there."
Nurse Marcia Carr, RN, nominated Chandra for the extra steps she took for a patient who survived a cardiac arrest while he was in the hospital for care.
"This patient did not die, but in fact did very well," Marcia said. "He expressed interest in thanking all who helped to save his life."
Chandra organized finding a T-shirt on the Internet and circulated the T-shirt around the hospital to get signatures of all of those who cared for the patient during his hospital stay.
"She actually bought two shirts, one for the patient to save and one for him to wear," Marcia said. "I think she is a prime example of going above and beyond. Her patients love her."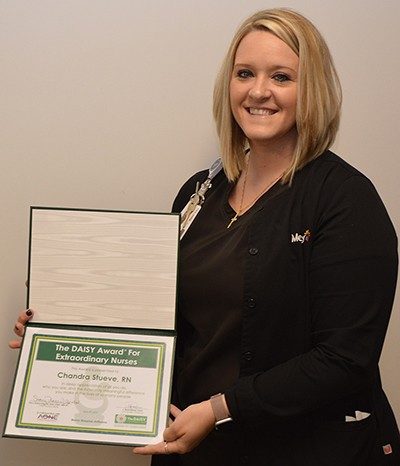 Chandra Stueve, RN, was selected from nearly 100 nominations for the quarterly DAISY Awards at Mercy Jefferson.
Mercy Jefferson presents the DAISY Award quarterly and received 98 nominations for nurses from patients, visitors, and co-workers from January through March this year.
DAISY is an acronym for Diseases Attacking the Immune System. The family of Patrick Barnes established the Daisy Foundation in 1999 to express gratitude to nurses for the work they do for patients and their families every day. The award is presented in more than 1,900 healthcare facilities in all 50 states and 15 countries.
During the recognition ceremony, Chandra received an official DAISY pin, a certificate, and a hand-carved stone sculpture entitled "A Healer's Touch." Additionally, the national award calls for a celebration for all co-workers in the unit with Cinnabon cinnamon rolls – a favorite of Patrick's during his illness.
"The Barnes family asks that whenever and where ever nurses smell that wonderful cinnamon aroma, they stop for a moment to think about how special they are."
For more information visit www.daisyfoundation.org.
Media Contact
Bethany Pope
St. Louis, St. Charles, St. Louis - South, Troy, Festus