July 26, 2019
ST. LOUIS - Dr. Dan Jackson, a high-risk OB, recently joined Mercy Clinic Maternal and Fetal Medicine and brings a winning spirit to patients at Mercy Hospital St. Louis. With a love for the Cardinals, Dr. Jackson met his wife while watching a game in college. The team also won the World Series the year the couple got married and had their first child. 
When did you know you wanted to be a doctor?
I started college with the plan to teach high school or college history and Latin. However,  thanks to some amazing faculty (Drs. Jeff and Kath Mayne, Mike Amspoker and Doug Fickness), I fell in love with biology and physiology taking the required courses for my Liberal Arts Degree at Westminster College in Fulton, Missouri.
I wasn't sure if I wanted to go to medical school or teach science. When I had the opportunity to shadow some family physicians about half way through undergrad, I decided on a career in medicine.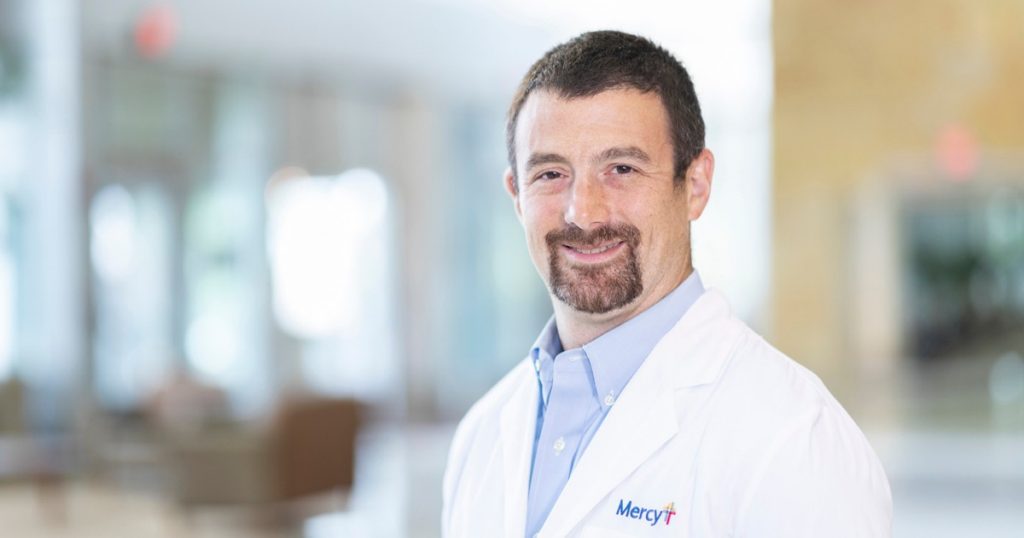 Dr. Dan Jackson joined Mercy Clinic Maternal and Fetal Medicine.
What drew you to your specialty? 
After I got to deliver a few babies during my third year of medical school, I decided to do a residency in Obstetrics and Gynecology. In OB, doctors have the priviledge and blessing to participate in the most meaningful and significant moments in a woman's life. Once I appreciated how amazing that is, I never really considered any other field. I chose to specialize in Maternal Fetal Medicine (MFM) for many of the same reasons.
In MFM, we specialize in high risk, or 'non-routine' pregnancy. In as little as a few hours or as long as 30-40 weeks of care, we are able to have tremendous impact and sometimes save two lives at the same time. I still help families deliver their babies and from time to time it's a baby they didn't think would make it.
My 3 year old tells his friends that, "Dad goes to work to help mommies and babies," which is the best way to put it. I find my career incredibly rewarding and fulfilling and I'm blessed to be able to participate in the care of my patients.
What made you want to join Mercy?
My wife grew up in St. Louis and most of our family and friends are here. Moving here offered us the chance to raise our kids surrounded by family and friends in a wonderful city - we just could not pass that up. Mercy is a mission based organization that provides me with the opportunity to do what I love - care for patients and also teach the next generation of physicians through Mercy's outstanding OB/GYN residency program. 
Media Contacts
Bethany Pope
St. Louis, St. Charles, St. Louis - South, Troy, Festus