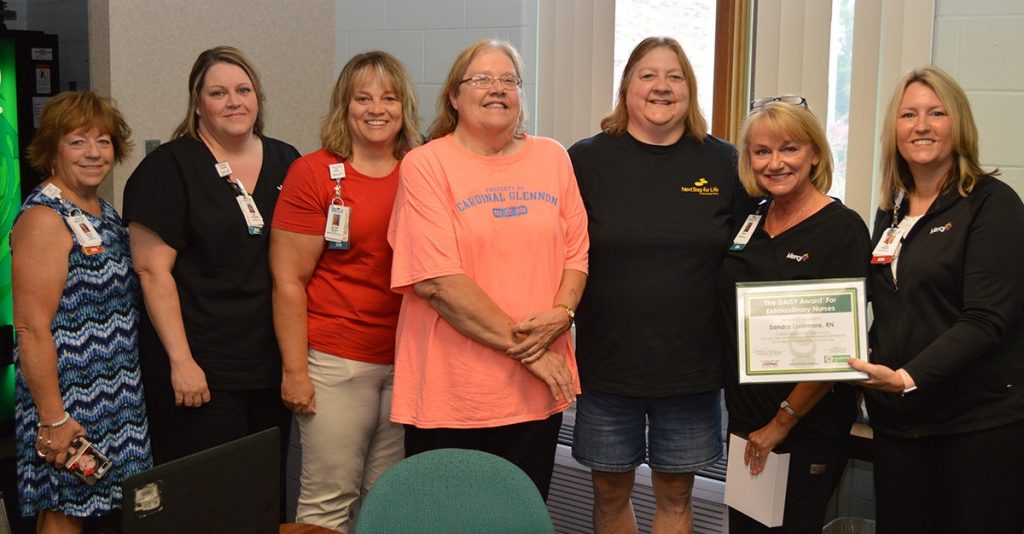 Sisters Sharon Anderson and Karen Rieger attended a staff meeting at Mercy Home Health Jefferson for the presentation of a DAISY award to nurse Sandra Laramore. Pictured, from left, are Monica Rozier, Lisa Lucas-Dean, Jennifer Wisdom, Anderson, Rieger, Laramore, and Lisa Michael.
"Sandy saved my sister's life!" Karen Rieger repeated the line twice for emphasis and in admiration as she read the letter she sent nominating Sandra Laramore, RN, for a DAISY Award at Mercy Hospital Jefferson.
Sandy is a nurse for the Mercy Home Health - Jefferson. Karen and her sister Sharon Anderson attended a Home Health and Hospice staff meeting August 8 when the award was presented. Rieger read her nomination letter to the group.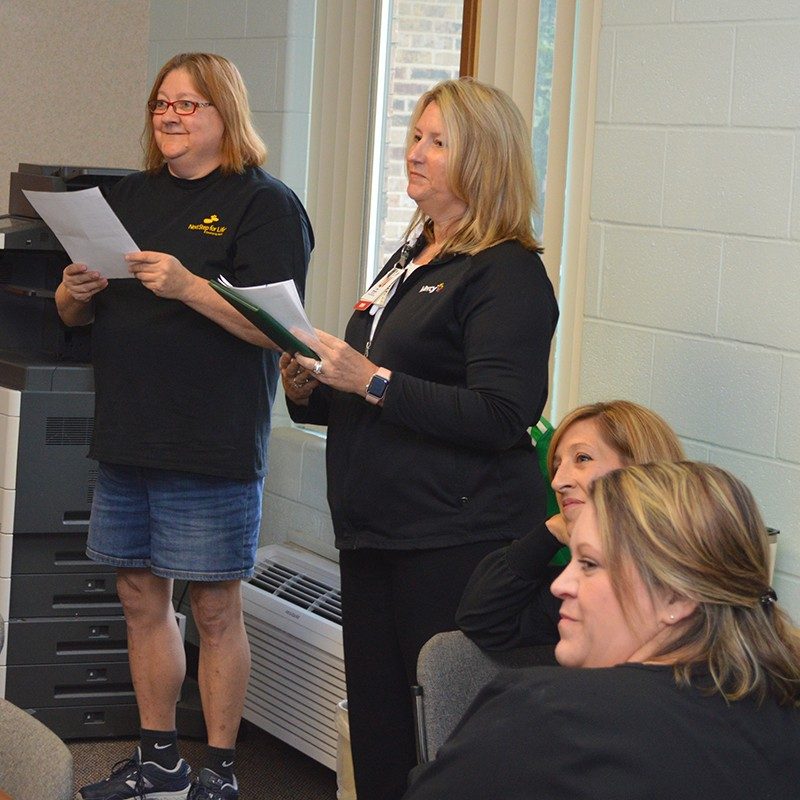 Karen Rieger, left, reads the nomination letter she wrote to thank Sandy Laramore, RN, for her life-saving intervention.
"My sister had been recovering from a serious fall. She had a broken arm and a partial hip replacement, both on the left side. She had been suffering from the stomach flu that morning."
"Sandy called and said that Sharon's name had popped up after a cancellation that she had. I warned her that we were suffering from the stomach flu, but Sandy said it was OK, and she would come to visit Sharon."
"Sandy came to visit and then called me into the room. She explained that Sharon's oxygen level was 89. She also said that Sharon's heart rate was high at rest. She thought Sharon might have blood clots. She asked me to take her to the ER as soon as possible."
"We drove directly to the ER at Mercy Jefferson. Sharon had multiple blood clots in her lungs and her left leg. Sandy saved my sister's life. SANDY SAVED MY SISTER'S LIFE! There is no way I can thank her enough for what she has done for my family. I have my sister because of Sandy."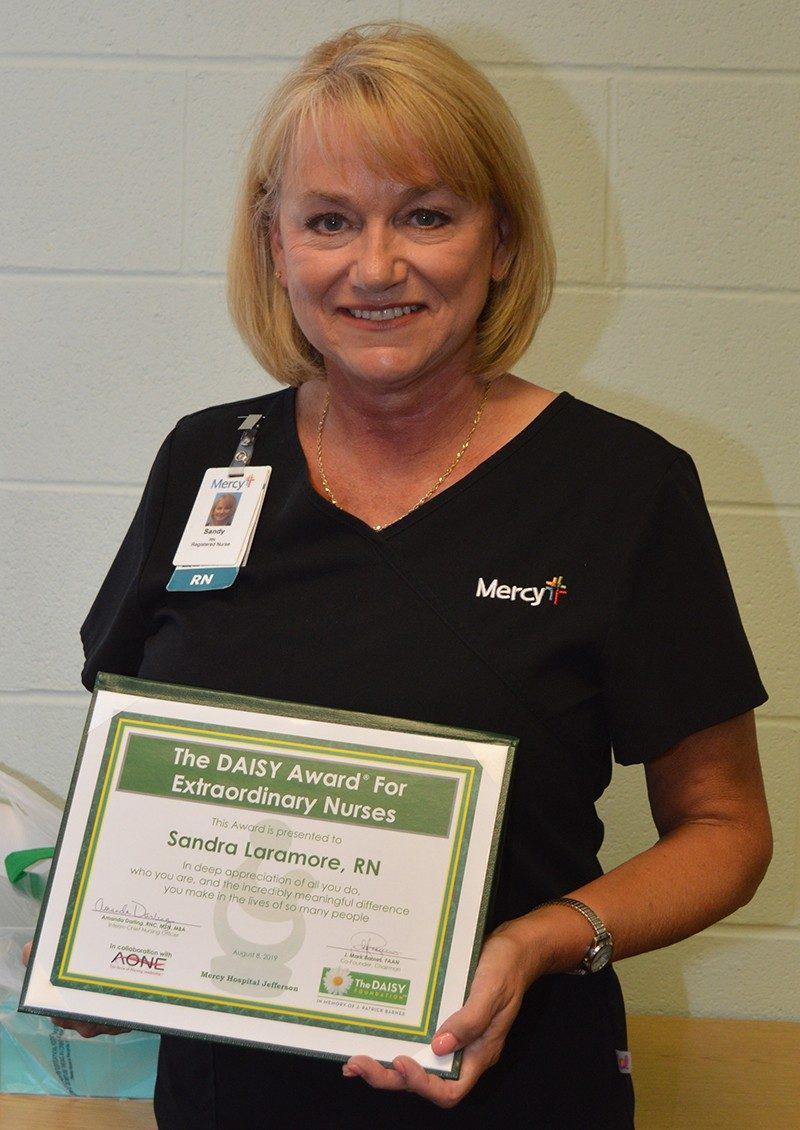 Mercy Home Health Jefferson nurse Sandy Laramore, received the DAISY award.
Mercy Jefferson presents the DAISY Award quarterly and received 110 nominations for nurses from patients, visitors, and co-workers from April through June this year.
DAISY is an acronym for Diseases Attacking the Immune System. The family of Patrick Barnes established the Daisy Foundation in 1999 to express gratitude to nurses for the work they do for patients and their families every day. The award is presented in more than 1,900 healthcare facilities in all 50 states and 15 countries.
During the recognition ceremony, Sandy received an official DAISY pin, a certificate, and a hand-carved stone sculpture entitled "A Healer's Touch." Additionally, the national award calls for a celebration for all co-workers in the unit with cinnamon rolls – a favorite of Patrick's during his illness.
"The Barnes family asks that whenever and where ever nurses smell that wonderful cinnamon aroma, they stop for a moment to think about how special they are."
Click here for more information on the DAISY Award.