November 18, 2019
ST. LOUIS - Mercy Sports Medicine is introducing sports performance training to strengthen its already comprehensive program. The clinical performance model is now open in a new, 4,300 square foot, state of the art facility within the Centene Community Ice Center – the training center for the Stanley Cup Champion St. Louis Blues. 
For six years, Mercy Sports Medicine has cared for patients and athletes from injury to return to play. With the new sports performance training, in partnership with EXOS, Mercy provides both outpatient sports medicine rehabilitation and sports performance services to athletes of all ages and levels.
After carefully vetting many possible partners, EXOS, a world leader in human performance training, stood out as the best fit. EXOS has partnered with many health systems throughout the United States to establish similar programs. EXOS has 400 sites in 30 countries throughout the world.
Mercy Sports Performance powered by EXOS will offer performance training, nutrition services and other sport medicine services allowing athletes, active adults, youths and teams to reach their peak performance. The space will contain brand new training equipment and 45 yards of turf. 
Each program begins with an individualized assessment, where experts listen, understand the athlete's goals and tailor a program to best suit individual needs. All programs incorporate the training and nutrition methodology of EXOS specialists, along with the rehabilitation and sports medicine expertise of Mercy.
There is also an equal size space dedicated for Mercy Sports Medicine rehab services where athletes can be treated in collaboration with the performance teams providing a bridge from treatment to performance.
What's the difference?
Sports Medicine. When an athlete is evaluated by a Mercy athletic trainer, care is coordinated by a Mercy physician who determines next steps of either a conservative approach to include physical therapy services or possibly the need for surgery. As the patient completes his/her rehab, they are eventually cleared to return to activity. All of these points leading to a return to activity are managed by Mercy Sports Medicine's care team. However, sometimes the patient is not ready to return to full activity and must work up to a previous performance level. This is when it's important to have an integrated sports performance program accessible to assist the patient with his/her return to full activity, to at least the level prior to injury.
Performance Training. EXOS is bringing its expertise to help athletes achieve their performance goals or help those who have been injured and rehabilitated return to high-performing activity. Whether the goal is to earn a spot on the varsity team, continue playing a sport in college, achieve a personal record as an endurance athlete or return to a sport after an injury without endangering progress made during rehabilitation, Mercy Sports Performance, powered by EXOS, will lead the way.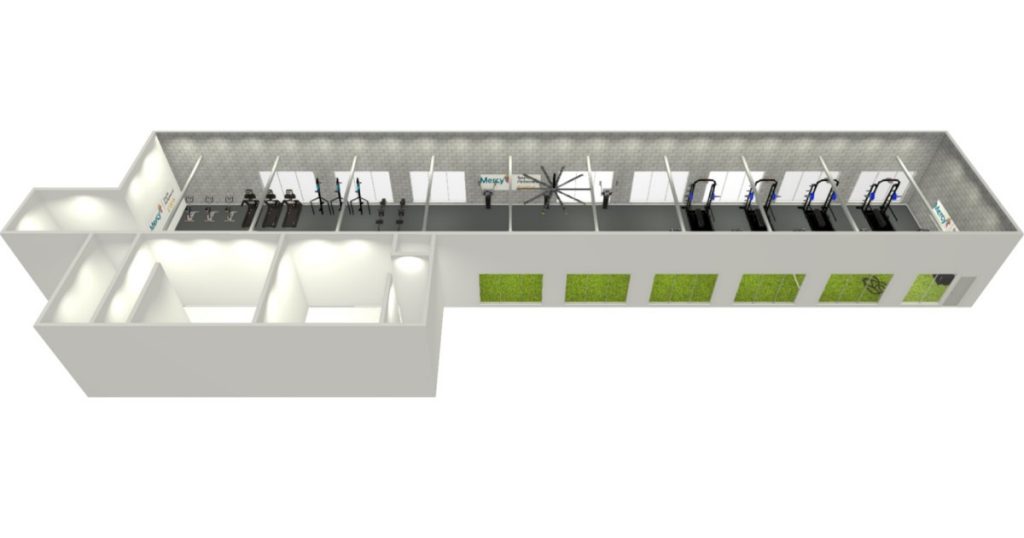 An overview of the Mercy Sports Performance powered by EXOS inside the Centene Community Ice Center in Maryland Heights.
What to Expect
Performance Evaluations for Personal Programs
Every athlete and individual receives a baseline performance evaluation to identify weaknesses and limiting factors in their athletic performance specific to their sport and goals. This also allows us to track progress throughout your program. A few examples of our evaluative tests include: functional movement screens, 40-yard dash, vertical jump, squat, bench and agility drills.
Performance Training
Based on the results of your performance evaluation, we will develop a program that will target specific weaknesses that we have identified, while also supporting your personal goals. This includes improving speed, strength, power, flexibility and body composition, while reducing the risk of injury. Mercy Sports Performance powered by EXOS has programs for every sport and skill level, including youth, high school, college, adult, amateur and professional.
Performance Nutrition
One of the most overlooked opportunities to improve performance is through proper nutrition and fueling strategies. Working with an EXOS performance nutritionist, individuals are able to receive a nutrition evaluation, education, and personalized meal builder to guide their fueling and hydration strategies to help them meet their athletic, performance, and body composition goals.
Mercy Sports Performance powered by EXOS offers for athletes, adults, and teams the opportunity for specialist nutrition education and personal strategies.
Media Contacts
Bethany Pope
St. Louis, St. Charles, St. Louis - South, Troy, Festus