August 28, 2019
Dr. Emily Evans, a neurologist, recently joined Mercy Clinic Neurology caring primarily for patients with multiple sclerosis (MS). In addition to clinic hours, Dr. Evans also works closely with patients at the Mercy MS Care - St. Louis.
When did you know you wanted to be a doctor? What drew you to your specialty?
I've always been fascinated by the human brain and even chose my college, Tulane University, because they offered a neuroscience undergraduate degree. Initially, however, I thought I wanted to be a laboratory researcher.  During college, I worked in a neuroscience research lab that focused on the effects of stress on learning and memory. I found my work fascinating, but struggled with understanding how it would translate into making a difference in the world around me. During my junior year of college, I volunteered on a neurorehabilitation floor at a local hospital working with a multidisciplinary team that helped patients recover from traumatic brain injuries. Each patient on the unit had a unique story to tell and it was fascinating to observe their recoveries as they tried to regain their lives. I wanted to find a way to help people live their best lives as well. This experience made me realize that a job in patient care, as a neurologist, was the right fit for me.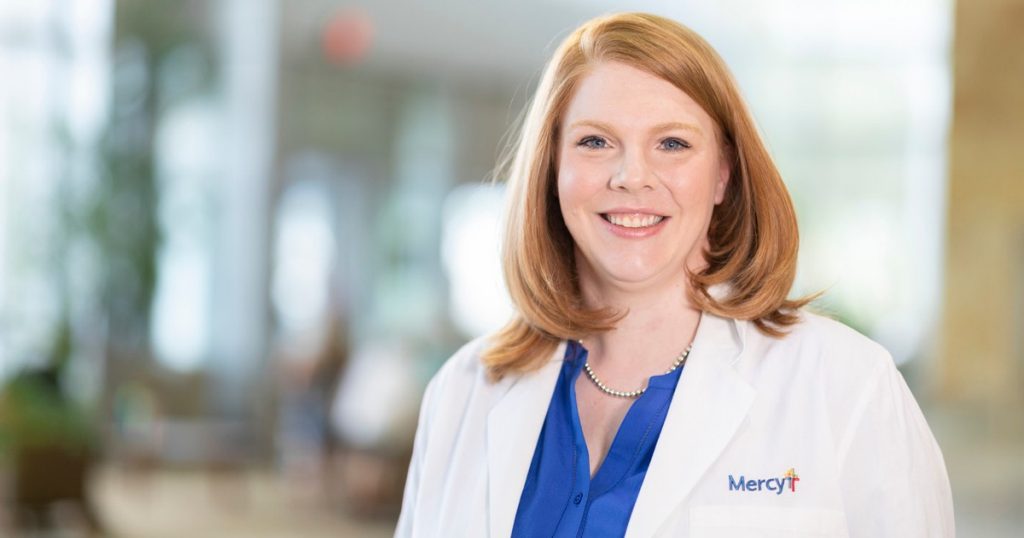 Dr. Emily Evans recently joined Mercy Clinic Neurology and cares primarily for multiple sclerosis patients.
What drew you to focus on multiple sclerosis?
Multiple sclerosis (MS) captured my interest very early during my neurology residency. On one of my first call nights, I admitted an otherwise healthy female, younger than me, with an episode of optic neuritis. She was terrified about her vision loss and asked many questions about what her future might hold. In trying to answer her questions, I was struck by how unpredictable multiple sclerosis was. I began to realize that although we knew a lot about the disorder, there were countless questions that we didn't know how to answer. As I encountered more and more people with MS, the heterogenicity of the disease (how it affects each patient in unique way) fascinated me. I realized that although I couldn't answer every question my MS patients posed to me, I could help them navigate this disease's confusing course so they could live the lives they had always envisioned for themselves. 
What made you want to join Mercy?
When I initially moved to St. Louis, I thought it was just a temporary stop for me (I had come to Washington University for my neurology residency). However, shortly after I moved here, I met my husband who is from the greater St. Louis area. As I fell in love with him, I also I fell in love with the city. Once we got married, we decided to make St. Louis our home.
I explored multiple hospital systems in St. Louis, but chose Mercy because the values and mission of Mercy aligned most closely with my own personal values. I am thrilled to be a part of the Mercy MS Care, which is relentlessly striving to provide proactive, specialized and coordinated care based on each patient's specific needs with the goal to help them live their best possible lives.
Media Contacts
Bethany Pope
St. Louis, St. Charles, St. Louis - South, Troy, Festus