October 1, 2019
Dr. Heather Vannoy recently joined Mercy Clinic Pediatrics – Old Tesson Suite 160. She may best be recognized by her infectious smile that greets her young patients. Dr. Vannoy enjoys spending time with her family and cheering on her favorite teams, which include the St. Louis Cardinals, Mizzou Tigers and the various teams her cousins, niece and nephew play on. She is a Kirkwood High graduate ("Go Pioneers!") who is proud to be serving families back home in St. Louis.
Did you always know you wanted to be a doctor?
The idea of becoming a pediatrician first occurred to me in high school when I was taking a child development class. One day, I was flipping through the pages of my textbook and there was a blurb about "Careers in Child Development." Listed right there was "pediatrician." I liked what I read, and I took that idea and ran with it. I was always drawn to science and did well in school, but I knew I wanted to have a career working with children. From there, I started to shadow doctors and focus my plans on becoming a physician. I decided to major in Child Development in college and also took all the pre-medicine course work to apply for medical school.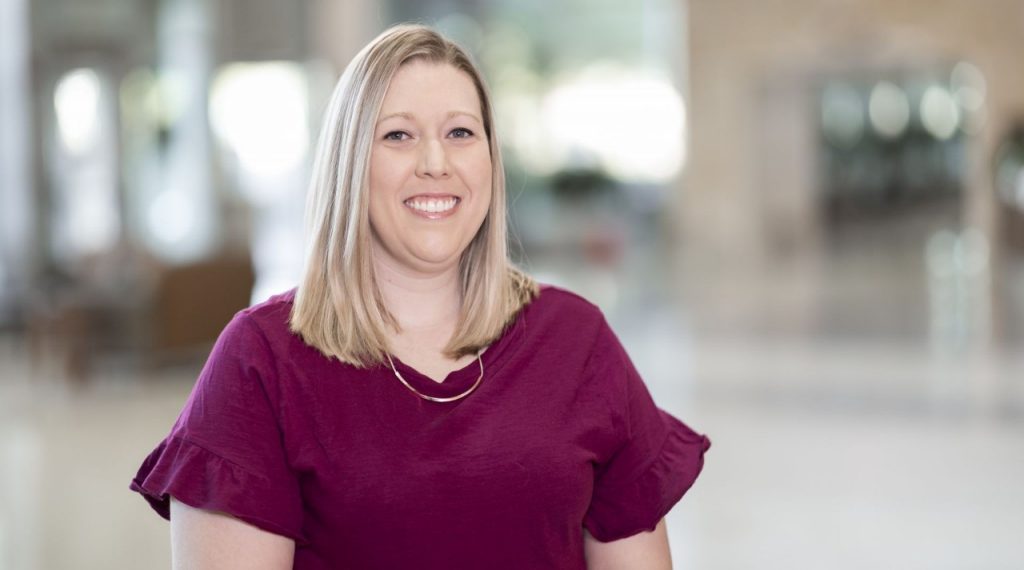 Dr. Heather Vannoy recently joined Mercy Clinic Pediatrics – Old Tesson Suite 160 in south St. Louis County, Missouri.
What drew you to your specialty?
For me, becoming a pediatrician was a thought before becoming a doctor. I have always enjoyed working with children and was fascinated watching them grow up and gain new skills. I knew I wanted to be able to establish long term relationships with families and help parents and children grow and develop. Once I was in medical school, my passion for pediatrics solidified. I found myself not only enjoying the well child care aspects of the specialty, but I also thoroughly enjoyed helping take care of sick children. Kids often can't come out and just say what is wrong with them, so sometimes, you have to be able to pick up on subtle clues that help lead you to a diagnosis. Children are so resilient and are able to bounce back after the worst illnesses, often better than adults do. I am so lucky to have a job where I can see a newborn with first time parents to a graduating high school student getting ready to go off to college all in the same day.

What made you want to join Mercy?
I grew up going to a Mercy pediatrician, and even though I was a pretty healthy child, I always enjoyed the treatment I received from the nurses, nurse practitioners and my pediatrician. Mercy is an organization that truly cares for its patients and it shows. When I had the opportunity to move back home and work for Mercy, I could not pass it up. I'm so happy to be back in the land of the Cardinals, Ted Drewes, Imo's Pizza and toasted ravioli.

Media Contact
Joe Poelker
St. Louis, St. Louis - South, Festus, Troy