October 9, 2019
Many people don't view sports medicine as a service they need, because they wouldn't consider themselves athletes. Mercy's newest Orthopedic and Sports Medicine physician, Dr. Daniel O'Loughlin, is bringing a different perspective on what it means to be an athlete to the Lebanon and Rolla communities.
"In my opinion, anyone with the desire to be active is an athlete," Dr. O'Loughlin said, "I want to share with patients the satisfaction that comes with working and setting goals to become their best selves - that may be becoming a Division I or professional athlete, or simply being able to walk around the block without stopping. I hope that patients who come to my office always leave with the motivation to improve and get better."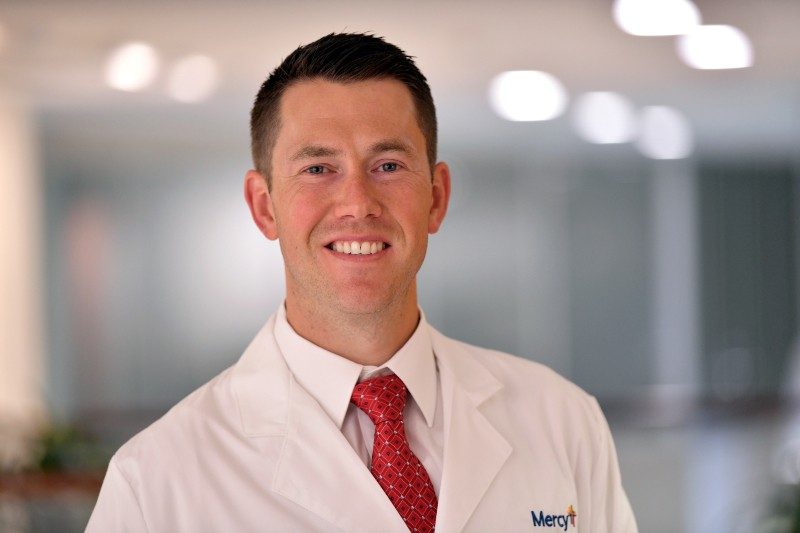 Dr. O'Loughlin looks forward to bringing this motivation back to his home state. He grew up in Moberly, Missouri, but earned his bachelor's and master's degrees from Brigham Young University in Utah. He went back to BYU for his residency, and served as a team physician there and at Utah Valley University. Still, he always felt his family belonged in Missouri. "When we toured this area, we instantly fell in love and knew it would be a great place for our family of five," he said. "Growing up in a similar Missouri town, I saw the impact a physician who invests himself in the community can have. I felt like this was an opportunity for me to do the same."
Dr. O'Loughlin was drawn to health care at a young age. Throughout middle school and high school, he would spend time with a local orthopedic surgeon working in his office and the operating rooms. After exploring different interests and majors in his undergraduate program, he always came back to the path that led him to medicine. "In my opinion, there is no greater satisfaction than what is gained from serving others," he said, "While there are many professions involved in serving others, I decided I wanted to do that by helping others to heal."
When he isn't in the office, you might catch him doing what he tells his patients to do: staying active. In his case, though, it's by training for triathlons. "Medical school made it hard to continue to participate in organized team leagues," he said. "This was something I could do on my own and still gave me the thrill of competition."
Dr. O'Loughlin is seeing patients in Rolla on Mondays, Wednesdays, and Fridays and in Lebanon on Tuesdays and Thursdays. Call Mercy Clinic Orthopedics – Lebanon at 417-533-6560 to schedule an appointment.
Media Contacts
Sonya Kullmann
Branson, Cassville, Lebanon, Mountain View, Rolla, Springfield, Aurora