Brandon Leach, RN, recognized a patient and family in need and called on his skills beyond nursing to offer compassion and comfort, according to the DAISY Award nomination submitted by a nursing co-worker.
"Brandon was in a charge nurse meeting on July 20, when the house supervisor mentioned that ICU nurses were having trouble reaching the chaplain for a patient who was passing," Diana Hayes, RN, wrote in the nomination, which was one of 105 nominations received for the quarterly award.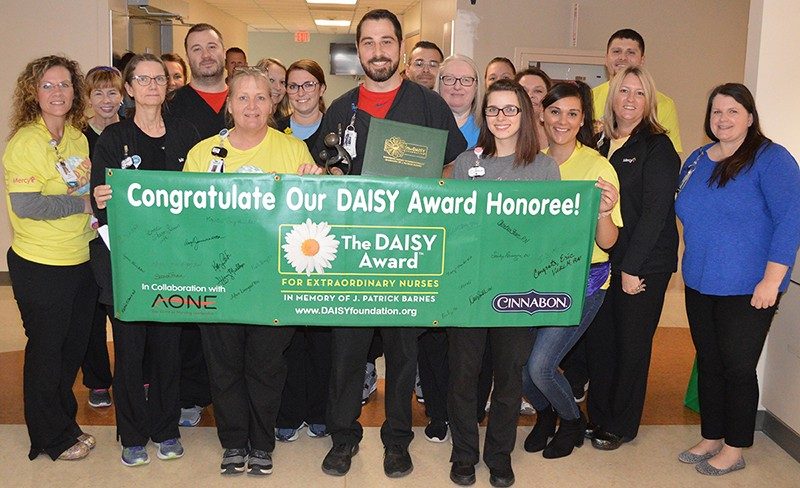 Brandon Leach, RN, relied on more than just his nursing skills in helping provide comfort for a patient, family and his co-workers.
Members of the patient's immediate family were unable to be there, but they had expressed their wishes that prayers could be said over the patient before passing away.
"Brandon offered his time and experience to come to the ICU to pray over the patient," Hayes wrote. "In a tough situation where it felt like nothing was going our way, Brandon stepped in and volunteered to make sure we were able to provide the patient with the passing his family had hoped for."
Prior to joining the nursing staff at Mercy Jefferson, Brandon had been Director of Spiritual Services at his previous job and had completed Clinical Pastoral Education training. He was commissioned as a chaplain through his church. Leading prayers at the patient's bedside helped the absent family members and the Intensive Care Unit staff, Hayes said.
"While losing a patient affects all of us in a different way, we can all take comfort that our patient had a passing that he deserved – surrounded by prayers and the love of those who cared for him, even if we did not know him long," Hayes said. "Words cannot express how thankful I am that you took time from your busy day to provide the care our patient deserved. Your compassion does not go unnoticed."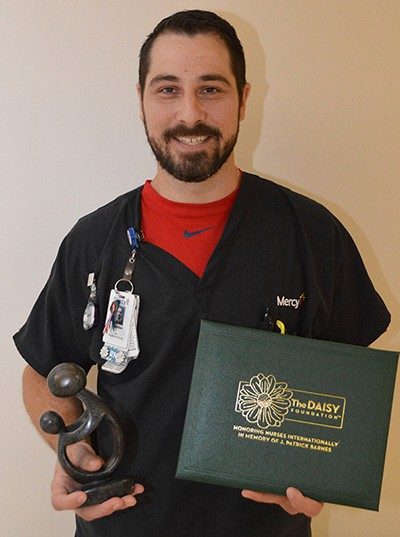 Brandon Leach, RN, is a commissioned chaplain through his church.
Mercy Jefferson presents the DAISY Award quarterly and received 105 nominations for nurses from patients, visitors, and co-workers from July through September this year.
DAISY is an acronym for Diseases Attacking the Immune System. The family of Patrick Barnes established the Daisy Foundation in 1999 to express gratitude to nurses for the work they do for patients and their families every day. The award is presented in more than 1,900 healthcare facilities in all 50 states and 15 countries.
During the recognition ceremony, Brandon received an official DAISY pin, a certificate, and a hand-carved stone sculpture entitled "A Healer's Touch." Additionally, the national award calls for a celebration for all co-workers in the unit with cinnamon rolls – a favorite of Patrick's during his illness.
"The Barnes family asks that whenever and where ever nurses smell that wonderful cinnamon aroma, they stop for a moment to think about how special they are."
Click for more information about the Daisy Foundation.