For Jon Mitchell, a lot has changed over the last five months since the last time he visited Mercy Hospital South. Instead of spending time at school with his friends, he has been spending time in hospitals and physical therapy. But Jon understands he is lucky. All that time in treatment and recovery means he beat the odds. Jon survived an injury that has a 1% survival rate.
In August, after the first week of school, Jon was attending homecoming festivities in the city of Waterloo, Illinois, when the 15-year-old got into an altercation with another teen. What might have been a typical teenage encounter took a violent and almost deadly turn when Jon was stabbed. He suffered injuries to his head and hand, but the most serious injury was to his abdomen.
The first responders to arrive were Sgt. Eric Zaber with Waterloo Police and Nick Hoeffken, Kim Everett, Christy Erzinger and Doug Franklin with Monroe County Ambulance District.
"Initially when we found he had been stabbed and his condition was what it was, we had dispatch contact air medical to try to transport him that way," said Hoeffken. "When we were told it was a 12-minute flight time, we immediately made the decision that we're not flying, we're going to drive straight to Mercy South. We contacted them right away so they could get their facility ready for an incoming trauma patient."
Sgt. Zaber rode with Jon to Mercy South, where the trauma team knew Jon was critical when he arrived in the emergency department. They knew about the injury to his abdomen, and after a quick assessment in the emergency room, they moved him to the operating room, where trauma surgeon Dr. Brad Ross directed the team effort.
"In my opinion, if EMS would have waited the 12 minutes for the flight to come here, this would have been a different outcome for him," said Dr. Ross. "We didn't have that kind of time to wait because he was bleeding to death."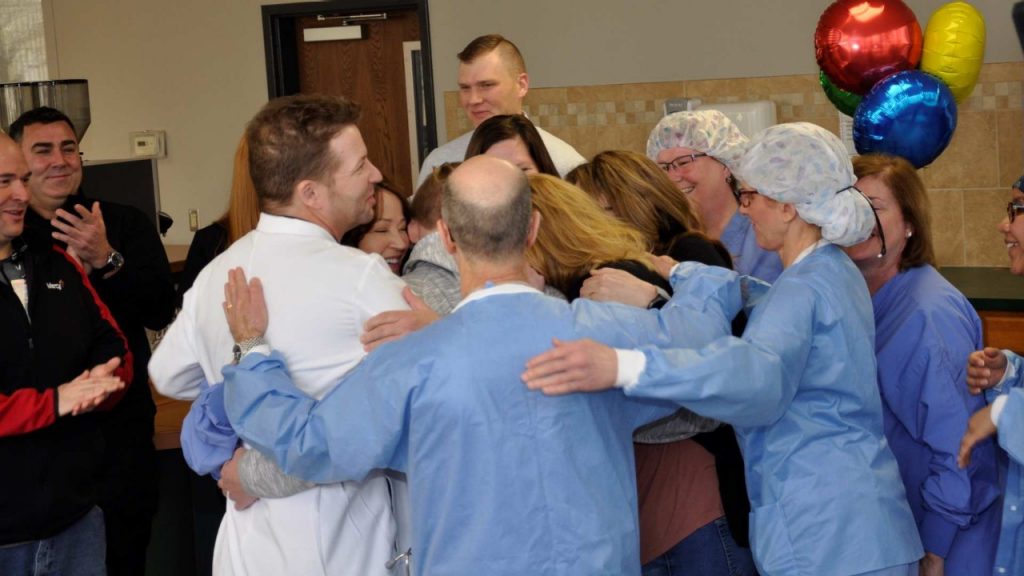 Jonathan Mitchell and his mother, Amy Alexander, are surrounded by Mercy Hospital South co-workers and Monroe County Ambulance District paramedics during a group hug.
The trauma team discovered Jon's aorta, the largest blood vessel in the body, was 80% severed. The damage was located behind his pancreas, making it a difficult injury to diagnose and an even more difficult injury to repair. Vascular surgeons Dr. Brian Peterson and Dr. Matthew Abate led the OR team in repairing that injury.
Once Jon's condition stabilized and the immediate threat to his life was averted, he was transferred to a children's hospital where pediatric specialists could continue his treatment and recovery.
"After we left Mercy South, everyone who treated Jon told us what a remarkable job the Mercy team did saving him," said Jon's mother, Amy Alexander. "But with everything going on and how quickly we moved from one stage to the next, we barely got the chance to speak with the team here."
Amy wanted to change that by bringing Jon back to Mercy South to meet the team that saved his life, including the first responders.
On Jan. 22, Jon and Amy returned to Mercy South. This time, they walked in on their own, smiles on their faces, grins that grew with each Mercy co-worker who greeted them with a hug. Emergency room nurses beamed as they saw how well Jon is doing. Operating room team members in their OR scrubs were ecstatic at the chance to meet someone whose life they saved but who had never seen their faces before. Doctors in their white coats caught up as if they were speaking to an old friend. Paramedics who made the drive back to the hospital experienced the joy of seeing a patient grateful for the decisions they made. A police officer heard how he comforted a teen in a time of need. Several tears were shed at the impact Jon's life had made on all of them.
Jon had a simple message for everyone involved.
"There's not much to say, because all you can really say is, 'Thank you,'" said Mitchell. "There's nothing more you can do. They saved my life. I can't repay that. I don't know what I can do to repay them."
Dr. Ross called the reunion one of the most gratifying experiences of his career.
"I don't get to see this a lot, seeing someone who had such an injury so vast and everyone involved who was able to come see him today, and he's doing so well. Sometimes I get to see these people back in my office and it's one-on-one, but to be able to see everyone involved and bring everyone together is a unique experience. It was great," said Dr. Ross.
It is not all the time paramedics get to meet up with the people they treat, Hoeffken said.
"It's great to see the improvement. It's great to see him out and about. Usually, we treat our patients and it's the last time we see them. It's neat to get to meet him and see him," said Hoeffken.
Jon still is undergoing therapy for his hand. He will always have the scars to remind him of his brush with death. But his prognosis is great, with no long-term effects expected from the worst of his injuries to his aorta and abdomen. Jon is doing so well that, the day after his reunion with the Mercy South team, he returned to class at Waterloo High School to be reunited with his classmates and take another step to returning to the normalcy of being a teenager.