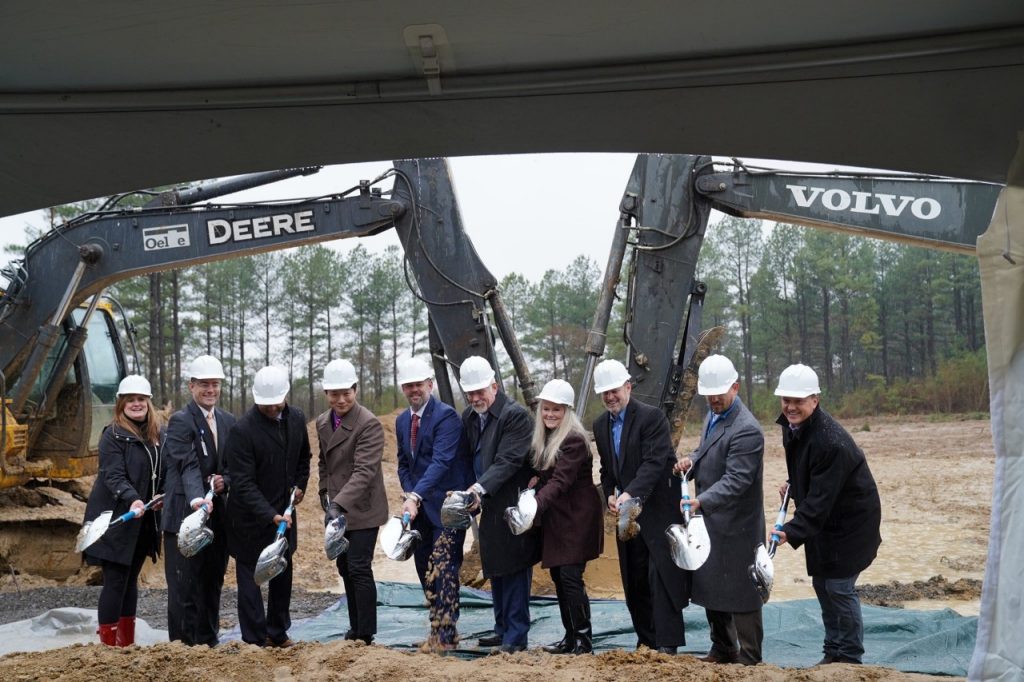 Representatives from Mercy Fort Smith, Arkansas Colleges of Health Education, Kindred Healthcare and others turn the dirt during the groundbreaking of the new Mercy Rehabilitation Hospital Fort Smith on Feb. 12.
Mercy co-workers and other members of the community turned out on Feb. 12 to help break ground for the new Mercy Rehabilitation Hospital Fort Smith.

The planned 52,967-square-foot facility will be built at 6700 Chad Colley Blvd. Mercy Fort Smith is partnering with Louisville, Kentucky-based Kindred Healthcare to build the rehabilitation hospital on land donated by the Arkansas Colleges of Health Education (ACHE). The facility will be next to the Arkansas College of Osteopathic Medicine on the ACHE campus and serve as a teaching site for students in ACHE's School of Occupational Therapy and School of Physical Therapy. Currently, Mercy operates an Inpatient Rehabilitation Facility within Mercy Hospital Fort Smith, 7301 Rogers Ave.
The cold, rainy weather could not put a damper on everyone's excitement at the groundbreaking, said Juli Stec, vice president of operations for Mercy Fort Smith. Around 90 people attending the event, including representatives from Mercy, ACHE, Kindred Healthcare, the Fort Smith Regional Chamber of Commerce and others.
"I know it's been a dream of mine and certain others for well over a decade," Stec said during the ceremony. "We are so thankful that this day is becoming a reality."
Stec offered recognition to those in attendance, including Mercy co-workers and board members, Kindred Healthcare representatives, construction and contract workers and others. She gave special recognition to leaders from ACHE.
"You are, without a doubt, fulfilling your dream of changing health care as we know it," Stec said. "We are blessed to be a part of that dream."
The new hospital will care for adults recovering from conditions such as stroke, neurological disease, injury to the brain or spinal cord and other debilitating illnesses or injuries. The 40-bed hospital will feature all private rooms; a secured brain injury unit with private dining and therapy gym; large interdisciplinary gyms; transitional living apartment, designed to simulate a residential apartment; therapeutic courtyard with golf, pickle ball and corn hole; specially designed rooms to treat dialysis patients; and specialty programs dedicated to neuro, stroke, brain injury and amputation.
Around 140 co-workers will be employed at the new hospital. The facility has a hard construction cost of about $21 million. Kindred Healthcare will manage day-to-day operations of the hospital, which is expected to open in April 2021. This project represents the fourth joint venture partnership between Kindred and Mercy.
Russ Bailey, chief operating officer of Kindred Rehabilitation Hospitals, said he works with many specialists, nurses and other health-care professionals who are dedicated to providing high-quality rehabilitation services. Kindred's model is to partner with hospitals like Mercy to bring rehabilitation care to those who need it.
Bailey said the location next to the Arkansas Colleges of Health Education is ideal and unique.
"Kindred and Mercy have a long track record of success," Bailey said, citing other partnerships in Oklahoma City, St. Louis and Springfield, Missouri. "This is an amazing location and a wonderful project that we know will provide improved patient care and access to rehab services to the surrounding community of Fort Smith and help address the growing need for these services throughout the state of Arkansas."
Kindred Healthcare is one of the largest diversified providers of post-acute care services in the United States. Kindred's mission is to help our patients reach their highest potential for health and healing with intensive medical and rehabilitative care through a compassionate patient experience. Kindred Rehabilitation Services is the largest provider of rehabilitation services in the country. 
Dr. Ma-Ko Chen, medical director for Mercy Rehabilitation, is eager to see the new hospital open next year and deliver enhanced care to patients. Currently, Mercy Fort Smith's rehabilitation center does not have the size or the equipment other rehab facilities have, but staff members are still providing excellent care for the region, Chen said.
"It is a testament to the quality of our staff that we're still able to deliver such quality, such first-rate care to our patients compared to other rehab programs," he said. "Our goal is to become a beacon to our region, a destination rehab center, where we deliver quality care to our patients … in environments specifically designed for rehab."
Kyle Parker, CEO of Arkansas Colleges of Health Education, reflected on the dream of building the college out of a "passion to make a difference in people's lives." The rehabilitation hospital will be an extension of that dream, he said.
"We need to realize how blessed we are," Parker said. "We have access to some of the finest medical treatment and care and compassion anywhere in the world. We don't have enough of it yet. The state of Arkansas and the United States is in a medical crisis right now. Access to health care is a major problem. That's why the Arkansas Colleges of Health Education was formed, was to try to help make a difference in other people's lives."
He said the new facility makes a perfect partnership with ACHE's new School of Physical Therapy, citing the advancement in technology that will be needed in health care for years to come. ACHE donated four acres of land for Mercy Rehabilitation Hospital Fort Smith.
The rain during the groundbreaking reminded Parker of the cold, wet weather that was going on when ground was broken for ACHE in 2015 and made him smile.
"I thanked God that once again, for the blessings that he bestows upon us each and every day, if we would just open our eyes and see it," Parker said. "Count your blessings each and every day. Be thankful for your co-workers. Be thankful for the gifts that you are given."