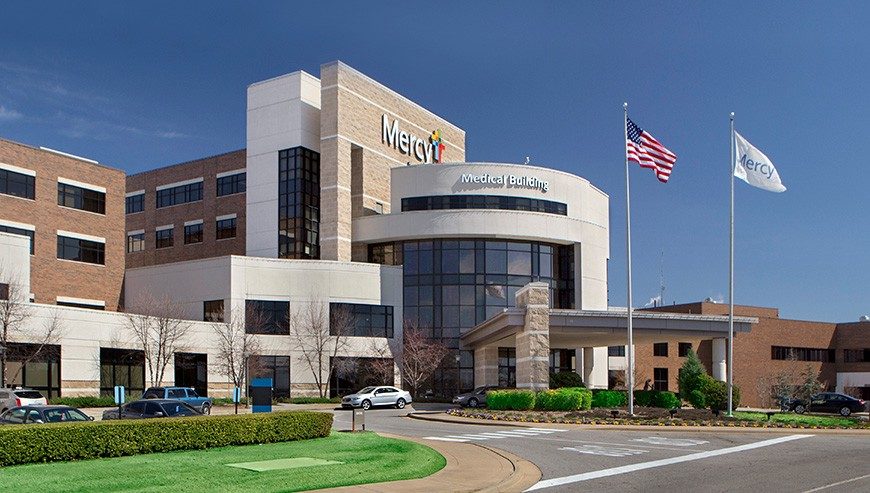 Mercy Hospital Fort Smith has been a healing presence in the Fort Smith region for more than 160 years.
Advanced Primary Stroke Center

Finnegan's Eatery
Gift Shop
Hembree Cancer Center 
Recognized by the American College of Cardiology in the 2021 U.S. News & World Report "Best Hospitals" issue for commitment to hospital care for heart patients.
The Centers for Medicare & Medicaid Services in 2021 gave Mercy Hospital Fort Smith a three-star rating. CMS re-evaluates hospitals annually using more than 100 measures divided into seven categories: mortality, safety of care, readmission, patient experience, effectiveness of care, timeliness of care and effective use of medical imaging. 
Mercy Hospital Fort Smith regularly earns an "A" grade from The Leapfrog Group as part of its Hospital Safety Grades, which score hospitals on how safe they keep their patients from errors, injuries, accidents and infections. Mercy Hospital Fort Smith most recent received an A grade in fall 2021.
Mercy Home Health in Fort Smith was named among the top 25 percent of home health agencies in the United States and received the annual HomeCare Elite Award of Excellence and for the second time is among the top 500 agencies in the country.
Mercy Hospital Fort Smith was named a 2019  Top 100 Consumer Loyalty Award winner Consumer Choice Award Winner by the National Research Corp. It's the 13th year in a row to earn this honor. The award identifies hospitals that health care consumers have chosen as having the highest quality in the marketplace.
1853 - First Sisters of Mercy arrive by steamboat in Fort Smith to open schools and care for the sick.
1905 - Sisters of Mercy establish the 30-bed St. Edward Infirmary. It was named after the Bishop Edward Fitzgerald of Little Rock, who gave the Sisters permission to open the infirmary.
1923 - The need for an expanded hospital leads to the opening of a new 100-bed facility on Rogers Avenue. It is named St. Edward Mercy Hospital.
1975 - The current location on Rogers Avenue opens.
2002 - 60,000-square-foot Mercy Medical Building opens adjacent to the hospital.
2008 - Mercy Clinic is established as an integrated physician group.
2012 - St. Edward Mercy becomes Mercy Hospital Fort Smith.
2017 - Cooper Clinic joins Mercy Fort Smith, adding about 60 providers, more than 400 employees, nearly 30 clinics and 10 locations.
Mobile mammography unit reaches approximately 1,600 women a year by traveling throughout the 13-county region. Uninsured patients are able to get mammograms free or at reduced cost through the "To Save a Life" program.
Area's only Level III Neonatal Intensive Care Unit (NICU) caring for critically ill and premature infants.
Home to Arkansas' first Ronald McDonald Family Room and a Ronald McDonald House (opened fall 2021). The 2,100-square-foot family room within the hospital gives families of young patients a place to go during the day and offers four sleeping rooms for parents who live more than 30 miles from the hospital. The Ronald McDonald House offers space for 11 families and includes laundry facilities, relaxation areas and a playground.
Among the first health care organizations in the U.S. to have a comprehensive, integrated, electronic health record that provides real-time paperless access to patient information.
MyMercy, a free service, allows patients to connect online with their doctors, plus see medical information, view test results, renew prescriptions and schedule appointments and e-visits using a personal computer or smart phone.
239,717 visits
---
Outpatient
$10.2 million
---
Traditional Charity Care
$3.22 million
---
Other Community Benefit
$21.9 million
---
Unreimbursed Medicaid
61 Locations
---
Clinic and Outpatient
16,846 Discharges
---
Acute Inpatient
1,861 Co-workers
---
Hospital Based
160 Physicians
---
Mercy Clinic
25,386 Surgeries
---
Inpatient and Outpatient
60,503 Visits
---
Emergency Room
2,707 Births
---
Maternity Services
Mercy, one of the 20 largest U.S. health systems and named the top large system in the U.S. for excellent patient experience by NRC Health, serves millions annually with nationally recognized quality care and one of the nation's largest Accountable Care Organizations. Mercy is a highly integrated, multi-state health care system including more than 40 acute care, managed and specialty (heart, children's, orthopedic and rehab) hospitals, convenient and urgent care locations, imaging centers and pharmacies. Mercy has 900 physician practices and outpatient facilities, more than 4,000 physicians and advanced practitioners and more than 45,000 co-workers serving patients and families across Arkansas, Kansas, Missouri and Oklahoma. Mercy also has clinics, outpatient services and outreach ministries in Arkansas, Louisiana, Mississippi and Texas.