March 11, 2020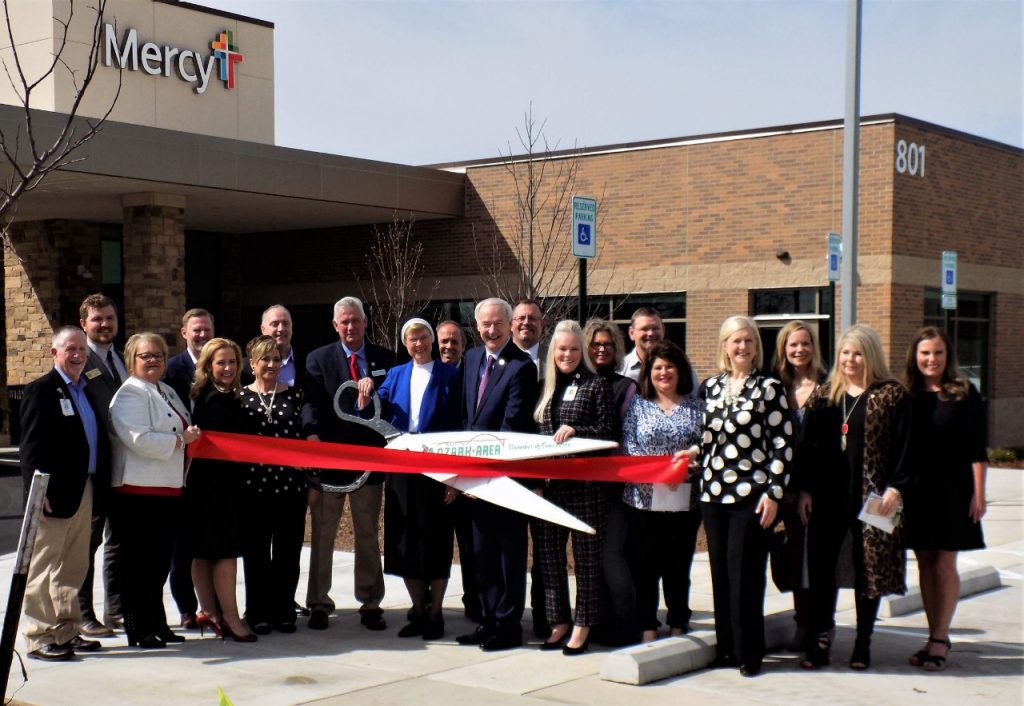 Gov. Asa Hutchinson, center, helps cut the ribbon on the newly remodeled Mercy Hospital Ozark.
The newly remodeled Mercy Hospital Ozark received a blessing from Mercy leaders, Gov. Asa Hutchinson and the community that it will serve.
An open house and blessing was held Tuesday at the newly remodeled facility at 801 River St. in Ozark. The project got underway in November 2018, when Mercy broke ground on the $5.13 million,14,759-square-foot facility, which includes expanded physical therapy space, new equipment and space for additional outpatient services, as well as a new covered ER entrance, which opened several weeks ago. The physical therapy space offers a wide view of the Arkansas River.
"To have care that is provided -- top quality care -- in places like Ozark and other places across our state means a lot to Arkansas," Hutchinson said. "This is an exciting day for me to see the growth in the River Valley and in Ozark."
The governor added that the hospital is an important part of a region providing essential health care to its residents.
"This health care facility is so critical to what you're trying to do in terms of improving quality of life, recruiting industry and growing jobs in this area," Gov. Hutchinson said. "That access to critical care, health care … you're addressing that, and I applaud that."
"Whenever you look at Mercy Hospital here in Ozark, it's a 25-bed, critical access hospital," he continued. "Its presence is essential and is designed to make sure it can serve its citizens. As we look at more flexibility in the state in terms of health care, I want you to know … that we want to utilize our critical access hospitals more and not less. We want to strengthen them, we want to make them more viable, and we'll be looking for ways to accomplish that."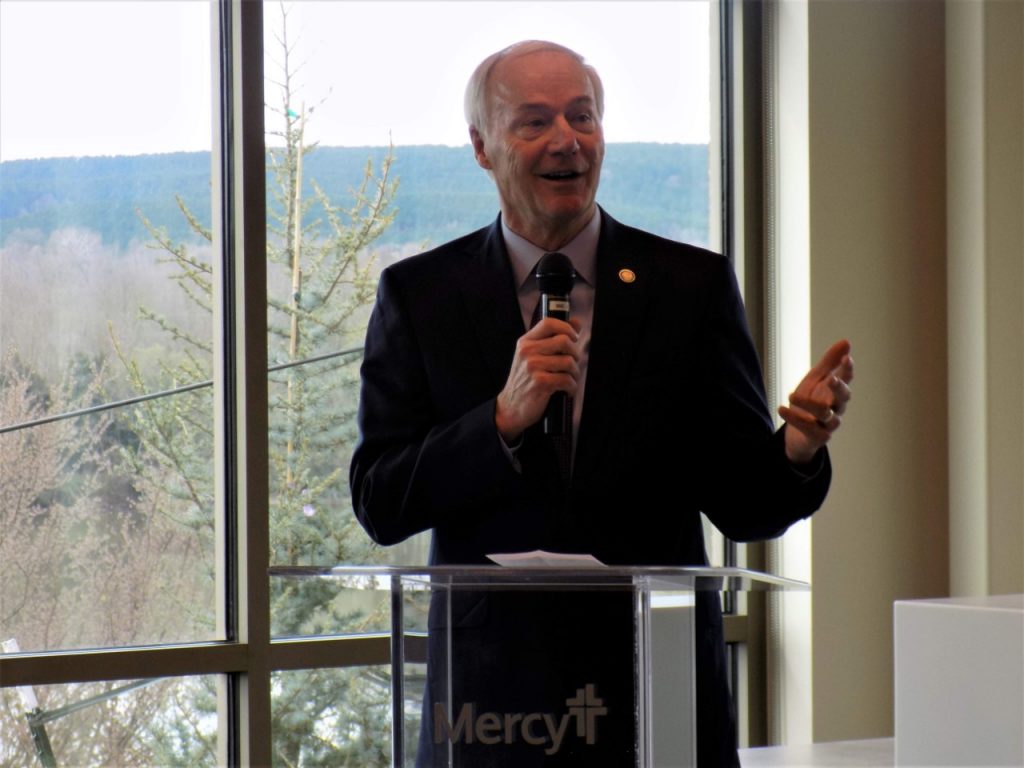 Gov. Asa Hutchinson speaks during the Mercy Hospital Ozark open house and blessing.
Mercy Hospital Fort Smith President Ryan Gehrig welcomed the governor to Mercy Hospital Ozark and praised what the facility brings to the community. He likened the view of the river to what was seen by the original Sisters of Mercy who first arrived in the area from Little Rock to begin establishing the Mercy ministry and who continue to inspire Mercy co-workers every day.
"When I had the first view, it gave me goosebumps, just to see this iconic hospital, this setting on the Arkansas River," Gehrig said. "For those of you who were here before and saw the facility that was torn down to be replaced with this beautiful facility, you know what I'm talking about. That facility in no way represented the care and compassion they were delivering on a daily basis. As much as anything, I'm proud to be here today for them and their dedication to the community."
Gehrig mentioned the struggle that rural hospitals have had recently but said, "That's not our story here today."
"This is a very unique experience, to be a part of a rural hospital investment, opening, blessing and foundation for success for years to come," he said. "I hope we all relish that."
Brian Lachowsky from the Franklin County Quorum Court was unable to attend Tuesday's event but offered his thanks to Mercy and to the quorum court for their commitment to the community. Franklin County funded $1.47 million of the project.
"It is an immense benefit to the health and well-being of Franklin County as well as the huge economic benefit the hospital represents," he stated in provided comments. He also lauded Teresa Williams, longtime Mercy Hospital Ozark administrator, for her support and enthusiasm, "which makes progress like this possible."
Williams added her own thanks, stating that "it takes a community like ours to keep things alive and going and to provide the health care that we have here.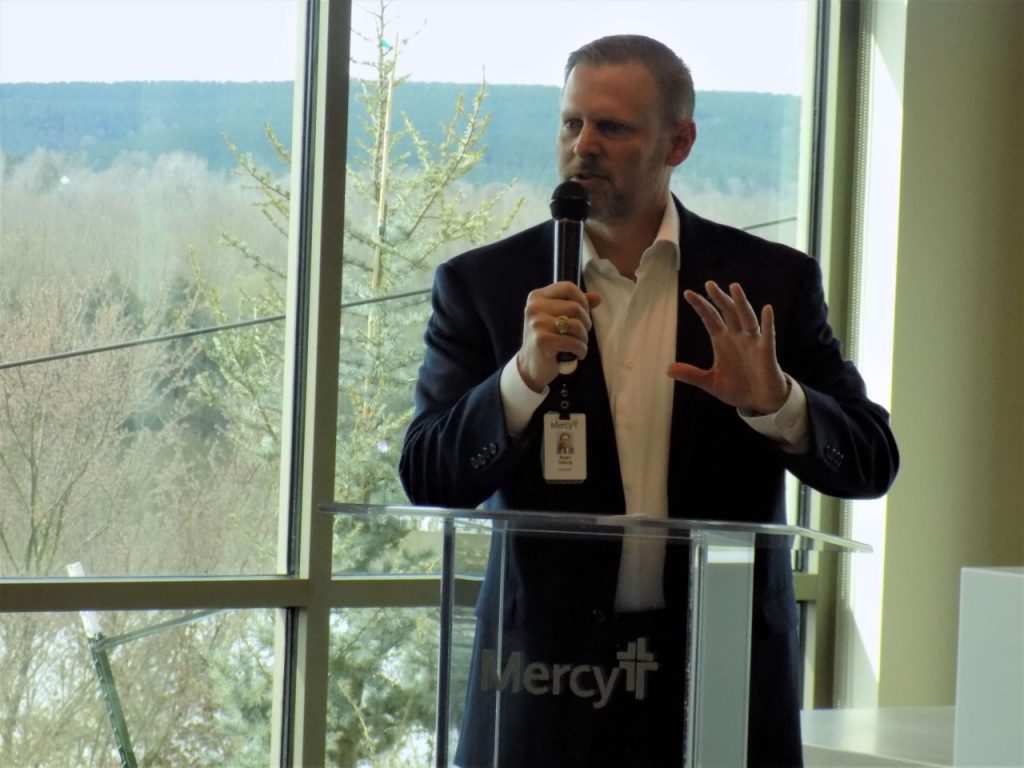 Mercy Hospital Fort Smith President Ryan Gehrig speaks during the Mercy Hospital Ozark open house and blessing.
"The support we've had from Mercy alone has been absolutely amazing," she said. "I don't know what our community would do without them, to be honest." She also praised the committed co-workers at Mercy Hospital Ozark.
"We want to take care of those we serve," she continued. "It doesn't matter where you come from. We don't discriminate. We absolutely love that Mercy has given us the opportunity to provide that to the community."
Juli Stec, vice president of operations for Mercy Fort Smith, said she was happy to see the new facility open and offered thanks for the architects, contractors and crews who worked on the project, noting that rainy weather caused delays.
"There are truly times when you can be part of something truly life-changing," she said. "Today is one of those times. To witness a community coming together for the common goal of making tomorrow a healthier and better place for generations to come is something that each of us is really blessed to be a part of today." She said the beautiful new additions to the hospital will be measured in their worth that they bring to the community, to the patients and to Mercy co-workers.
Father Paul Fetsko, vice president – mission at Mercy Fort Smith, ended the program with a prayer and blessing for the new facility. Attendees were given a tour of the remodeled facility following the ceremony.
Studio 6 Architects in Fort Smith designed the project. General contractor is SSI of Fort Smith. Crafton Tull is the civil engineer and Myers Engineering is the structural engineer. Black Hills Energy donated $25,000 for the project.