For the second consecutive year, Mercy Hospital Northwest Arkansas was named to the Fortune/IBM Watson Health 100 Top Hospitals list, announced today on Fortune.com. The hospital's quality care has been repeatedly recognized in recent years including receiving a five-star rating from the Centers for Medicare and Medicaid Services and earning "A" safety grades from The Leapfrog Group for the past four years.
The annual independent study by IBM Watson Health reviewed 3,134 hospitals in the U.S. using publicly available clinical, operational and patient satisfaction metrics and data. IBM Watson Health established the list to help identify best practices that may help other health care organizations achieve consistent, balanced and sustainable high performance.
"In these unprecedented times, it buoys my spirits for Mercy Hospital to receive this recognition because it highlights the contributions of our frontline health care workers who deliver outstanding care every day, often in difficult circumstances," said Eric Pianalto, president of Mercy Hospital Northwest Arkansas. "Quality, safe care is paramount because it ensures patients have the best possible outcomes no matter what type of medical landscape we are facing."
This recognition demonstrates Mercy's ongoing commitment to prioritize patient-centered care, particularly during this disruptive and challenging time. According to IBM Watson Health, as compared to similar hospitals, the hospitals included on the Fortune/IBM Watson Health 100 Top Hospitals list had better results on key clinical and operational performance indicators, including:
Survival rates
Patient complications
Health care associated infections
30-day mortality
30-day hospital-wide readmission rates
Length of stay
Wait time in emergency rooms
Inpatient expense
Profitability
Ratings from patients
"Hospitals, health systems and the dedicated clinicians and staff who work at these organizations have emerged as true heroes of the COVID-19 pandemic and we are grateful to be able to recognize these extraordinary leaders at this time," said Kyu Rhee, M.D., vice president and chief health officer, IBM Watson Health. "From small community hospitals to major teaching hospitals, organizations on this list demonstrate a relentless commitment to high value, patient-centered care and innovation. It is clear that the COVID-19 crisis will be a catalyst for reinvention, and we believe these top performing hospitals are positioned to emerge stronger and smarter out of this crisis."
Mercy Hospital St. Louis and Mercy Hospital Oklahoma City were also named to the 100 Top Hospitals list.
Hospitals do not apply, and winners do not pay to market this honor.
For more information, visit 100tophospitals.com.
Mercy, one of the 20 largest U.S. health systems and named the top large system in the U.S. for excellent patient experience by NRC Health, serves millions annually with nationally recognized quality care and one of the nation's largest Accountable Care Organizations. Mercy is a highly integrated, multi-state health care system including more than 40 acute care, managed and specialty (heart, children's, orthopedic and rehab) hospitals, convenient and urgent care locations, imaging centers and pharmacies. Mercy has 900 physician practices and outpatient facilities, more than 4,000 physicians and advanced practitioners and more than 45,000 co-workers serving patients and families across Arkansas, Kansas, Missouri and Oklahoma. Mercy also has clinics, outpatient services and outreach ministries in Arkansas, Louisiana, Mississippi and Texas.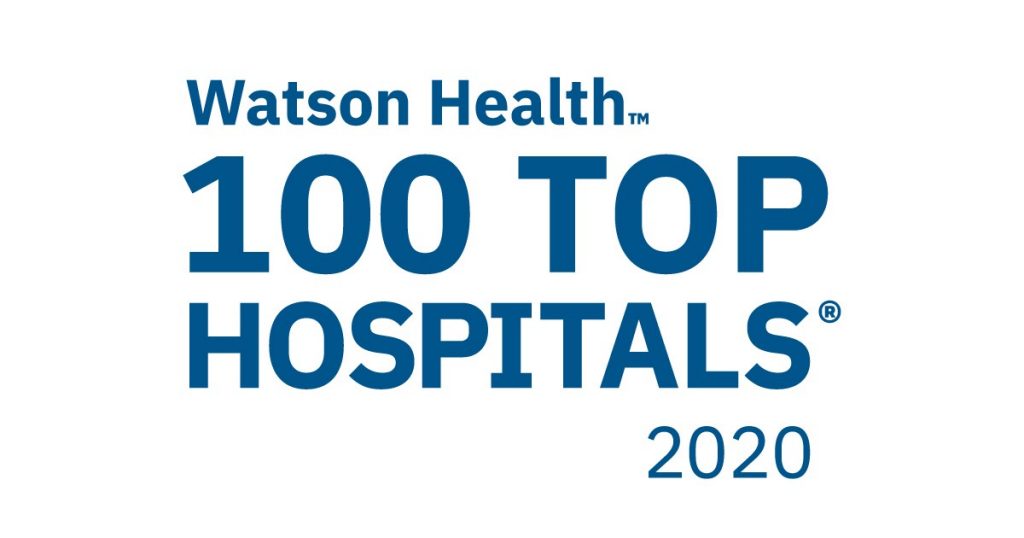 About the Fortune/IBM Watson Health 100 Top Hospitals® List
The Fortune/IBM Watson Health 100 Top Hospitals list is determined using independent and objective research to analyze hospital performance. Organizations do not apply or pay for this honor or pay to promote their award.  Award-winning hospitals and health systems serve as a model of excellence for the industry.
About IBM Watson Health 100 Top Hospitals® Program
The IBM Watson Health 100 Top Hospitals Program's annual studies include the Fortune/IBM Watson Health 100 Top Hospitals list, IBM Watson Health 50 Top Cardiovascular Hospitals and IBM Watson Health 15 Top Health Systems. Organizations do not apply or pay for this honor or pay to promote their award. Award-winning hospitals and health systems serve as a model of excellence for the industry. Visit100tophospitals.comfor more information.
About IBM Watson Health
IBM Watson Health is a data, analytics, and technology partner for the health industry. Supported by the innovation of IBM and intelligence of Watson, we are committed to helping build smarter health ecosystems. Through the combination of our deep industry expertise in health, data and analytics, actionable insights, and reputation for security and trust, Watson Health is working together with its clients and partners to help them achieve simpler processes, better care insights, faster breakthroughs, and improved experiences for people around the world. Learn more at ibm.com/watson/health.