August 3, 2020
In an effort to bring health care services closer to home, Mercy is expanding its physical therapy offerings to include an outpatient location in southwest Springfield.
After a small, socially-distanced blessing and ribbon cutting today, Mercy Physical Therapy Services – Magers Crossing, located at 2100 W. Republic Road, is now open to patients.
"This facility not only provides our patients with a new, convenient location, it also comes with expanded hours to accommodate those who need early morning or evening appointments," said Mark Huslig, director of Mercy Therapy Services.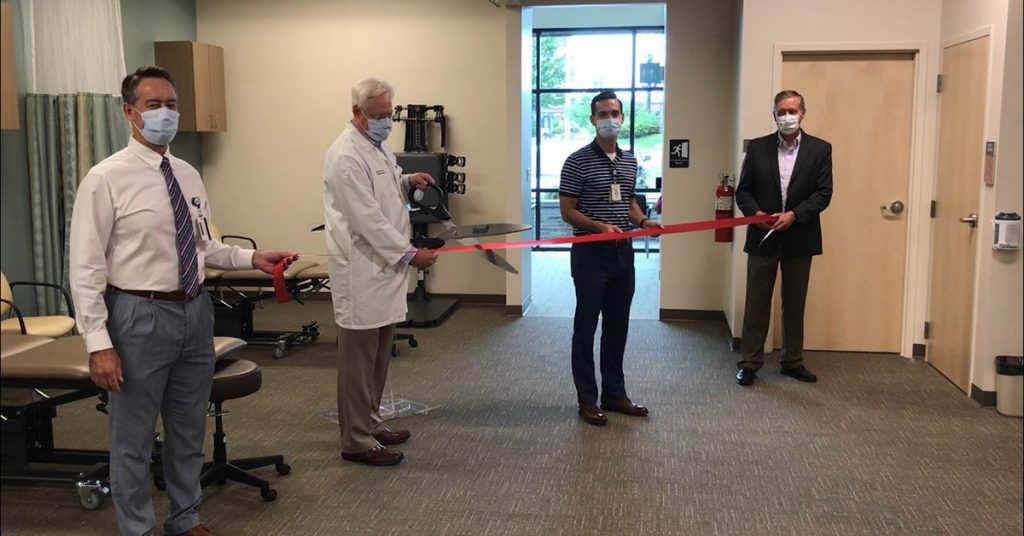 Mercy leaders cut the ribbon on the new physical therapy location at 2100 W. Republic Road in Springfield, Missouri.
The new location is open 7 a.m. to 7 p.m. Monday through Thursday. On Friday, the hours are 8 a.m. to 5 p.m. It's staffed with four physical therapists and a physical therapy assistant. The team will specialize in orthopedic rehabilitation.
"Our experienced staff is certified in ASTYM, which is a treatment that works to restore healthy soft tissues," Huslig said. "It's been proven to reduce or eliminate scar tissue that is often painful and restricts proper movement."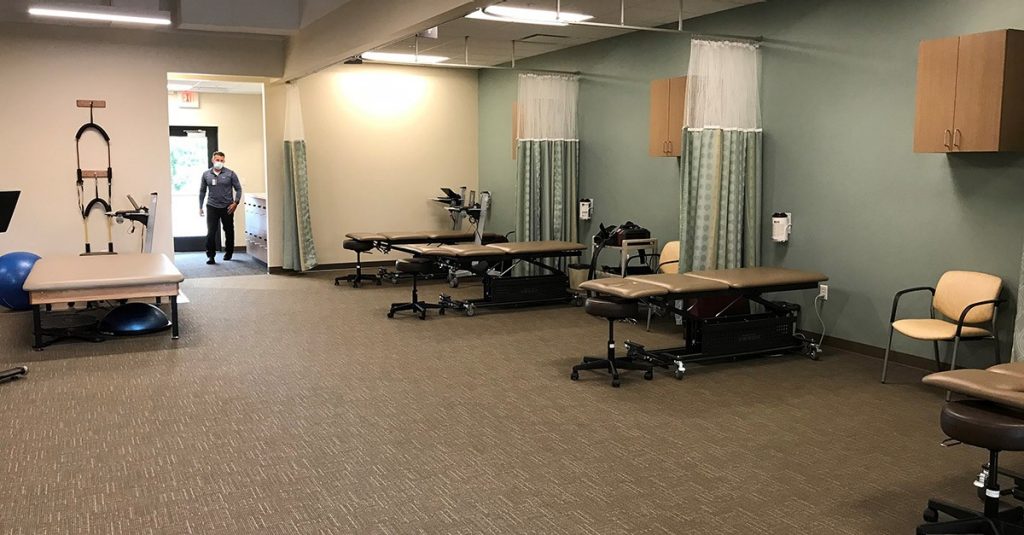 The treatment area at Mercy Physical Therapy Services - Magers Crossing in Springfield, Missouri.
Huslig urges patients to think of physical therapy as a key part of the healing process. "A surgery or procedure is just the beginning," he said. "Once you're repaired, getting your body to move as it should requires therapy. You'll be so glad you invested the time and energy."
Appointments at the new location require a physician referral.
Media Contacts
Sonya Kullmann
Branson, Cassville, Lebanon, Mountain View, Rolla, Springfield, Aurora