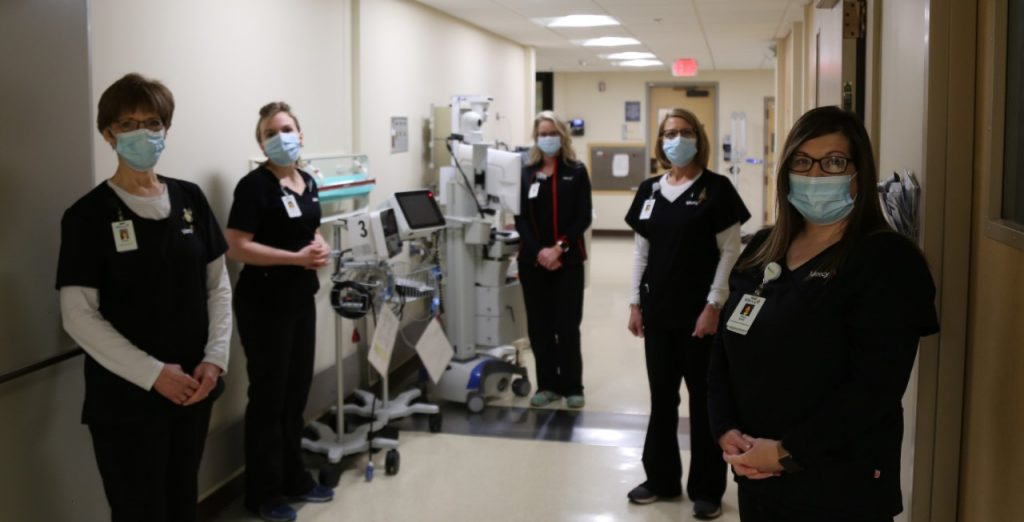 Debbie Zouzas (from left), Traci Snell, Jayme Goucher, Kelly Dugger and Summer Bonner (center)
At lunchtime every weekday in the ICU, Mercy Fort Smith co-workers gather for a short prayer – for both the patients at Mercy and the team members they work with.
Since mid-November, the group of co-workers – often five, sometimes more – has been gathering outside the ICU monitor room in a quick prayer circle as a way to offer encouragement for fellow co-workers and the patients they serve.
"We just come up here on our lunch break and pray," said Summer Bonner, supervisor of radiation oncology. "If we have specific prayer requests or if anybody else does, we pray for those, too."
Summer said she felt led to begin the daily prayers during her own prayer time at home.
"We don't have a lot of physical abilities to help out our co-workers here and patients and their families, but I know the one thing we do have is the first line of offense, and that's prayer," she said. "So, we just wanted to give encouragement to others and to pray, and I knew immediately my co-workers would join me in that."
Co-workers often pray in their own departments, Summer said, but the daily ICU prayer offers a chance to be more visible so others can benefit from the encouragement.
"When all of this started (with COVID-19), people were parked outside (the hospital) praying, and that was really encouraging," Summer said. "It's gone on so long that a lot of that isn't happening anymore, so we just wanted to kind of fill that gap and hopefully meet some spiritual needs that aren't being met and are needed."
Traci Snell, executive director of oncology and imaging services at Mercy Fort Smith, said she appreciates the group for using their own time to pray for others.
"I'm just really proud of the whole group," she said. "I'm proud of Summer's leadership here at work but also her spiritual leadership in being able to share that with her co-workers and not feeling that's something that she can't share openly. I'm just proud of everybody's response and their involvement. This is their break time, and I appreciate that they have the dedication to come up here every day."
Father Paul Fetsko, vice president of mission, offered his praise for the daily prayer gatherings.
"This is a wonderful example of the prayerful Mercy spirit of our co-workers," he said. "Hats off to Summer for the idea and those who gather every day!"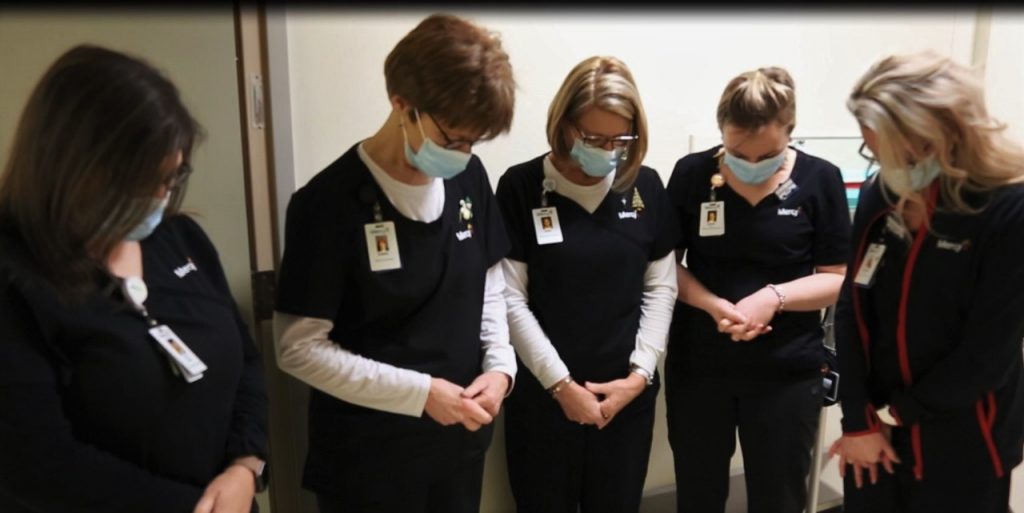 Mercy Fort Smith co-workers gather for daily prayer in the ICU.