Most of us know a colonoscopy is used to detect cancer. Now, thanks to a new device at Mercy Hospital Lebanon, problematic polyps can be removed during your routine screening – without the need for surgery.
The Erbe VIO 300 D is an electrosurgical device that enables doctors to remove polyps using heat in a focused area. Lebanon's general surgeons have the new tool, after a $40,000 gift from Richie and Christina Vaughan. The couple donated to Mercy Health Foundation in honor of Christina's grandmother, Dorothy Hilton.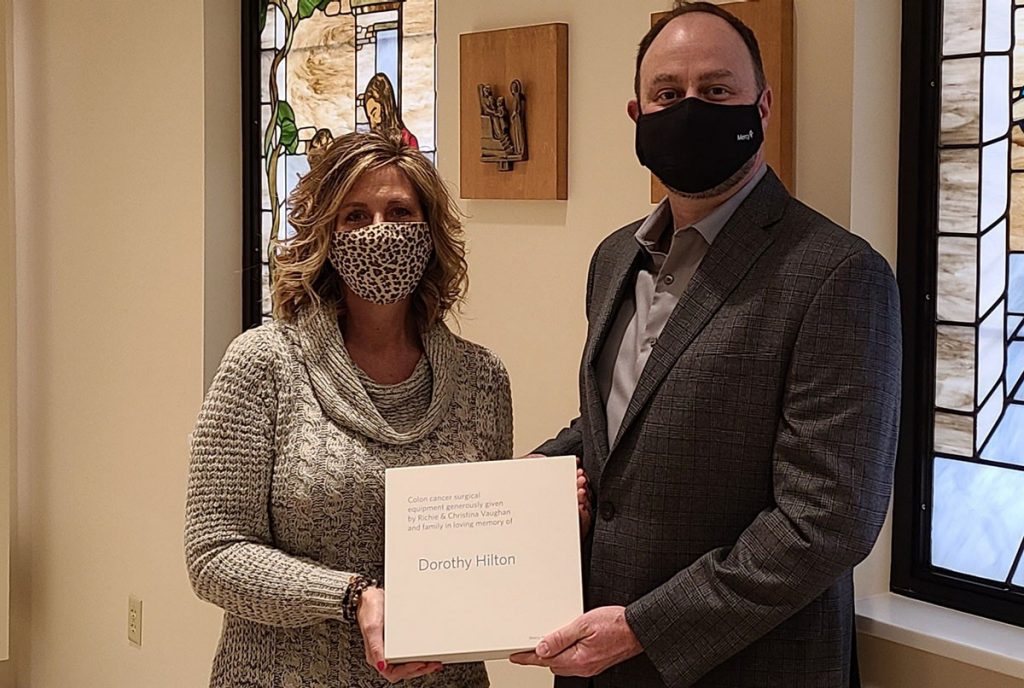 Christina and Richie Vaughan hold the plaque commemorating their gift to Mercy Health Foundation - Lebanon.
"She was a very caring woman who was always thinking of others," Christina said. "She lived a God-centered life and ensured others' needs were put above her own. Sadly, my grandmother was diagnosed with colon cancer and at the time, there was very little they could do about it."
Equipped with the new Erbe device, doctors may be able to stop cancer before it starts. "Polyps come in a variety of types," explained Dr. Kyle Ward, general surgeon at Mercy Hospital Lebanon. "Some harbor cancer and others can develop cancer if not removed. As the size increases, the risk of cancer increases. The Erbe helps us catch polyps when they're small and remove them immediately, without much – if any – discomfort to the patient."
Christina knows that's exactly what her grandmother would want. "She would be so happy looking down and seeing others taken care of quickly and with minimal intrusion," she said. "Hopefully it will ensure that many can have their medical needs taken care of right here in Lebanon. We're honored to be able to help bring the best health care to our community."
March is Colon Cancer Awareness Month. Across the country, many have put off routine screenings like colonoscopies during the pandemic. Mercy doctors say early detection is key – so if you're due, it's time to make an appointment.
"Remember, with this device, we can take care of most polyps immediately," Dr. Ward said. "Most likely, you'll be able to resume your normal life without much inconvenience at all."