April 13, 2021
Dr. Ann Blackman has a large, active family – so she knows how important quality, quick care is for your family, too.
"I think the only thing more important to me than becoming doctor when I was younger was becoming a mom," she said.
She didn't finish her medical training before starting a family, either, having her four kids throughout medical school, residency and her first year of practice. "As crazy as most people think that sounds, it was all by design," she said. "Because I love being a mom so much, having kids as I went through my training process provided me with an interest outside of medicine." Her children range in age from 23 to 16.
Dr. Blackman's dream of becoming a doctor began very young. "I feel like medicine was truly a calling for me," she said. "I had been telling everyone since I was 3 years old that I was going to be a doctor. I feel like this is my purpose. I find such fulfillment in being able to help people and make a difference in their lives."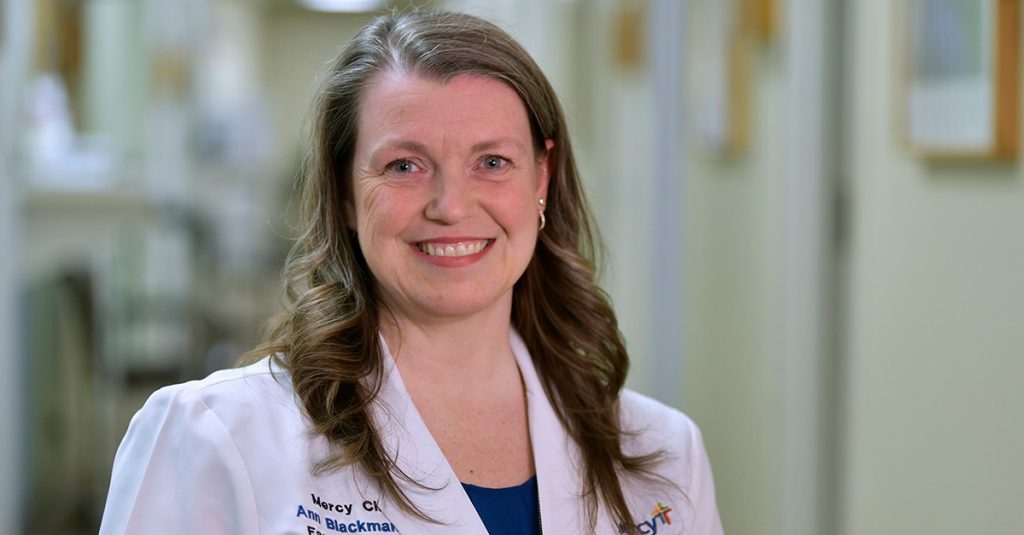 Dr. Ann Blackman sees patients at Mercy Clinic Family Medicine - St. Robert.
When it comes to your health, Dr. Blackman won't just focus on one particular ailment. "I always try to look at the big picture in terms of how one medical problem can affect another," she said. "I aim to really listen to the patient and the patient's concerns and goals for their care."
Dr. Blackman spent her early childhood years at Lake of the Ozarks, before moving to Iowa in middle school. That's where she graduated high school and college and completed her residency. Her husband is from Iowa, and while they didn't know each other until college, they learned they'd actually attended the same middle and high schools.
Love for things like boating, fishing, hiking and swimming brought the family back to Lake of the Ozarks, where you'll often find Dr. Blackman with her camera, capturing the beauty of the area.
With her understanding of busy family life, Dr. Blackman is dedicating Thursdays to walk-in care. To make an appointment with her on another day, just click the link below.
Media Contacts
Sonya Kullmann
Branson, Cassville, Lebanon, Mountain View, Rolla, Springfield, Aurora