CHESTERFIELD, Mo. – Mercy Rehabilitation Hospital St. Louis has been named the best physical rehabilitation center in Missouri and rated 14th best in the country by Newsweek magazine in its annual rankings, produced in partnership with Statista Inc., the world-leading industry ranking provider.
The publication's "America's Best Physical Rehabilitation Centers 2021" listing of rehabilitation facilities is based on quality of care, quality of service, quality of follow-up care and accommodation and amenities. Rankings use a rigorous methodology with data from a survey of thousands of medical experts and quality measures from the Centers for Medicare and Medicaid Services.
"We are honored to be rated by Newsweek as the best inpatient rehabilitation facility in Missouri," said Joseph Koehler, CEO of Mercy Rehabilitation Hospital St. Louis. "We strive to deliver the best patient outcomes and experiences each day as we help patients recover from injury or illness and return home. To see those efforts recognized as the best in the state and among the best in the nation is pretty incredible and speaks volumes about our compassionate and skilled health care professionals who've made others' recovery their vocation."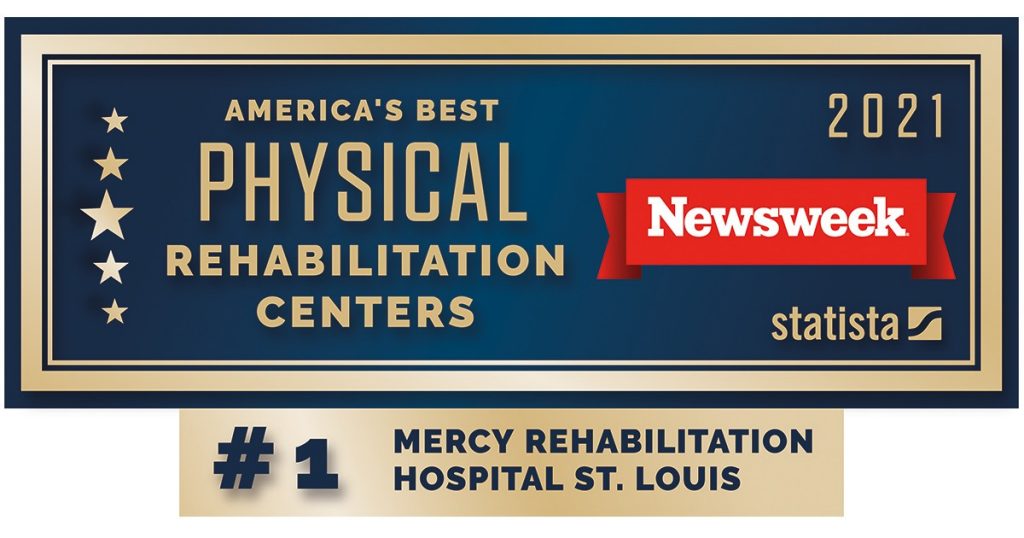 "It's reassuring for us and our patients to know that if they would ever need that extra rehabilitation help after a hospitalization, we have the best in the state right down the street," said Dr. David Meiners, president of Mercy Hospital St. Louis.
Mercy Rehabilitation Hospital St. Louis, a joint venture between Kindred Healthcare and Mercy, is a freestanding rehabilitation hospital in Chesterfield, Missouri. The hospital features specialized clinical programs, an interdisciplinary team of health care professionals and state-of-the-art technologies to help patients recover, regain strength and agility, and return home following debilitating conditions such as stroke, neurological disease, brain or spine injuries, and other long-term illnesses and injuries. For more information about Mercy Rehabilitation Hospital St. Louis, click here.
More information about the Newsweek recognition is available here.