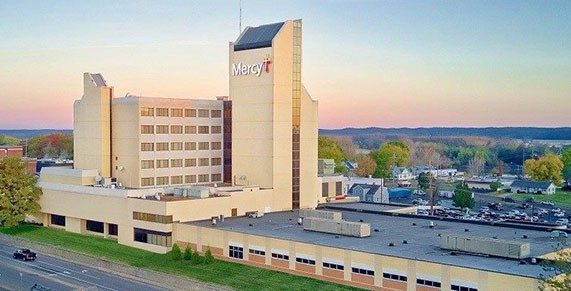 Mercy Hospital Washington has been dedicated to transforming the health and wellness of our community for nearly a century.
Level III Trauma Center
Intensive Care Unit
Transitional Care Unit
Bariatric Center
Imaging/Lab
Chest Pain Center
Cardiac Catheterization Labs
Urgent Care and Convenient Care Clinics
Accredited by The Joint Commission
Mercy Hospital Washington's GI Lab and associated endoscopy centers are certified by the American Society of Gastrointestinal Endoscopy, a leading gastrointestinal medical society.
Accredited by the Society of Chest Pain Centers - one of 22 facilities in Missouri and one of seven in the St. Louis area.
Mercy Clinic Women's Health - Washington is certified through the American Congress of Obstetricians and Gynecologists' Safety Certification in Outpatient Excellence for Women's Health program.
Recognized by the American College of Cardiology in the 2021 U.S. News & World Report "Best Hospitals" issue for commitment to hospital care for heart patients.
Earned an "A" grade from Leapfrog Group based on preventing medical errors, accidents and infections.
Certified Bariatric Center of Excellence
Becker's Healthcare included Mercy Hospital Washington on their list of 100 Great Community Hospitals in 2019.
Named a 2019 "Top Hospital" by The Leapfrog Group - a designation achieved by fewer than six percent of hospitals across the nation.
The only state designated Level III Trauma Center located between St. Louis and Jefferson City.
Designated Level II Stroke Center by Missouri Department of Health and Human Services.
Offering 24/7 patient care with hospitalists and intensivists; two cardiac catheterization labs; accredited cardiac rehabilitation center.
Specialties: Anesthesia, Audiology, Bariatrics, Cardiovascular and Thoracic Surgery, Dermatology, ENT, GI, Heart and Vascular, Wound Care, Neurology, Nuclear Medicine, OB/GYN, Ophthalmology, Oncology, Orthopedic Surgery, Pain Management, PET/CT, Plastic/Reconstructive Surgery, Podiatry, Pulmonology, Sleep Medicine, Surgical Specialists, Urology, Women's Health
Serving about 180,000 patients living and working in Bourbon, Cuba, Eureka, Fenton, Gerald, Hermann, Marthasville, New Haven, Owensville, Pacific, St. Clair, Steelville, Sullivan, Union, Warrenton, Washington and Wentzville.
1926: Three story, 50-bed hospital opened, named St. Francis Hospital
1976: St. Francis Hospital merged with Mercy in St. Louis, bringing it under the management of the Sisters of Mercy
1982: Became St. John's Mercy Hospital
2011: Renamed Mercy Hospital Washington
Learn more about Mercy's history in Washington, Missouri.  
Mercy Cancer Center - Patients First Drive is home to the most advanced linear accelerator in the region, the Versa HD™.
Offers MyMercy, a free service, allows patients to connect online with their doctors, plus see medical information, view test results, renew prescriptions, schedule appointments and e-visits using a personal computer, tablet or smartphone.
202,856 visits
---
Outpatient
$3.4 million
---
Traditional Charity Care
$1.07 million
---
Other Community Benefit
$10.5 million
---
Unreimbursed Medicaid
1,035 Co-workers
---
Hospital Based
723 Births
---
Maternity Services
68 Locations
---
Clinic and Outpatient
134 Physicians
---
Mercy Clinic
40,473 Visits
---
Emergency Visits
7,010 Discharges
---
Acute Inpatient
7,589 Surgeries
---
Inpatient and Outpatient
Mercy, one of the 20 largest U.S. health systems and named the top large system in the U.S. for excellent patient experience by NRC Health, serves millions annually with nationally recognized quality care and one of the nation's largest Accountable Care Organizations. Mercy is a highly integrated, multi-state health care system including more than 40 acute care, managed and specialty (heart, children's, orthopedic and rehab) hospitals, convenient and urgent care locations, imaging centers and pharmacies. Mercy has 900 physician practices and outpatient facilities, more than 4,000 physicians and advanced practitioners and more than 45,000 co-workers serving patients and families across Arkansas, Kansas, Missouri and Oklahoma. Mercy also has clinics, outpatient services and outreach ministries in Arkansas, Louisiana, Mississippi and Texas.
Bethany Pope
St. Louis, Troy, Washington, St. Charles