WENTZVILLE, Mo. - A ribbon cutting and blessing event was recently held at the newest Mercy Clinic Four Rivers location, the new on-site Mercy Clinic at the Wentzville School District (WSD) Pearce Hall. The clinic, located at 390 West Koenig St., will serve the district's students, staff and staff family members.  
Family Nurse Practitioner Trisha Waters, who has been providing offsite care for the district's 17,000+ students and almost 3,000 staff members since August 2021, is now based full-time at the Mercy Clinic school site. During the first full month of operation, Waters saw almost 75 patients.
"It's been great to provide care to the Wentzville School District students, staff and families," Waters said. "With the new convenient location it should prove even easier for them to stop by for primary or urgent care needs."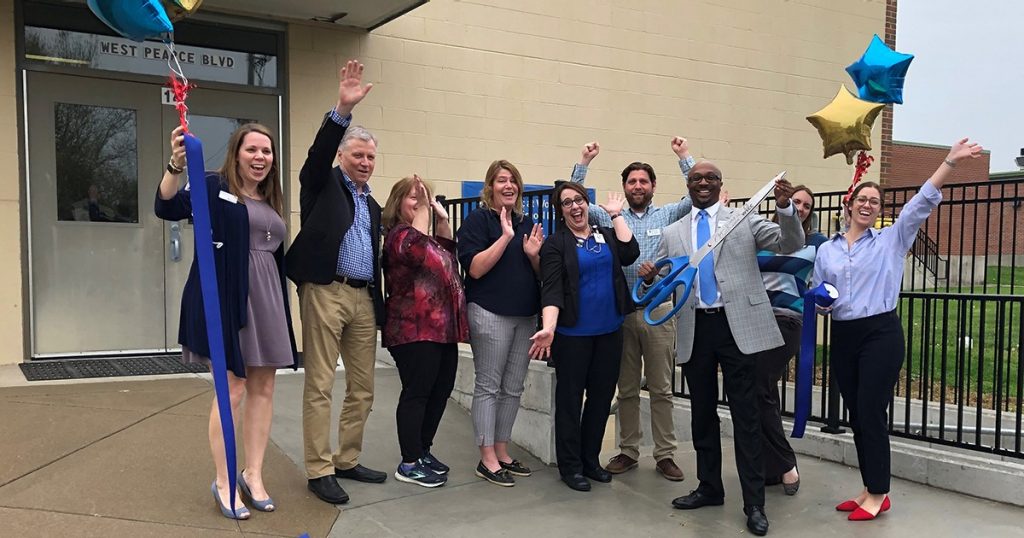 Mercy and Wentzville School District leaders gather to celebrate the official opening of the new Mercy Clinic at Pearce Hall.
Natalie Spatafora, Wentzville South Middle School nurse, said the clinic is a phenomenal addition to the school district and the Wentzville community.  "Trisha is a wealth of knowledge and is readily accessible to see students, staff and families, often within the same day of reaching out to her," Spatafora said. "She has been an exceptionally valuable resource to the school nurses, and we are excited to have her on our team."
The Mercy Clinic at Pearce Hall operates from 8 a.m. to 4 p.m. Monday through Friday and will remain open during the summer months. Appointments can be made by calling 636-445-3820; walk-in care is also accepted.