Silver Dollar City leadership, recognizing Mercy as a leading expert in health care, announces a multi-year sponsorship for Mercy to provide guidance and improvements to family health and care-related services offered at the internationally awarded 1880s-style theme park in Branson, Missouri.  The organizations are teaming up in a mutual commitment to provide family safety, accessibility, good health and comfort.

"We know many of our visitors come from the communities Mercy serves," said Brad Thomas, president of Silver Dollar City Attractions. "It made sense to choose a well-respected, familiar name to advise us on ways to keep our guests healthy."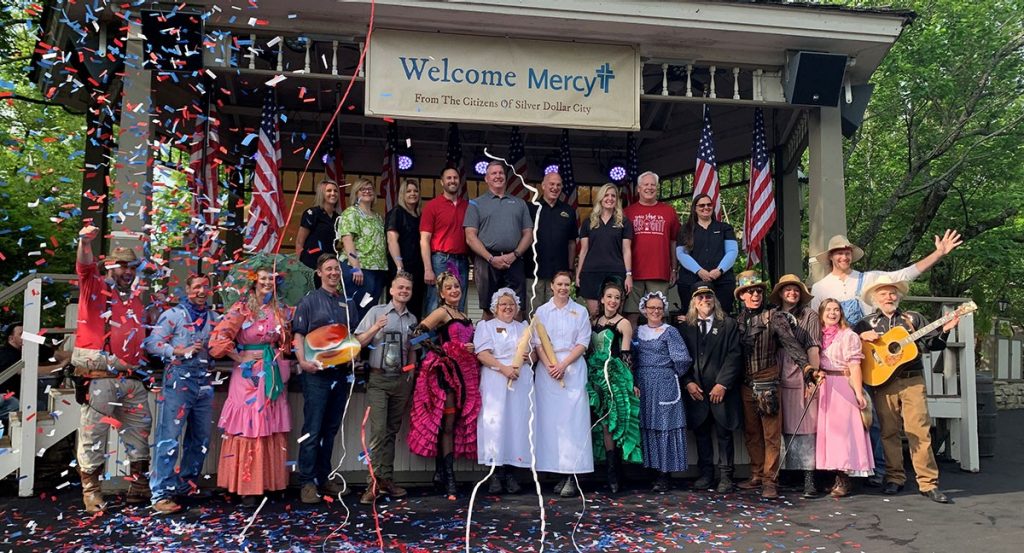 Mercy leaders and Silver Dollar City citizens announce Mercy as the Official Health Care Sponsor of Silver Dollar City
The sponsorship includes collaboration from Mercy on many guest services, including increased hand sanitizer stations and enhancements to nursing stations and first aid operations.

The most notable addition so far is the park's first ever "Calming Space" for guests with special needs who experience sensory overload. The first of several planned spaces in the City – the Calming Space is a room created to soothe guests with sensory processing disorders. There's privacy for one family, with no time limit.  With advice from Mercy experts, the space includes comforting colors, soft seating, low lighting, books, sensory toys and a "crash pad" – a large, cushioned area for rest, rolling or jumping.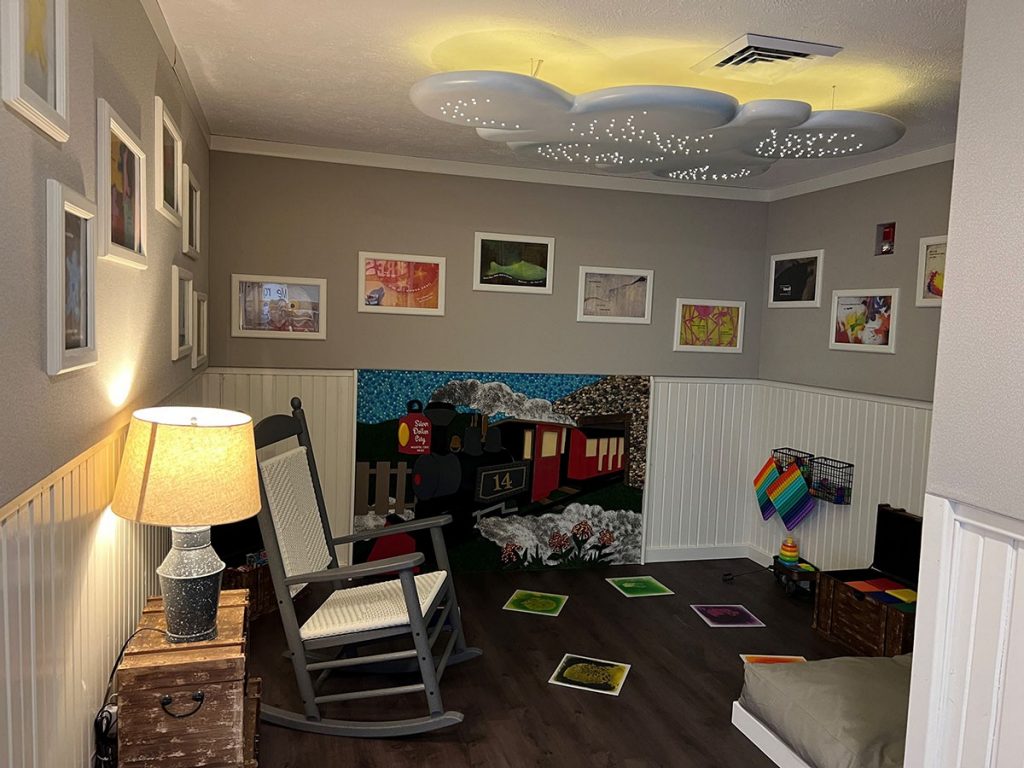 Silver Dollar City's Family Calming Space, provided by Mercy.
"The Calming Space's focal point is a large textured wall, designed and built by Silver Dollar City craftsmen to portray the Frisco Silver Dollar Train," said Jessica Loftis, Silver Dollar City project manager. "We know most kids love trains, so we created the drawing of our train scene, then set out to build it.  There are dimensional layers of smooth and rougher surfaces, artificial grass, wood for the railroad ties, stone for the tunnel and glass beads for the sky."

The room is designed to offer a variety of options. "Some people with developmental disabilities, like autism, need quiet and very little movement to calm down," explained Dr. Kyle John, child psychiatrist and vice president of Mercy's behavioral health program. "But some actually need outside stimulation or repetitive motion to feel more grounded. They might rock back and forth on the crash pad or find a texture on the wall that is comforting to touch."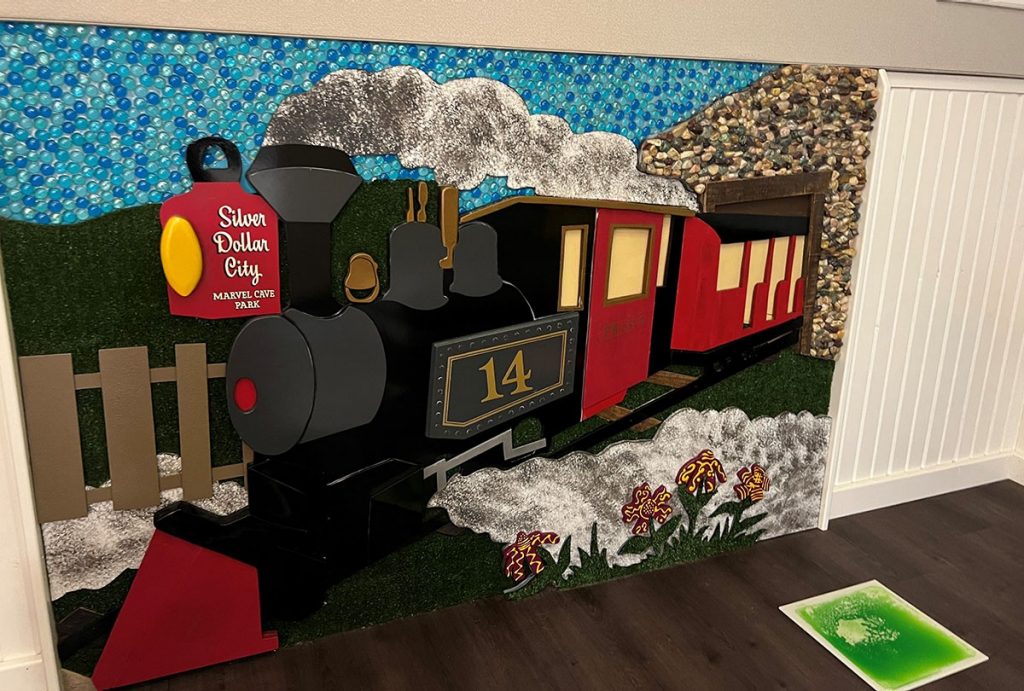 The sensory wall inside the Family Calming Space at Silver Dollar City.
Park visitors can also have peace of mind in knowing their electronic health record travels with them to Branson. "As the 'Official Health Care Sponsor' of Silver Dollar City, our goal is to serve families before, during and after their park visits," said Craig McCoy, president of Mercy Springfield Communities. "If you're already a Mercy patient and you need care while you're here, our providers have access to your health records. We'll know about your allergies and what medications you're taking. When you return home, that connection continues, because your family doctor will have the details of any treatment Mercy provided during your trip."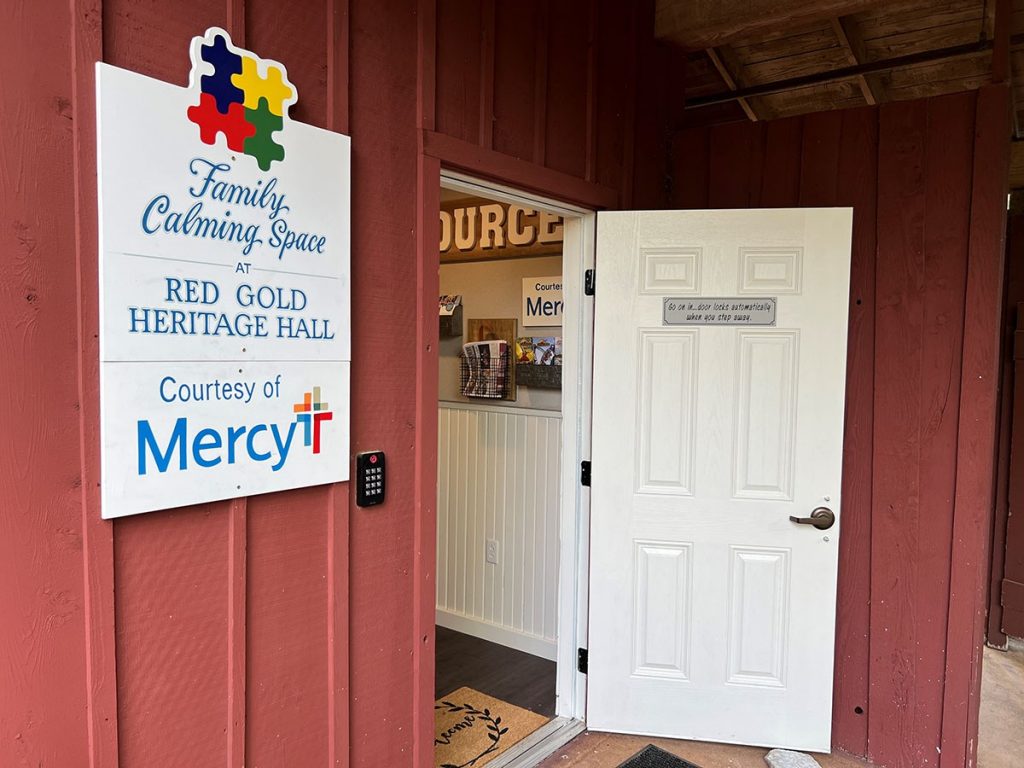 "One of our core values is adapting to guests' changing expectations," Thomas said. "We strive to listen to our guests and respond appropriately.  We want to better serve the care and health needs of our guests while they have fun at The City. We are excited to add Mercy's expertise and guidance in that quest!"  
Making time for fun is a healthy activity in its own right. "After two years of a pandemic, we know how important it is to get outside with our families and friends," Dr. John said. "We need to have fun together and experience joy."
Both Silver Dollar City and Mercy have long-standing reputations of commitment to the safety and well-being of millions of families. Silver Dollar City, operating for more than six decades, provides family adventure and entertainment, while Mercy has a 195-year legacy of transforming health and wellness in the communities it serves.