Growing up, Sarah Colwick was the "helper" at the Lamaze childbirth class taught by her mother, an obstetrics nurse.
"My mother and grandmother are both nurses, and some of my earliest memories are of watching them," said Dr. Colwick. "I don't think I provided a lot of assistance to my mom, but her work left a very deep impression. I saw what she and my grandmother could do for people, and that really drew me into health care."
There's no doubt Dr. Colwick is helping people now as a Mercy Clinic breast surgeon at the David M. Sindelar Cancer Center on the Mercy Hospital South campus.
"Breast surgery is unique – it is a combination of not only surgery and procedures but also long-term follow-up," said Dr. Colwick. "I have the opportunity to get to know patients over a long period of time. My move to Mercy South is a wonderful opportunity to provide world-class care with the highest standards in a state-of-the-art facility that is close to home for many of our patients."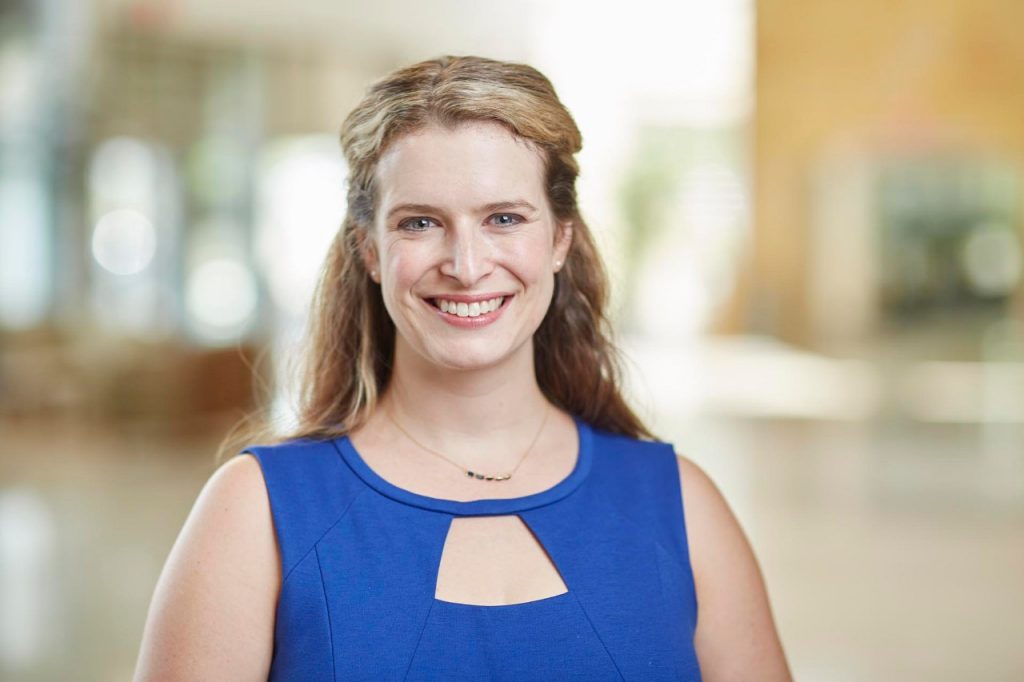 Dr. Sarah Colwick is a breast surgeon who is now seeing patients at Mercy Clinic Breast Surgery – Sindelar Cancer Center.
Dr. Colwick grew up in Sikeston, Missouri, where she met her husband, Scott, in third grade. They were friends growing up and went to prom together before going their separate ways. It wasn't until years later, when they ran into each other at a conference in Dallas, that they embarked on a more formal union. They have now been married for a little over a year and are puppy parents who love to travel. Dr. Colwick loves cooking and baking, and Scott is often the test subject for her new recipes. She also enjoys Zumba classes and kickboxing for exercise.
When it comes to caring for patients, Dr. Colwick says, "Information and education with kindness are keys to patient care. Patients should be given all the information and tools they can to make an informed decision."
Dr. Colwick is now seeing patients at Mercy Clinic Breast Surgery – Sindelar Cancer Center.