WASHINGTON, Missouri - After years of struggling on oxygen, Karen Stillman tried something different – pulmonary rehabilitation. Eight years ago she had pneumonia and was in the hospital for five days, ending up on oxygen. She said she had seasonal issues with oxygen because of allergies and used a nebulizer, nothing seemed to help.
"My doctor was treating me for COPD but nothing was working," Stillman said. "In addition to that, I also have a frozen diaphragm that only functions halfway."
Last November, her pulmonologist, Dr. Umer Siddiqui, recommended pulmonary rehab.
Pulmonary rehab can benefit anyone with COPD, emphysema, bronchitis, post-COVID, interstitial lung disease and more. It includes a monitored and supervised exercise program, psychosocial support and education. Benefits include a decrease in the symptoms of the disease, better ability to function in daily activities and better management of anxiety and depression.  Mercy Washington Cardiopulmonary Rehab is certified by the American Association of Cardiovascular and Pulmonary Rehabilitation Program.
"Dr. Siddiqui suggested I go to therapy and it's been great," Stillman said. "I went one time years ago, but something didn't click. Now, I'm going on my own."
Stillman raved about her experience and wants to others to know how beneficial it has been for her physical and emotional wellbeing. She's been able to reduce and eliminate the use of oxygen and other forms of breathing medications and credits this to therapy.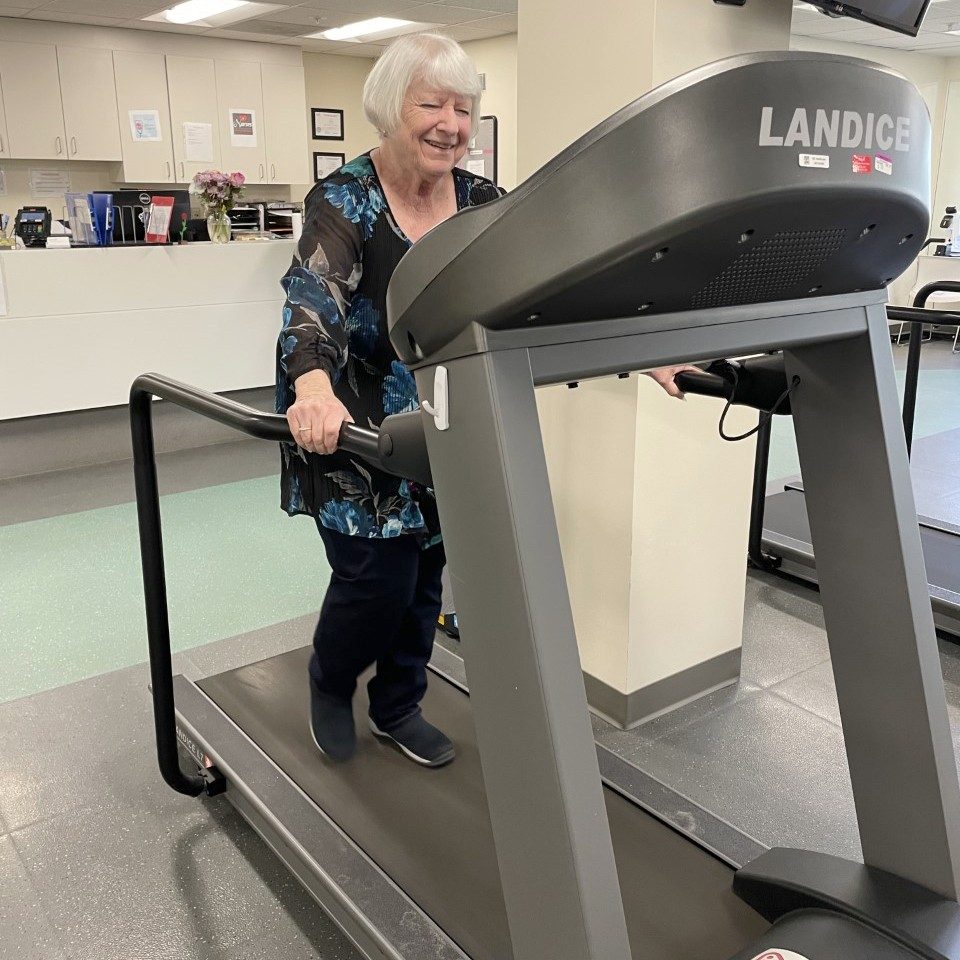 Karen Stillman on treadmill at Mercy Washington Cardiopulmonary Rehab. Patients are allowed to remove masks, if needed, as long as no other patients are around.
"Everyone is kind and encouraging," she said. "I don't think I would have gotten this far without them. If I didn't take that step and go to rehab, I don't think I'd be in the shape I'd be in right now."
Stillman's insurance covered two visits a week for 36 weeks and when it ran out she continued as a self-pay patient.
"We are all thrilled with the amazing progress Karen made while attending our program," said Lisa Hahne, RN, clinical team leader at Mercy Washington Cardiopulmonary Rehab. "It was so encouraging to see her oxygen needs decrease and then she got off of it completely! She always makes sure to tell us what a big difference we made in her life, but we tell her that she put in the effort we are just her cheerleaders."
"It's their encouragement and the fact that everyone is so nice, I just keep plugging along. They push in a very gentle way," Stillman said. "I do it because I feel comfortable. It's worth it to be with the same people, they still encourage me."
At home, Stillman walks on the treadmill uses resistance bands. She said she can breathe better and has more energy.
"If you're treated like a number and there's nothing personal in it, you get discouraged," Stillman said. "Lots of people just quit. They make you feel like you WANT to do it and that's half the battle. They believe in me and, in turn, I believe in them."
Karen Stillman on a recumbent bike at Mercy Washington Cardiopulmonary Rehab.