A hospital stay can be scary, especially for kids. Hopefully, a new feature coming to Mercy Kids Children's Hospital will ease anxiety and be an important part of young patients' recovery.
The Bass Pro Foundation presented a $10,000 check today to Mercy Health Foundation Springfield, to help pay for a new 300-gallon fish tank in the pediatric inpatient unit of Mercy Kids.

"I am honored to be a part of such a meaningful project for Mercy Kids," said noted conservationist and founder of Bass Pro Shops, Johnny Morris. "We hope this updated aquarium will bring the wonder of the great outdoors to these kids and inspire them as they find their way back to health."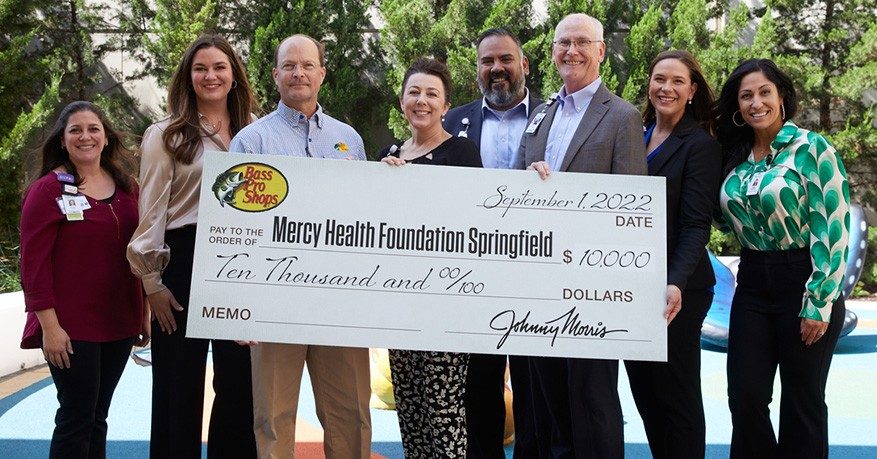 Bass Pro Shops leaders present a check for $10,000 to Mercy Kids Children's Hospital Springfield.
The new aquarium will replace the current one, which is small and more than 40 years old, but still is serving a very important purpose.
"We often need kids to get up and move around as part of their healing process," said Ashley Wilson, manager of Mercy Child Life Services. "Inviting them to come feed the fish can be the motivation they need to leave their beds. The tank also draws patients and even families to sit in our playroom and have a moment of calm in an otherwise stressful situation."
The new aquarium will be a huge upgrade in size and features.
"It will have 'portholes' that will open to the hallway, which we think will be much more inviting," Wilson said. "Some patients and families may not be able to enter the playroom due to infection prevention measures, but they will be able to see the fish from the outside."
With this donation, Mercy Health Foundation Springfield has raised $12,000 of the $50,000 necessary to finish the project.
"We're so grateful to Mr. Morris and the Bass Pro Foundation for this generous gift," said Alyea Alldredge, executive director of Mercy Health Foundation Springfield. "The outdoors is such an important part of life in the Ozarks, and we know bringing some of the 'outside in' to our young patients will get them hiking down that path to recovery."