Sister Carolyn Stoutz, a Sister of Mercy, recently surpassed her 60th year of service. Over 22 years of that time has been spent serving the Ardmore, Oklahoma, community.  
Sister Carolyn entered the religious community in 1962. As a Sister of Mercy, she has served on local community boards, as a history teacher, school counselor, vice president of mission and patient and co-worker advocate. She currently spends countless hours praying for others and bringing laughter where needed.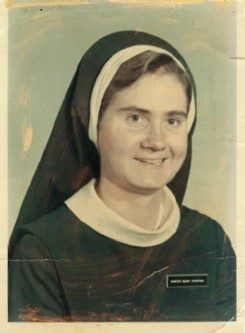 Sister Carolyn Stoutz in 1965.
"I've always wanted people to know that you can have fun as a Sister of Mercy," said Sister Carolyn. "I hoped to change that image of a strict nun. We laugh and have a good time, and I always find a chance to joke with the people around me." 
One Sisters of Mercy tradition is for each nun to come up with a motto to be engraved on a personal ring. This motto serves as an ever-present reminder of their personal ministry of Mercy. Sister Carolyn's ring motto, "Love serves joyfully," is a written embodiment of her six decades of service.  
"Sister Carolyn carries the unofficial title of 'chief morale officer' to those who know her," said Daryle Voss, president of Mercy Hospital Ardmore. "She earned that affectionate designation through her 22 years of lifting, serving and cheering up those she comes in contact with. Her daily morning prayer at the hospital is one example of how she keeps us all centered and uplifted." 
In addition to her time at Mercy Hospital Ardmore, Sister Carolyn has also served in Enid, Oklahoma. Those who know her best describe a love for cats. Currently, she enjoys spending spare time with her cat named, fittingly, Mercy.  
Reflecting on six decades of service, Sister Carolyn said, "My best advice is for people to realize that what we do really does make a difference. Even a small thing like passing out candy can be just what someone needs that day." 
A lifetime of service makes Mercy brighter, thanks to the gift of Sister Carolyn's presence.  
Sister Carolyn Stoutz in 2022.