ST. LOUIS - Mercy Research named its 2022 Researcher of the Year, Dr. Muhammad Javed. Dr. Javed is a Mercy critical care physician who was recognized for his expertise, mentorship and leadership.
The Researcher of the Year award is presented annually to recognize a Mercy researcher who exemplifies: 
High engagement in ongoing clinical research activities, making research part of their work.
Dedication to patients and to Mercy's mission, recognizing that research is a vehicle to improved patient care and exceptional patient experience.
Commitment to excellence and continued learning.
Innovative thinking with a bias for action.
Research collaboration across the Mercy ministry.
National or international stature reflected by presentations, books, publications or other forms of scholarly activity or recognition.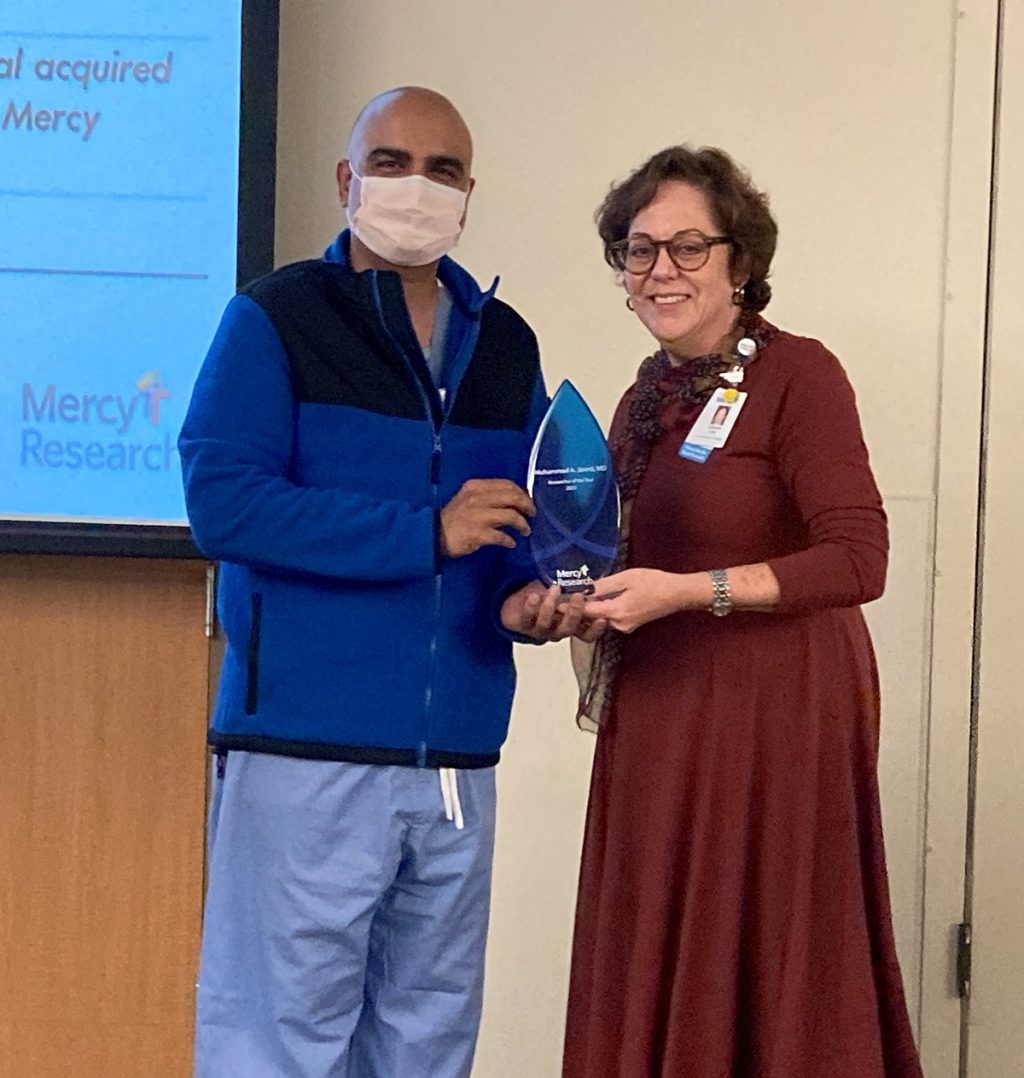 Mercy Research Vice President JoAnne Levy presents Research of the Year award to Dr. Muhammad Javed.
Here are a few of the nominations recognizing Dr. Javed's work:
"Dr. Javed is involved with both Investigator Initiated Trial (IIT) research with critical care fellows as well as industry research."
"Dr. Javed started his master's in simulation medical education with potential for more research opportunities."
"Dr. Javed is a mentor and supports students, medical students, residents and subspecialty residents during research rotations at the Critical Care Medicine Department along with supervising medical students from St. Louis University during ICU rotations at Mercy Hospital St. Louis."
"Part of Dr. Javed's Faculty Development Teaching activities include yearly courses on Mechanical Ventilators, Difficult Airway and Emergency Neurologic Life Support (ENLS) at Mercy Hospital St. Louis."
"Dr. Javed meets weekly for QI/PS project meetings and monthly with Transitional Year residents on such topics as communication, ethics, breaking bad news and financial planning for doctors."
Other Mercy investigators who were nominated for the award include:
Mercy Research is proud to support these dedicated investigators, all of whom are an integral part of research at Mercy.