Mercy has teamed up with GoHealth Urgent Care to create three new walk-in clinics in Fort Smith. Its first location, Mercy-GoHealth Urgent Care – Phoenix Avenue, opened Dec. 5 at 6801 Phoenix Ave.
The three new Mercy-GoHealth centers will replace two existing Mercy Convenient Care centers in Fort Smith and all three will open in newly renovated locations near major retail and traffic corridors. Below are the addresses of the new centers:
Mercy-GoHealth Urgent Care – Phoenix Avenue
Opened Dec. 5
6801 Phoenix Ave., Suite 2
Mercy-GoHealth Urgent Care – Rogers Avenue
Opening in early 2023
4620 Rogers Ave., Suite 101
Mercy-GoHealth Urgent Care – Fianna Hills
Opening in early 2023
2501 Market Trace, Suite C
A ribbon-cutting and blessing was held Dec. 5 at Mercy GoHealth Urgent Care – Phoenix Avenue. Dr. David Hunton, president of Mercy Clinic Fort Smith, cited Mercy's ongoing expansion with the clinic's opening, along with other projects, including the ER/ICU expansion at Mercy Hospital Fort Smith and opening of a new primary care clinic on Towson Avenue next year.
"You can see that Mercy Fort Smith is committed and dedicated to this community, and our commitment continues as we celebrate the opening of this first Mercy-GoHealth Urgent Care," Dr. Hunton said.
Those in attendance took part in a ribbon-cutting and took tours of the new clinic.
Mercy-GoHealth Urgent Care also has Arkansas locations in Bentonville, Rogers, Fayetteville, Springdale and Bella Vista, in addition to locations in Missouri and Oklahoma.      
Father Paul Fetsko, vice president of mission at Mercy Fort Smith, presents a Mercy cross to Kim Davis, senior regional operations manager with Mercy-GoHealth.
Mercy-GoHealth Urgent Care supports Mercy's reputation of high-quality, compassionate care that helps patients be well in mind, body and spirit with industry-leading NPS patient satisfaction ratings, customer-focused technology and Innovating Commerce Serving Communities (ICSC) award-winning urgent care center design.
"Every community is experiencing growth in patients who need on-demand, affordable health care, and Fort Smith is no different," said Sherry Buebendorf, regional president, Mercy-GoHealth Urgent Care. "We are thrilled to provide this historic area convenient access to urgent care that is directly connected to the robust services and expertise at Mercy. We look forward to being part of the Fort Smith community and serving residents directly in their neighborhoods."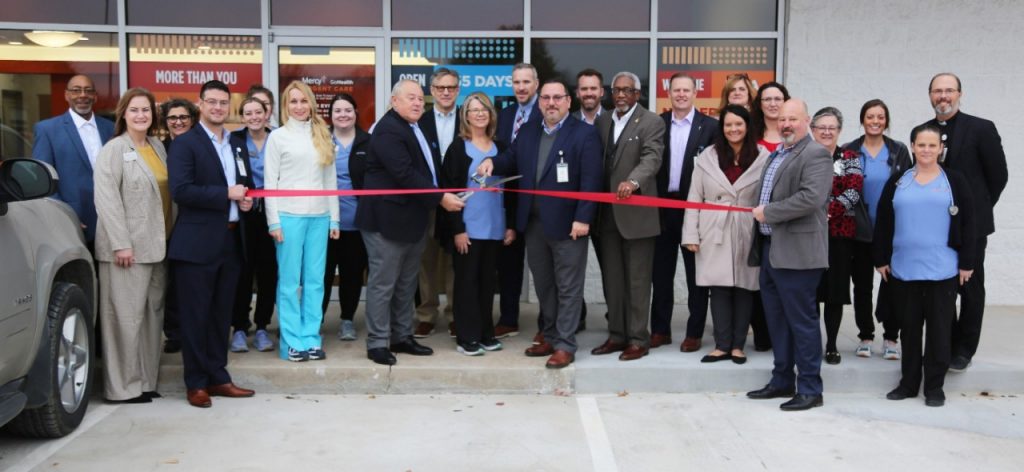 Leaders with Mercy, GoHealth, the Fort Smith Chamber of Commerce and others celebrated the Dec. 5 opening of Mercy-GoHealth Urgent Care - Phoenix Avenue.
Each new center will offer treatment for hundreds of common health concerns for adults and children 6 months and older, including COVID-19, flu, fever, asthma, allergies, minor cuts, burns, pinkeye, urinary tract infections, fractures, sprains, strains and more. Onsite X-ray services and COVID-19 testing are available.
Each location will be open seven days a week, from 8 a.m. to 8 p.m. Monday through Friday and 9 a.m. to 5 p.m. Saturday and Sunday. Patients have access to quality care quickly and effortlessly with the options to walk in any center, check wait times or save a spot online and pre-register. Patients may also connect with a local urgent care provider remotely in a virtual visit, which can be done at the patient's convenience via a mobile device, computer or tablet.
For a full list of Mercy-GoHealth Urgent Care locations, visit https://www.gohealthuc.com/mercy.