Residents recovering from heart or lung conditions no longer need to travel out of the area for rehabilitation care. Mercy Cardiopulmonary Rehabilitation – Ada opened its doors for outpatient treatment on Tuesday, Dec. 20. This new program will be the first service of its kind in the region.  
"Participants in cardiopulmonary rehabilitation have improved health outcomes," said Dr. Fionnuala Gurley, a cardiologist at Mercy Hospital Ada. "Unfortunately, lack of easy access to rehab services is often a barrier to participation. This new program at Mercy Ada will provide residents of Pontotoc and surrounding counties with the opportunity to reap the proven benefits of rehab close to home."
Cardiopulmonary rehabilitation is medically supervised exercise and education that improve patients' quality of life. Rehab services promote lifestyle changes that increase physical strength and energy and can even help prevent cardiac or pulmonary diseases.

Mercy's program is comprised of three parts: exercise counseling and training, education for healthy living and stress reduction counseling. The rehabilitation office runs multiple sessions a day and is equipped to take five patients per session.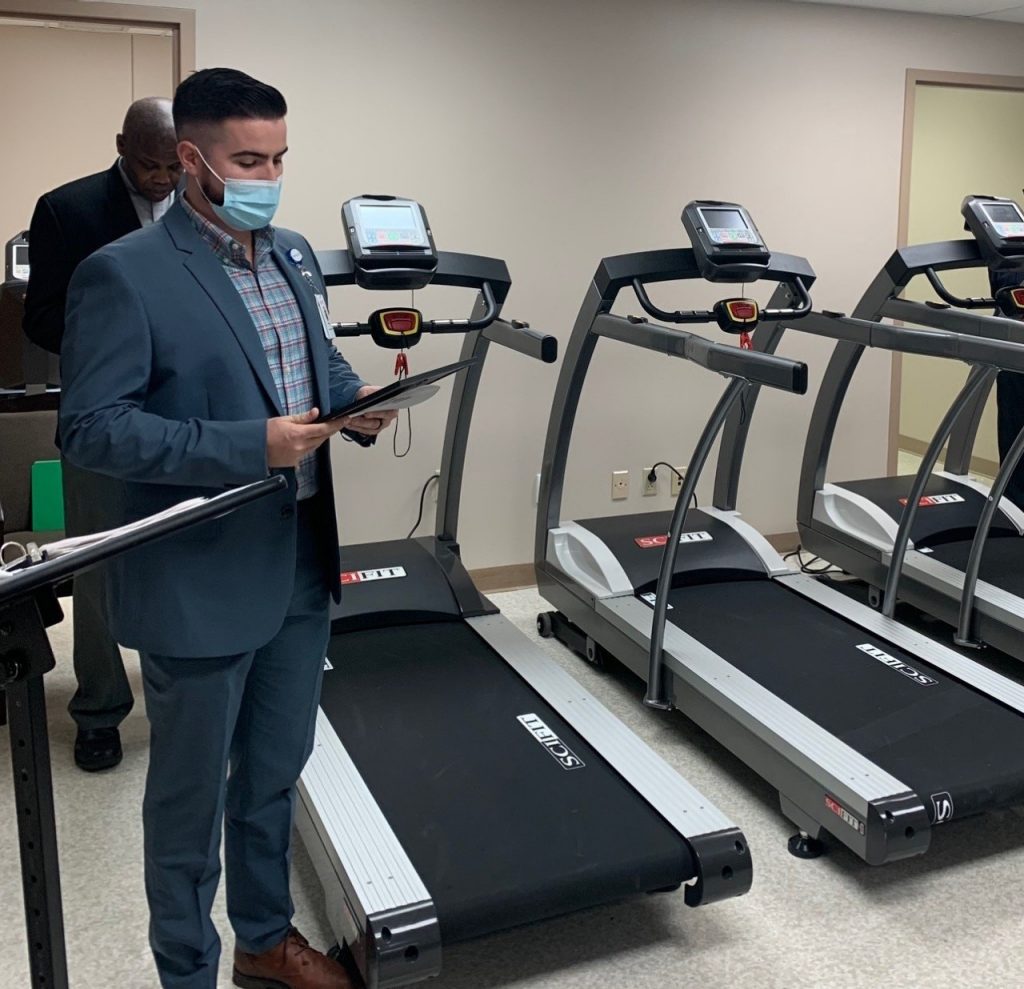 Mercy blesses the new cardiopulmonary rehabilitation space in Ada.
"Many patients enjoy their time in rehab," said Scott Tulane, vice president of operations at Mercy Hospital Ada. "They learn they are not alone in their journey of dealing with a cardiac or pulmonary issue. They also see progress with their health, develop friendships and graduate from a program that gives them a second chance at an active and full life."
Patients who have recently had a heart attack, heart disease or any heart or lung problem can benefit from cardiopulmonary rehab, though they need a referral from a physician who will evaluate and determine if it's a good option for them.
This program marks the fifth new service line Mercy introduced to the Ada community in the last year. In addition to cardiopulmonary rehab, Mercy opened new cardiology and endocrinology clinics. Mercy also added inpatient dialysis services, neurology and stroke treatment.
"We are invested in our patients and this community," said Terence Farrell, president of Mercy Hospital Ada. "This new cardiopulmonary rehabilitation program is another way our team is rising to meet the needs of patients as Mercy continues to improve access and elevate the standard of care locally."