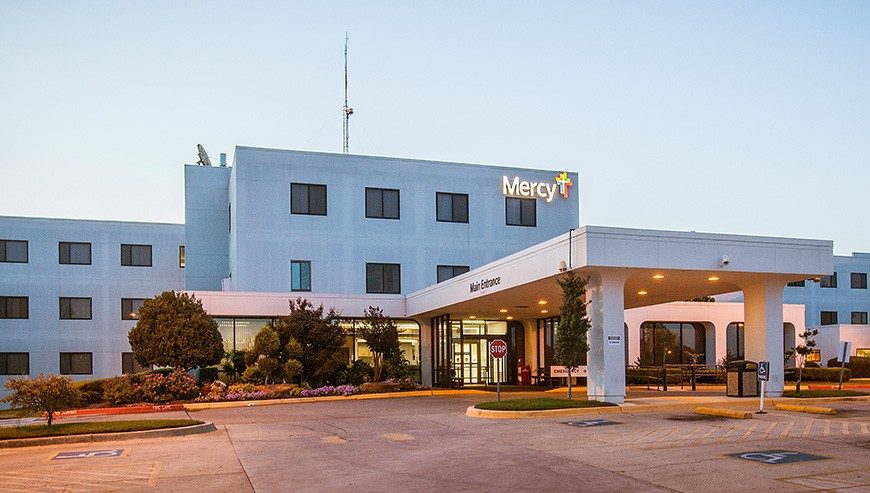 Mercy Hospital Ada has been a healing presence in the Ada region for more than 100 years.
Mercy Hospital Ada Featured Services
Additional Hospital Services
Cardiovascular Services

Comprehensive Laboratory

Home Health
ICU
Inpatient Rehabilitation
Occupational Therapy

Physical Therapy
Primary Care Services

Radiology
Sleep Center
Speech Therapy
Mercy EMS

Wound Center & Hyperbaric Medicine
Joint Commission Gold Seal of Approval
Commission on Cancer Accredited Program
24-hour emergency room
Mercy Meds electronic medication administration system improves safety by monitoring medications and dosage through computerized, bar-coded technology
Rehabilitation services, including physical therapy, occupational therapy and speech pathology
Sleep lab
24-hour obstetric services
Outpatient surgery, including ophthalmology
Cardiology clinic
1898: Five sisters journey to the rolling hills of Southern Oklahoma and establish St. Agnes Academy, a school for children
1938: The original 64 bed Valley View Hospital opens.
2009: Valley View entered a management agreement with Mercy.
2013: Valley View Regional Hospital becomes Mercy Hospital Ada.
Among 7 percent of health care organizations nationwide to have a comprehensive, integrated electronic health record that provides real-time, paperless access to patient information. MyMercy, a free service, allows patients to connect online with their doctors, plus see medical information, view test results, renew prescriptions and schedule appointments using a personal computer or smartphone
Stereotactic breast biopsy service
Bone density
GE 16 slice CT
GE 16 Slice CT w/fluoro
GE open MRI
GE traditional 1.5T MRI
GE Ultrasound
2 Phillips Nuclear Med cameras
PET scan service
Kodak digital x-ray trauma room
GE fluoroscopy (RF) unit
$1.5 million
---
Traditional Charity Care
$482,000
---
Other Community Benefit
$7.5 million
---
Unreimbursed Medicaid
13 Locations
---
Clinic and Outpatient
2,507 Surgeries
---
Inpatient and Outpatient
492 Co-workers
---
Hospital Based
3,725 Discharges
---
Acute Inpatient
22,010 Visits
---
Emergency Room
327 Births
---
Maternity Services
Mercy, one of the 20 largest U.S. health systems and named the top large system in the U.S. for excellent patient experience by NRC Health, serves millions annually with nationally recognized quality care and one of the nation's largest Accountable Care Organizations. Mercy is a highly integrated, multi-state health care system including more than 40 acute care, managed and specialty (heart, children's, orthopedic and rehab) hospitals, convenient and urgent care locations, imaging centers and pharmacies. Mercy has 900 physician practices and outpatient facilities, more than 4,000 physicians and advanced practitioners and more than 45,000 co-workers serving patients and families across Arkansas, Kansas, Missouri and Oklahoma. Mercy also has clinics, outpatient services and outreach ministries in Arkansas, Louisiana, Mississippi and Texas.