ST. LOUIS -  The Mercy Center for Performance Medicine & Specialty Care on the campus of Mercy Hospital St. Louis marked its opening with a blessing and ribbon cutting. Patients will be seen in the new facility starting Monday, April 24.
Mercy's traditional blessing includes a ritual of sprinkling holy water, saying prayers and blessing those who will provide care in the new space. Mercy co-workers, physicians, leaders and community dignitaries also attended the ceremony. 
The 272,000-square-foot facility, one of the largest multispecialty surgery centers in the country, is a next-generation care space with the consumer experience top of mind at every turn. Throughout the summer, new technologies will be introduced, making each patient visit easy and seamless.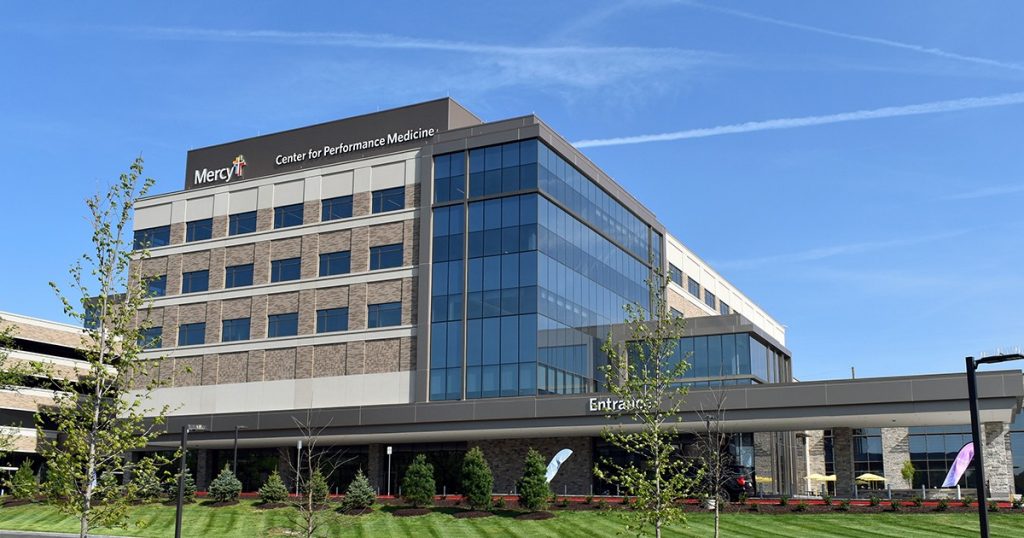 The Mercy Center for Performance Medicine & Specialty Care
WATCH: Time Lapse Construction Video
Advanced technology rolling out throughout this summer includes:
Real-time virtual navigation and wayfinding.
Dynamic scheduling to provide an itinerary that lays out each step of the visit.
Single point of care to make the building a one-stop shop for exams, lab work, scans, prescriptions and more.
Procedure Pass to guide patients through pre-operation tasks.
Virtual visitor service for loved ones who want to participate in an appointment but can't make it in person.
On-demand, real-time assistance.
"The Center for Performance Medicine goes beyond adding a new building to the campus," said Dr. David Meiners, Mercy Hospital St. Louis president. "It will offer patients a new experience and serve as a model for future Mercy projects, helping to enhance the great care provided by our teams."
Specialties represented include bariatrics (weight loss surgery), neurosurgery, orthopedics (including a walk-in orthopedic clinic), sports medicine and therapy services, plastic surgery, precision medicine and urology. Additional services include imaging, a drive-through pharmacy and a café.
"Our lives are changing rapidly, and so is health care," said Steve Mackin, Mercy president and CEO. "The Center for Performance Medicine symbolizes a commitment with each of our patients to help them lead healthier lives. Being a high performer means something different to each of us – but the health care of the future will allow all of us to enjoy increasingly preventative, holistic care while using data and technology to identify potential health challenges down the road, enabling us to offer the right care right now."
Design and construction leadership and services were provided by Blue Cottage of CannonDesign, Alberici/KAI, a joint venture of Alberici and KAI Enterprises. 
Mercy, one of the 20 largest U.S. health systems and named the top large system in the U.S. for excellent patient experience by NRC Health, serves millions annually with nationally recognized quality care and one of the nation's largest Accountable Care Organizations. Mercy is a highly integrated, multi-state health care system including more than 40 acute care, managed and specialty (heart, children's, orthopedic and rehab) hospitals, convenient and urgent care locations, imaging centers and pharmacies. Mercy has 900 physician practices and outpatient facilities, more than 4,000 physicians and advanced practitioners and more than 45,000 co-workers serving patients and families across Arkansas, Kansas, Missouri and Oklahoma. Mercy also has clinics, outpatient services and outreach ministries in Arkansas, Louisiana, Mississippi and Texas.