ST. LOUIS - Mercy has been recognized by the Catholic Health Assembly for its effort to keep patients' spiritual and emotional care as an essential part of their overall care. When Mercy created the COVID Care @ Home program during the pandemic, Mercy chaplains made sure spiritual support was part of the program, too.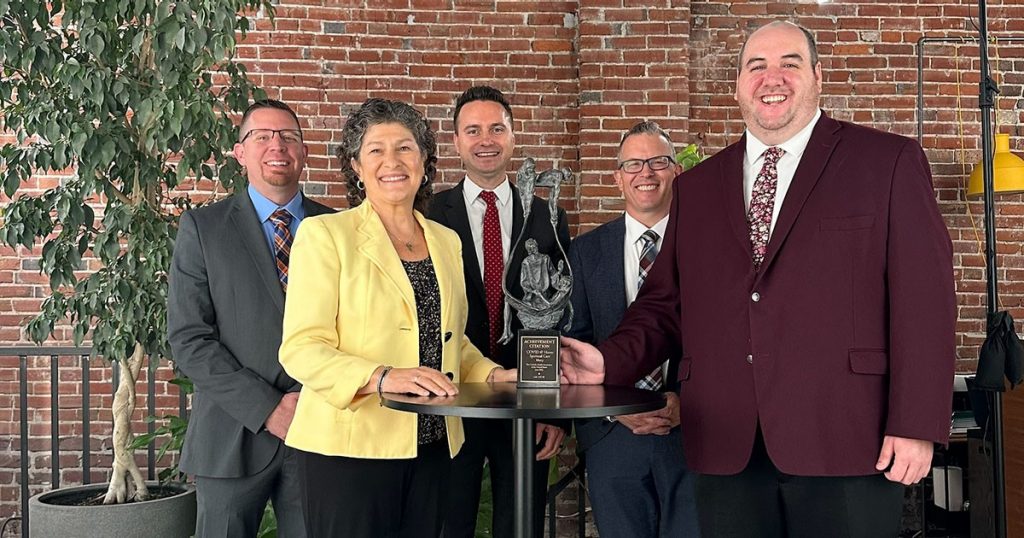 From left to right: Cody Alley, Mercy Lebanon spiritual care supervisor; Sister Mary Haddad, RSM, CHA president and CEO; Nelu Nedelea, Mercy vice president of mission and ministries; Art Maddock, Mercy Arkansas executive director of spiritual care.; and Justin Martin, Mercy Virtual chaplain.
For patients who were quarantined and often separated from their families, a spiritual "check-in" from a Mercy chaplain proved invaluable. Mercy chaplains Justin Martin and Cody Alley launched a program to screen patients across Mercy communities in Arkansas, Kansas, Missouri and Oklahoma, with about 2,000 people asking to be contacted to discuss their personal distress during the pandemic. 
Thanks to their efforts, the Mercy COVID Care @ Home Spiritual Care program is the 2023 recipient of CHA's highest annual honor – the Achievement Citation. Read about Mercy's Spiritual Care program here. 
Mercy
, one of the 20 largest U.S. health systems and named the top large system in the U.S. for excellent patient experience by NRC Health, serves millions annually with nationally recognized quality care and one of the nation's largest Accountable Care Organizations. Mercy 
is a highly integrated, multi-state health care system including
 more than 40 acute care, managed and specialty (heart, children's, orthopedic and rehab) hospitals, 
convenient and urgent care locations, imaging centers and pharmacies. Mercy has 
900 physician practices and outpatient facilities, more than
4,000
physicians and advanced practitioners and more than 40,000 
co-workers serving patients and families across 
Arkansas, Kansas, Missouri and Oklahoma. Mercy also has clinics, outpatient services and outreach ministries in Arkansas, Louisiana, Mississippi and Texas.