Mercy is expanding its primary care services in Greenwood, one of the fastest-growing communities in Arkansas, with a new family medicine clinic scheduled to open in late 2024.
Leaders from Mercy and the Greenwood community broke ground on the new Mercy Clinic Family Medicine – Greenwood on Tuesday. The new location at the corner of U.S. 71 and Liberty Drive will replace the current clinic at 20 N. Aster St. and expand the services available within the community.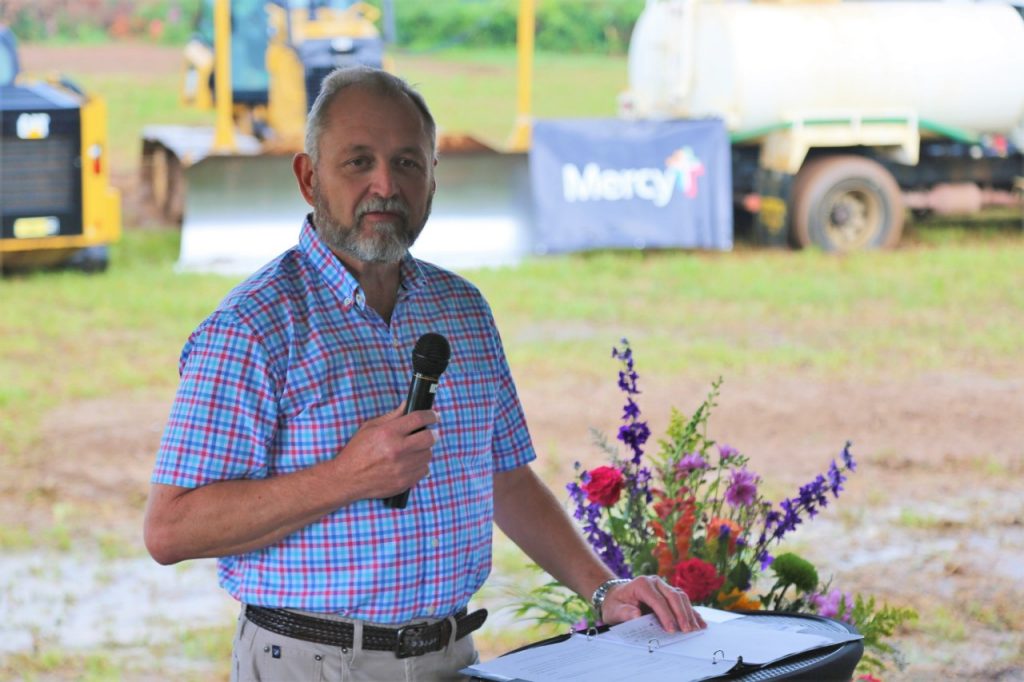 Dr. Lance Barton speaks during groundbreaking for the new Mercy Clinic Family Medicine - Greenwood location.
At approximately 11,130 square feet, the new location will double the current clinical space and include 22 exam rooms, with ample room to add providers and services to meet the growing needs of the community.
In addition to traditional primary care available Monday through Friday, the clinic will provide X-ray and lab services along with dedicated space for walk-in acute care patients.
"With a rich history in Greenwood over the past 70 years, this new clinic location will allow Mercy to continue providing excellent primary care services and building trusted relationships with the patients of this community," said Dr. Michael Callaway, primary care physician lead with Mercy Fort Smith. 
Dr. Lance Barton with Mercy Clinic Family Medicine – Greenwood added a thank you to patients who come from all over the region, including Sebastian, Franklin, Scott and Logan counties in Arkansas, as well as Eastern Oklahoma.
"I'm amazed every day at how far people will drive to use our services," he said. "This area is a crossroads, and I think this new location will amplify that." He also thanked current Greenwood co-workers by stating, "Although we're getting a new building, they're the true foundation."
Greenwood Mayor Doug Kinslow congratulated Mercy while citing the growth in the area. "We are very, very excited about this addition to the city. What an asset to the city, and what a place for it, where you can see it from the highway."
Construction is expected to take about 18 months and is being managed by Beshears Construction.