TROY, Mo. – As part of a focus on addressing housing instability, Mercy donated $100,000 to Bridge of Hope Lincoln County, which recently broke ground on an emergency shelter and crisis stabilization center in Troy, Missouri. 

"The Bridge of Hope Lincoln County values align with Mercy's values and by investing to help the community, we know it will ultimately keep everyone in better health," said Denise Scoffic, chief financial officer for Mercy's east region.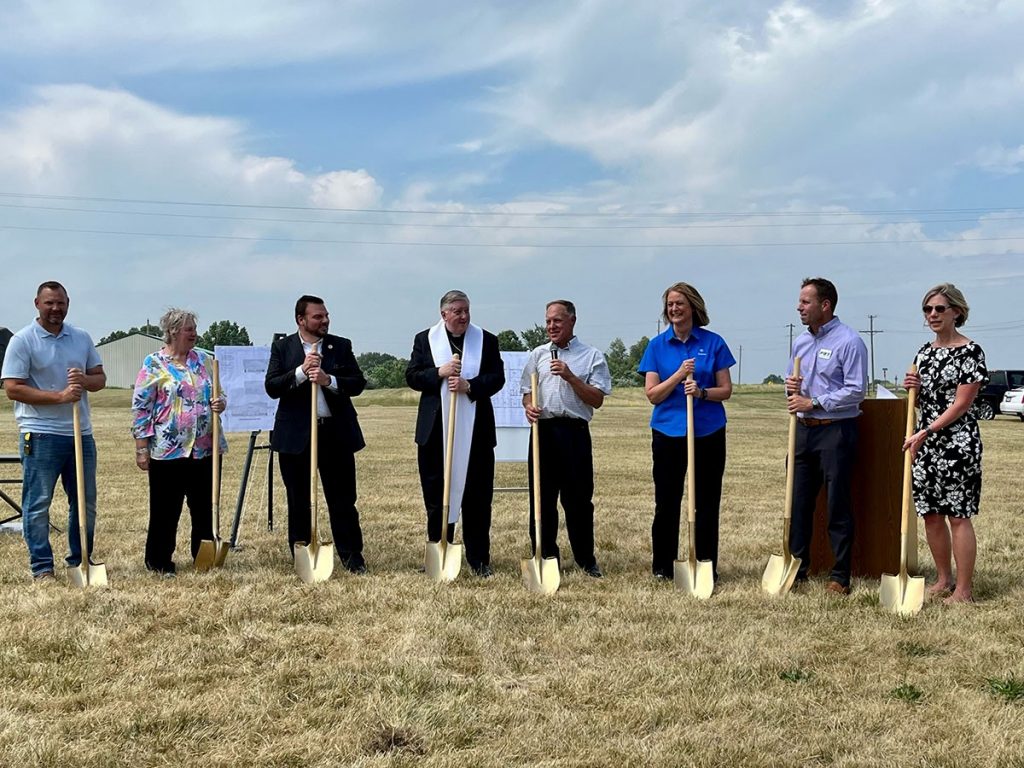 Bridge of Hope Lincoln County groundbreaking. From left to right: Joe Kaimann, presiding Lincoln County Commissioner; Bridget Flood, Incarnate Word Foundation; Jared Bryson, Catholic Charities; Archbishop Mitchell Rozanski, St. Louis Archdiocese; Chris Schieffer, Bridge of Hope; Donna Orf, Toyota; Justin St. Pierre, Peoples Bank & Trust; Denise Scoffic, Mercy.
Housing instability has been acknowledged throughout Mercy's community health needs assessment (CHNA) process as one of the most important social determinants of health in the greater St. Louis community, along with behavioral health and transportation assistance.
Mercy Hospital Lincoln's community health improvement plan (CHIP) looks for programs and organizations that are making an impact to address these prioritized needs. Part of the CHIP for Lincoln County is the collaboration between Mercy and Bridge of Hope. 
"Once the Bridge of Hope center opens early next year, we'll work together to provide health care navigation, prescription medication assistance and social need assistance onsite," said Rocco Gonzalez, Mercy community health director. "We have been working together to understand the best ways of ensuring the sustainability and appropriate reach to the right community members."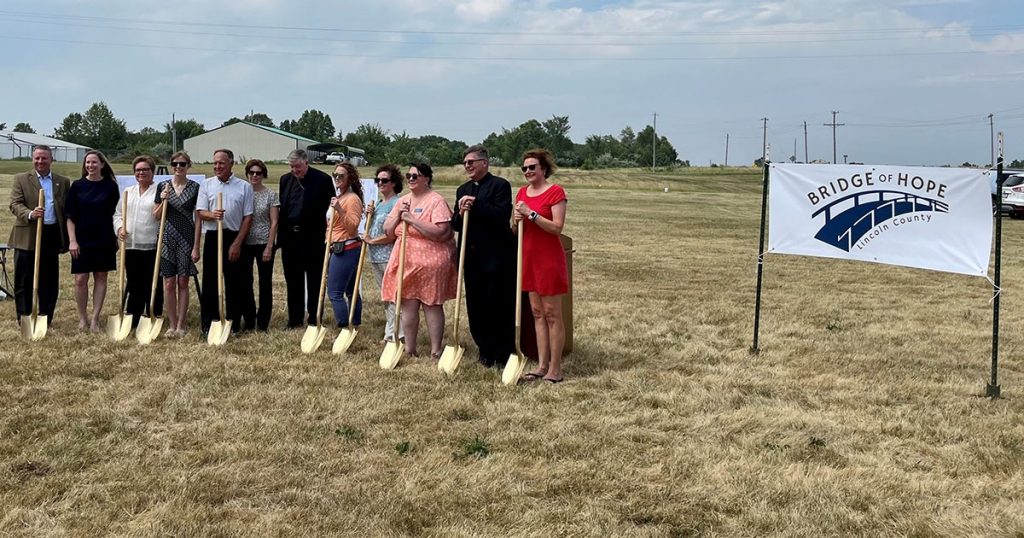 Bridge of Hope groundbreaking event. From left to right: Brian Thouvenot, Catholic Charities; Carla Angel (BoH treasurer), Peoples Bank & Trust; Glenda Keeteman (BoH vice president), Lincoln County Health Department and Mercy; Jenna Cappel (BoH secretary), community member; Chris Schieffer (BoH president), St. Vincent de Paul; Leslie Schieffer, St. Vincent de Paul; Archbishop Mitchell Rozanski, St. Louis Archdiocese; Katie Gray, community member; Jill Maher (BoH board member), Mercy; Kimberly Hewlett (BoH board member), Sts. Joachim & Anne Care Services; Father Michael Lydon (BoH board member), Sacred Heart Church-Troy; Elaine Henderson (BoH board member), Lincoln County Resource Board. Additional board members not pictured include Todd Barnes, Community Council and Cheri Winchester, Lincoln County Resource Board.
Mercy
, one of the 20 largest U.S. health systems and named the top large system in the U.S. for excellent patient experience by NRC Health, serves millions annually with nationally recognized quality care and one of the nation's largest Accountable Care Organizations. Mercy 
is a highly integrated, multi-state health care system including
 more than 40 acute care, managed and specialty (heart, children's, orthopedic and rehab) hospitals, 
convenient and urgent care locations, imaging centers and pharmacies. Mercy has 
900 physician practices and outpatient facilities, more than
4,000
physicians and advanced practitioners and more than 40,000 
co-workers serving patients and families across 
Arkansas, Kansas, Missouri and Oklahoma. Mercy also has clinics, outpatient services and outreach ministries in Arkansas, Louisiana, Mississippi and Texas.