WASHINGTON, Missouri - Mercy recently opened a new family medicine office in Washington – Mercy Family Medicine – Washington Ste. 316 – on the main hospital campus. Dr. Matthew Tiefenbrunn and family nurse practitioner Miranda Pickens began seeing patients on July 10.
Dr. Tiefenbrunn has been with Mercy since 2012 and caring for patients in region since 1999 when he returned to his hometown of Sullivan to develop and grow a medical practice.
"I've known I wanted to be a physician since late junior high," Dr. Tiefenbrunn said. "I was drawn to family medicine because of the ongoing connection that I am able to develop with my patients and their extended family."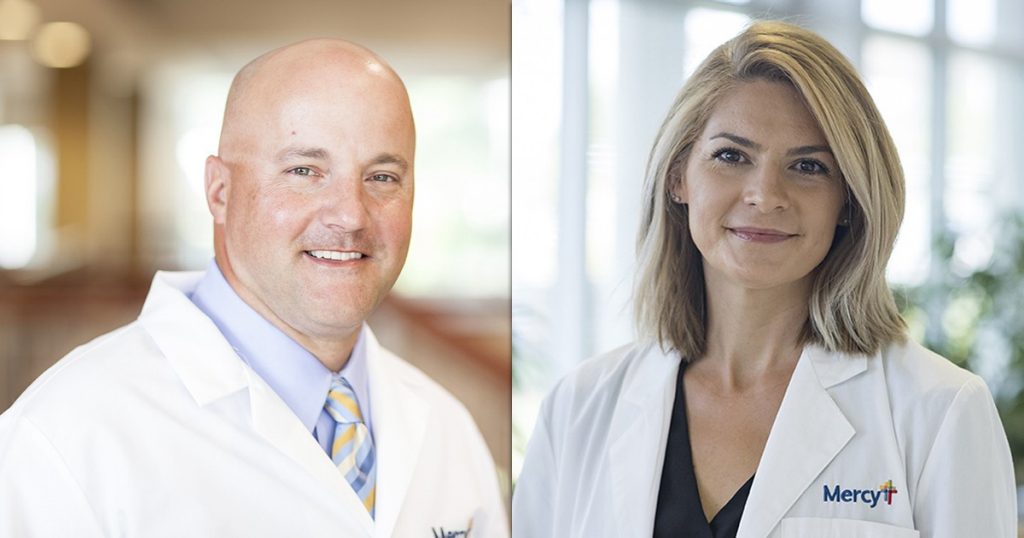 Dr. Matthew Tiefenbrunn and Miranda Pickens, FNP, are now accepting new patients at Mercy Family Medicine in Washington.
Pickens, a Washington native and graduate of Washington High School, joined Mercy in 2010 as an intensive care unit nurse at Mercy Hospital Washington after graduating from East Central College. Through the years, she has worked in different Mercy primary care clinics while she furthered her education earning a Bachelor's of Science in Nursing and a doctorate of nursing practice from the University of Missouri – Columbia. 
"I knew from early on in my nursing career I would continue my education and become a nurse practitioner," Pickens said. "I have always enjoyed people of all ages so family practice was where I wanted to be."
Mercy Family Medicine – Washington Ste. 316 is open 8 a.m. to 4:30 p.m., Monday through Friday. To schedule an appointment, visit mercy.net or call 636-861-7838.
Mercy
, one of the 20 largest U.S. health systems and named the top large system in the U.S. for excellent patient experience by NRC Health, serves millions annually with nationally recognized quality care and one of the nation's largest Accountable Care Organizations. Mercy 
is a highly integrated, multi-state health care system including
 more than 40 acute care, managed and specialty (heart, children's, orthopedic and rehab) hospitals, 
convenient and urgent care locations, imaging centers and pharmacies. Mercy has 
900 physician practices and outpatient facilities, more than
4,000
physicians and advanced practitioners and more than 40,000 
co-workers serving patients and families across 
Arkansas, Kansas, Missouri and Oklahoma. Mercy also has clinics, outpatient services and outreach ministries in Arkansas, Louisiana, Mississippi and Texas.