ST. LOUIS  – The life and service of Sister Mary Roch Rocklage was commemorated in a sculpture installed at The Mercy Center for Performance Medicine & Specialty Care, on the campus of Mercy St. Louis, on Thursday, Aug. 24. Colorado artist Jane DeDecker, renowned for her work spotlighting women who made important contributions to history, was commissioned to sculpt Sister Roch, as she was affectionately known by those in the Mercy community and beyond.
As the leader whose vision created Mercy's integrated health care system, Sister Roch also anticipated the need to transition leadership of the Sisters of Mercy health system to lay leaders, guiding the work over several years. Born Antoinette Marie Rocklage, Sister Roch died in August 2022 after a lengthy illness. She was known for her humble but tenacious leadership style – a blend of compassion, bold innovation and selflessness. Her devotion lives on in the work that continues across Mercy.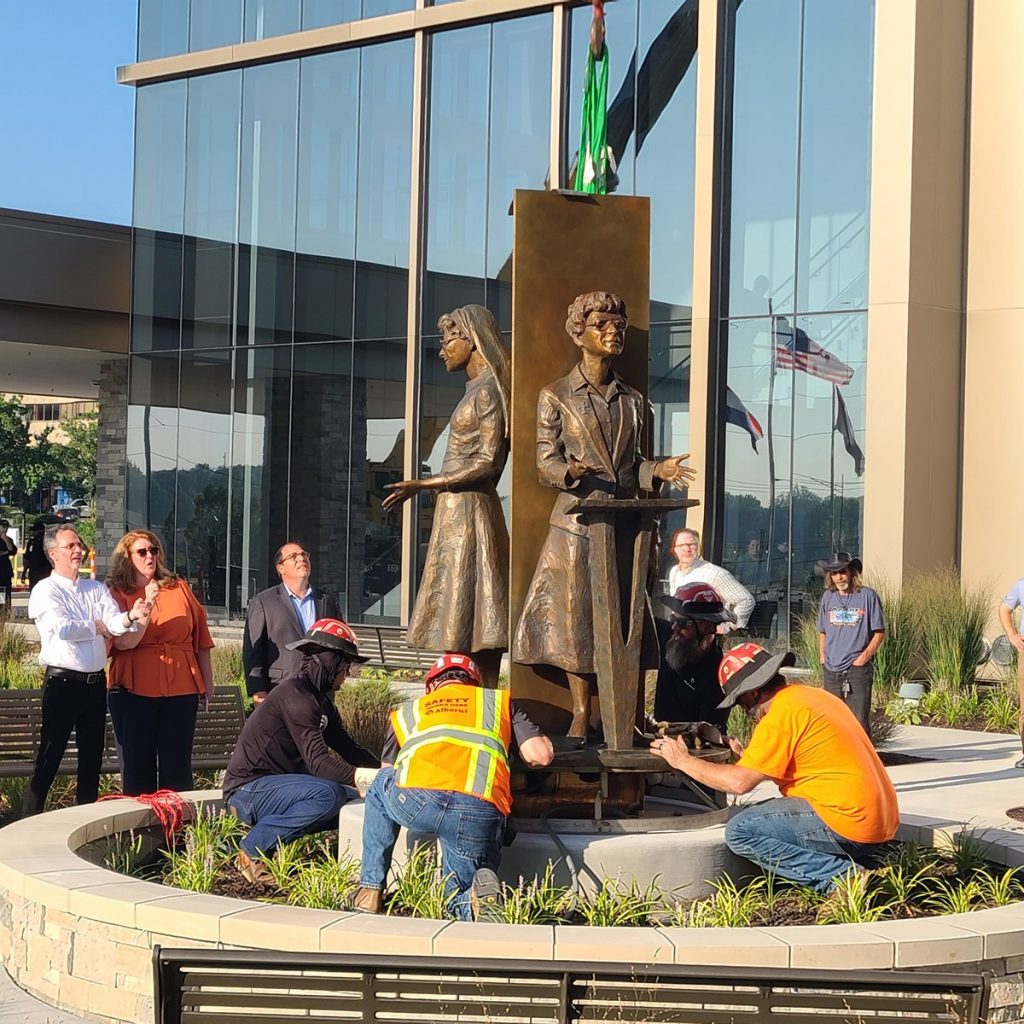 A team works to install the sculpture at The Mercy Center for Performance Medicine & Specialty Care.
To honor Sister Roch's legacy, Mercy tapped DeDecker, who has created more than 180 life- and monument-size pieces installed in more than 38 states. DeDecker's sculpture, Every Word We Utter, inspired Washington, D.C.'s first outdoor monument commemorating the women's suffrage movement. DeDecker honors women in sculpture for all to remember what it took for extraordinary women like Sister Roch to assume their rightful place in American history. 
"Sister Roch was before her time," DeDecker said. "She was a CEO when women didn't hold those type of positions. I loved getting to know her more through photos and videos as I worked on the piece."
While she has done some contemporary portraits, DeDecker had never met a subject of her work prior to meeting Sister Roch in 2013. DeDecker had been contacted about doing a sculpture of the Sisters of Mercy Foundress Catherine McAuley, which was installed at Mercy Hospital St. Louis in 2014.
"When Sister Roch described Catherine, there was a very evident reverence. I heard that same reverence and loving reflection about Sister Roch," DeDecker said.
DeDecker met with leaders of Mercy's creative team members including Amy White, who asked the artist to create a work to reflect three phases of Sister Roch's life:
A young Sister of Mercy, representing a time when she worked in the hospital and hospital administration, wearing a traditional habit.
An iconic health care leader who led the health system and stepped into the national spotlight with the American Hospital Association and Catholic Health Association, testifying before Congress and sharing her passion for health care access for all. In this phase, she swapped her habit for a suit.
A prayerful matriarch in recent years, when she served as an emeritus Mercy board member, cared for other Sisters of Mercy at Mercy Center in St. Louis and mentored current Mercy co-workers and leaders. In this phase of the statue she carries a cane, as she did in her final years.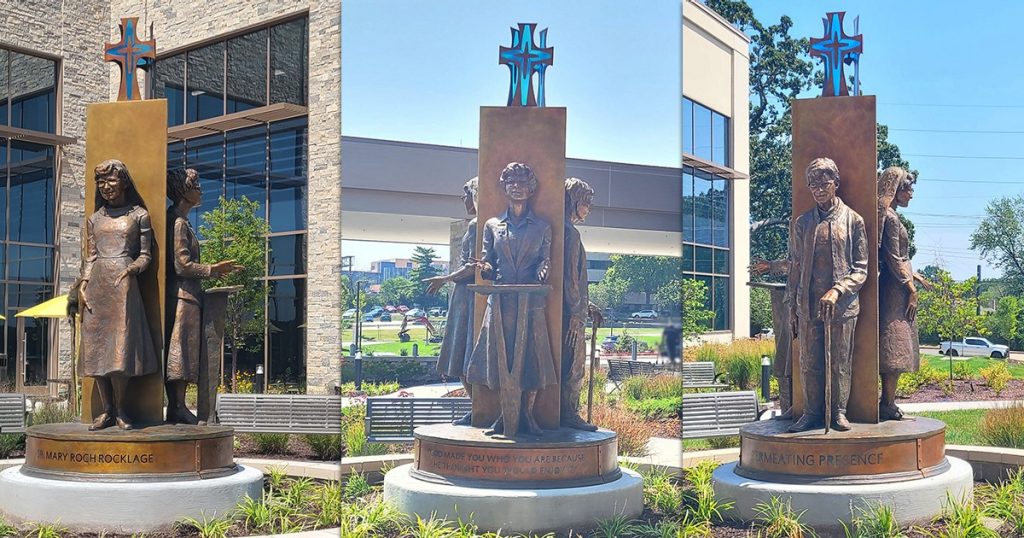 Permeating Presence - Sculpture Honoring Sister Mary Roch Rocklage
White said each phase could have been a standalone piece but it was important to honor the various stages of Sister Roch's life that had an impact on so many.

"We couldn't do justice by representing Sister Roch at just one age and wanted to honor the many roles she had throughout her years of service," White said. "Our co-workers have known Sister Roch in different phases and this sculpture enables them to connect with the Sister Roch they knew."
The statue's name, Permeating Presence, comes from an attribute Sister Roch often used to describe leaders at Mercy – which also perfectly describes her. "Leadership is a permeating presence of creating an environment where everyone has an opportunity to fulfill their role," Sister Roch often said. "The leader is the one who shows the way, who energizes people and who serves the group. We must have a deferential regard for those we serve and create an environment of deep respect."

"The statue honors Sister Roch because of her extraordinary leadership and vision of what Mercy might achieve for our communities," said Steve Mackin, Mercy president and CEO. "But it also recognizes all the Sisters of Mercy who invested their lives building the Mercy we know and love. The 45,000 co-workers who serve today do so standing on their shoulders."

Mercy
, one of the 20 largest U.S. health systems and named the top large system in the U.S. for excellent patient experience by NRC Health, serves millions annually with nationally recognized quality care and one of the nation's largest Accountable Care Organizations. Mercy 
is a highly integrated, multi-state health care system including
 more than 40 acute care, managed and specialty (heart, children's, orthopedic and rehab) hospitals, 
convenient and urgent care locations, imaging centers and pharmacies. Mercy has 
900 physician practices and outpatient facilities, more than
4,000
physicians and advanced practitioners and more than 40,000 
co-workers serving patients and families across 
Arkansas, Kansas, Missouri and Oklahoma. Mercy also has clinics, outpatient services and outreach ministries in Arkansas, Louisiana, Mississippi and Texas.