ST. PETERS, Missouri (Sept. 12, 2023) – A blessing and ribbon cutting ceremony marked the opening of Mercy's newest family medicine office – Mercy Clinic Primary Care – Jungermann, 1325 Queen's Court in St. Peters. Dr. Eric Martin will be caring for patients at the new clinic, moving from his current location on Zumbehl Road in St. Charles.
Dr. Martin completed his residency with Mercy Family Medicine Residency program in 2019 and when returning to St. Louis he knew Mercy is where he wanted to be.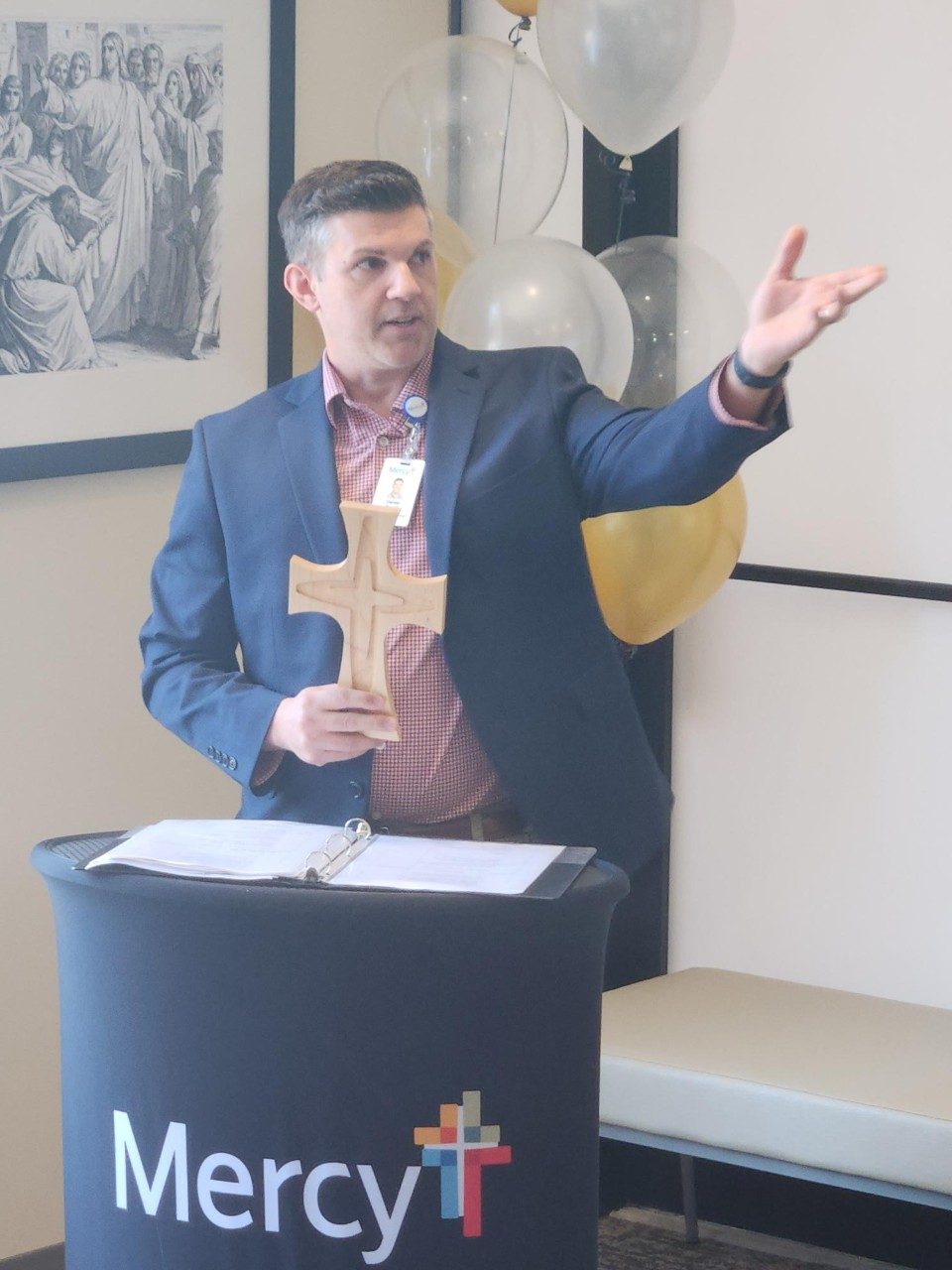 Daniel Ensell, Mercy Mission leader, explains the meaning of the cross hung in all Mercy spaces.
"Having spent three years with Mercy during my residency, I was familiar with the mission and I'm excited to be back," Dr. Martin said. "It feels like a homecoming in many ways."
Dr. Martin decided on family medicine while in medical school because he enjoys making the connections with patients.
"Family medicine is challenging in the variety of conditions we see on a regular basis, but also rewarding in the same sense," he said.  
While Dr. Martin was raised in Salem, Illnois, St. Louis was the closest city and he grew up attending St. Louis Cardinals and Blues games. He's excited to introduce his wife and three kids to the city and all it has to offer. As an avid soccer fan, he's looking forward to attending many St. Louis City games, too.
Mercy Clinic Primary Care – Jungermann is open 8 a.m. to 4:30 p.m., Monday through Friday. To schedule an appointment, click here or call 636-793-0650.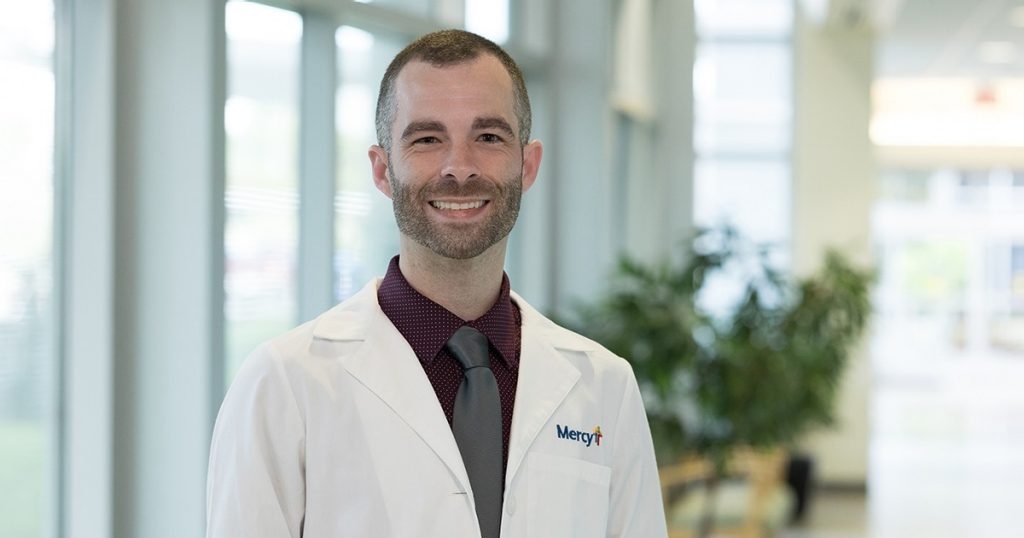 Dr. Eric Martin is accepting new patients at Mercy Clinic Primary Care - Jungermann.
Mercy
, one of the 20 largest U.S. health systems and named the top large system in the U.S. for excellent patient experience by NRC Health, serves millions annually with nationally recognized quality care and one of the nation's largest Accountable Care Organizations. Mercy 
is a highly integrated, multi-state health care system including
 more than 40 acute care, managed and specialty (heart, children's, orthopedic and rehab) hospitals, 
convenient and urgent care locations, imaging centers and pharmacies. Mercy has 
900 physician practices and outpatient facilities, more than
4,000
physicians and advanced practitioners and more than 40,000 
co-workers serving patients and families across 
Arkansas, Kansas, Missouri and Oklahoma. Mercy also has clinics, outpatient services and outreach ministries in Arkansas, Louisiana, Mississippi and Texas.