1885
What in the world was he going to do? Father William McCormack knew teachers couldn't be married and Joplin's only Catholic school teacher had just announced she was getting married. True, there were public schools, but miners' children deserved a parochial education.
As with all things, Father McCormack turned to God and to his superior, Bishop John J. Hogan of the Kansas City, Missouri, Diocese, for guidance. Bishop Hogan surely smiled when he read Father McCormack's urgent plea because he had an answer. He knew the Sisters of Mercy well and trusted their abilities. He referred the request to Mother Mary Ignatius Walker, the superior of a Mercy convent in Louisville, Kentucky, who had already established two successful foundations. The prospect of a wild and woolly mission into a frontier town excited Mother Mary Ignatius and fired her missionary zeal. She gathered a dozen young Sisters to accompany her, and on July 26, 1885, she took what she called "a little ride" by train across the Midwest to their new home.
Five sweltering days later, the 13 Sisters disembarked into the rowdy mining town. By chance, an entertainment troupe of a dozen Indians arrived at the same time. The unfamiliar sight of the Sisters in their black habits and the Indians in full regalia created quite a spectacle for the townspeople.
The Sisters went about their work in "The Big Brick," a large two-story home at Ninth and Pearl Streets. The second floor served as a dormitory for boarding students. Although the home was appraised at $12,000, Ed Zelleken agreed to sell the property for $8,000. For 11 years, the Sisters operated Our Lady of Mercy Academy for many Catholic and non-Catholic children.
The Sisters spent many nights listening to the howling wind and the equally unruly saloon patrons, but eventually, they settled into life in Joplin and their ministry of teaching. But then tragedy struck, a mine collapsed and everything changed. The injured were loaded on a train and shipped 60 miles away to the nearest hospital. Not content with this solution, Mother Mary Frances Sullivan, the new superior, resolved to open a hospital in Joplin.
While their work in education was valued, it soon became evident that the bustling town had growing needs for health care.
1892

In a letter dated, April 22, 1892, Bishop Hogan wrote, "You may in God's name begin the work of a hospital for the sick in Joplin, to be under the care of the Sisters of Mercy."
1896

On October 24, 1896, with the donation of a small building by wealthy mine operator Gilbert Barbee, the Sisters opened a 10-bed hospital called Mercy Hospital at the corner of 10th and Virginia. Just over two years later, Patrick Murphy, a Joplin founding father, local mine operator and businessman, along with his wife sold the Sisters of Mercy property for $1. Located at 22nd Street and Ivy (now O'Connor Ave.), the site became home to the first St. John's Mercy Hospital. In true Mercy fashion, anyone in need was welcome, regardless of their ability to pay. Miners were offered medical plans for only 25 cents a week and those who donated to help expand the hospital were given a card entitling them to free medical care.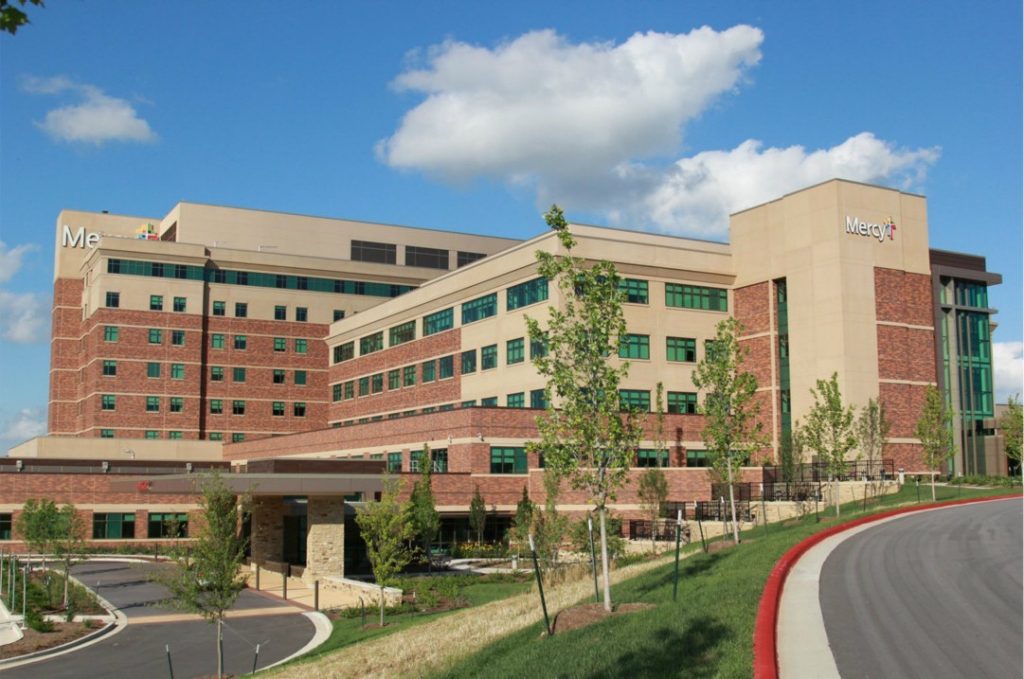 Today, Mercy Hospital Joplin is a 240-bed facility. It is ranked as a Top 100 Hospital by Thomson Reuters Healthcare.