Sr. Cabrini's Journey to Becoming a Sister of Mercy
Becoming a Sister of Mercy
Some are certain a life in ministry is their calling, but for others, it isn't so apparent. When she was a young girl in second grade, Linda Cabrini Koelsch thought she might want to be a Sister one day. As the days grew into months and years, she felt further from that possibility. However, the idea hadn't completely left her thoughts so in 1964, she entered the convent to give it a try. She says something brought her to that place, something greater that wouldn't let the idea of becoming a Sister of Mercy go. Surprising even herself, she stayed.
Before coming to Joplin as the director of Mission Services at Mercy, Sr. Cabrini held the same position at Mercy in Springfield working with the five regional hospitals. Prior to that, she worked as a teacher and director of religious education for parish ministries in Texas, Missouri and Oklahoma. In 1996, she moved to Ardmore, Oklahoma where she served as Vice President of Mission at Mercy Memorial Health Center. From 2000 to 2004, she served on the Regional Leadership Team for the Sisters of Mercy–St. Louis Regional Community.
50 Years of Serving
Over fifty years later, Sister Cabrini is still serving the Lord and those around her. 2014 marked Sr. Cabrini's 50th Jubilee, which celebrated her 50 years as a Sister of Mercy. When she isn't serving at the hospital, she enjoys spending time with her family and friends, fishing, watching the St. Louis Cardinals and having fun. A special blessing in her life is her many nieces and nephews.
Today, when asked what she most enjoys about her job it's an easy answer. "I most enjoy doing formation and sharing the culture and heritage of the Sisters of Mercy." Another one of the highlights for Sister Cabrini is meeting with co-workers and asking God's blessing on them and the work they do. Working in a healthcare setting, she knows that each person has the ability to impact a life. And for each life she touches, they equally touch hers.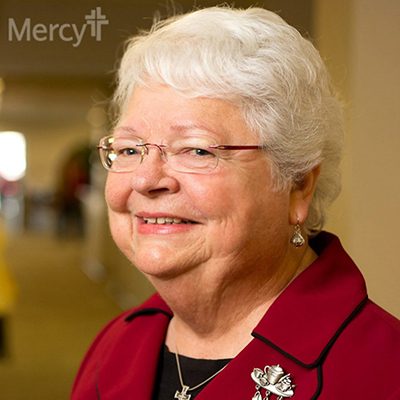 Sister Cabrini is a true Saint Among Us in Joplin and her care and compassion are a blessing to all whom she meets.