1860s
By the mid-1800s New Orleans had a well-earned reputation as the unhealthiest place in the country. Hot, humid summers, open sewers and cramped living conditions bred disease, and yellow fever epidemics were common. In 1869, six Sisters of Mercy journeyed from St. Louis to New Orleans to teach Irish students at St. Alphonsus School. They arrived on a rainy Easter Sunday, settling in a multi-cultural neighborhood where one church served the Irish, the second Germans and a third the French-speaking Creoles.
The Sisters taught the French children and visited the imprisoned and the sick, carrying bread, dried rice, beans and a jar of soup for each family.

1870s
In the aftermath of the Civil War and the epidemics of the 1870s, the Sisters developed a health care ministry, daycare for working mothers, an orphanage and a shelter for elderly women and those seeking employment. They also taught religion and basic education to boys at night.
1924
In 1924, Mercy Hospital opened and was staffed by the Sisters for the next 70 years. In 1994, it merged with Southern Baptist hospital and was acquired by Tenet Healthcare Corporation.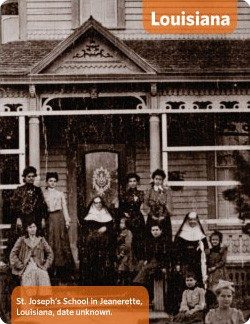 St. Joseph's school in Jeanerette, Louisiana, date unknown.
1970

By the late 1970s, the Sisters established or became involved with various outreach ministries in New Orleans. Today, Mercy Family Center, an outpatient behavioral health clinic for adolescents and their families, founded by Sister Sarah Ducey, RSM, still serves the community.
2021
The Sisters continued teaching children at St. Alphonsus until August 2005, when Hurricane Katrina hit. The school served as a temporary shelter for those who didn't evacuate. It reopened in January 2006 as an early childhood education center.