As the Sisters of Mercy before us, Mercy is committed to bringing the healing ministry of Jesus to life through our compassionate care and exceptional service.

Frequently Asked Questions
Mercy was invited by PCMH to take part in the process of determining which health system would be the right fit to partner with PCMH to serve the Perry County community by leasing the county-owned hospital. Being invited into the community matches how Mercy was invited into the 16 communities where Mercy leases or owns a critical access hospital. Mercy was asked to complete a "request for information" and is now pleased to have the opportunity to publicly share how Mercy's values reflect those of the Perry County community and how Mercy and Perry County could work together to improve health care access.
Mercy currently leases or owns 16 critical access hospitals, which represents more than one-third of the hospitals Mercy operates. More than half of Mercy's hospitals are located in rural communities. Serving people where they live is one of the founding principles of Mercy. The Sisters of Mercy, under the leadership of Catherine McAuley, became known as the Walking Sisters by asking for and receiving special permission to leave their convent to serve their community where their help was needed. Mercy has continued to follow the tradition carried out by the Sisters for almost 200 years by answering the call from communities seeking help, often in rural settings.
While Mercy is a large organization, we are rooted in serving smaller communities including operating 16 critical access hospitals. We work to keep the same community feel in these facilities while using our overall large size to more readily attract physicians where they are needed and use our position to provide health care at a lower cost to patients and employers.
Our evaluation of publicly available data shows the range of the cost of health care in the St. Louis market is much less than the range of the cost in the Cape Girardeau market. In addition, specific to Mercy Hospital Jefferson in Festus, the cost to Mercy patients is at the bottom of the cost range for the St. Louis market and well below the cost range in the Cape Girardeau market, which often costs two to three times more than Mercy Hospital Jefferson. See the below charts for more details.
Along with local leadership, Mercy would explore which services need more physicians in Perry County with the goal of meeting those needs. Additionally, Mercy would like to keep the excellent working relationship in place with physicians currently serving Perry County as we have in our other communities. Mercy also has a robust virtual care program to allow our providers to care for patients in their own homes when appropriate.
Mercy's track record with our 16 critical access hospitals is to continue to operate them as hospitals and enhance the service they provide with the addition of physicians and services, including extensive access to virtual health care services, in order to bring health care to the community where they live.
Mercy's goal is to provide as many services as feasible in the communities we serve. As is currently the case, certain specialized services may require a trip 40 minutes away to a hospital in Cape Girardeau or 45 minutes away to Mercy Hospital Jefferson in Festus. Some highly specialized services may require patients in Perryville or Cape Girardeau to seek care in St. Louis. Patients always have the right to seek care at the location and provider of their choice.
Mercy accepts most insurance plans. Mercy also provides direct to employer contracting which can include on-site work clinics where appropriate, convenient virtual care for employees, robust orthopedics and sports medicine programs and the opportunity for customized collaboration.
No. The letter of intent would signify that Mercy and PCMH are ready to take the next step in the process prior to reaching a lease agreement. The letter of intent is a non-binding agreement that allows both parties to take a closer look at a possible partnership and whether that potential partnership would be beneficial to all involved.
PCMH, just as it does now, would continue to provide oversight for the local hospital operating board which would include representation from Mercy. Further details would need to be worked out as part of the negotiation process.
The goal of Mercy would be to transition every PCMH employee to become a Mercy co-worker. The dedicated employees of PCMH are an integral part of the hospital and are what makes the hospital a great health care provider.
Yes, Mercy does grant medical and religious exemptions to the COVID vaccine requirement. We have a discernment process in place, which we have used for years with the flu vaccine, that meets federal regulations on vaccine exemptions.
Mercy collaborates with numerous colleges and universities with existing health care education programs by providing clinical learning opportunities for students. For example, Mercy Hospital Jefferson in Festus works with several schools in providing an extremely positive experience for students who receive clinical experience at Mercy. Two of these schools have shared their enthusiasm for bringing nursing education to the Perryville community and Mercy would be thrilled to work with either of them in Perryville.
How Mercy's Quality Drives Lower Cost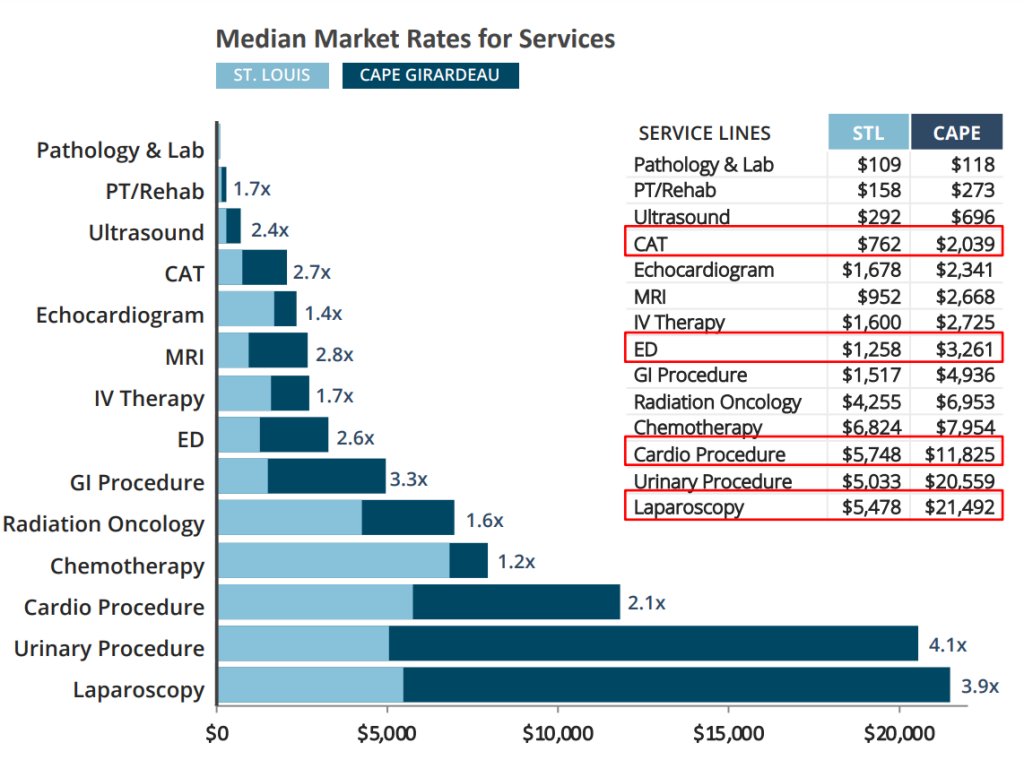 We appreciate the invitation to share our vision of how Mercy can help build on Perry County's foundation of excellent health care.