The Residency Experience
Every effort is made to construct a custom curriculum for each resident based on his or her personal and professional goals.
The program is unique in that we alternate inpatient and outpatient months.
Inpatient Months
Inpatient ward teaching occurs at the bedside by hospitalist staff.  Inpatient rotations include CVICU and ICU, staffed by Cardiologists and Intensivists, respectively.
Interns work an in-house hospital "long shift" until 8 p.m., approx. q4 days.
Seniors works an in-hospital "long shift" approx. q6 days, supervising the intern.
Seniors and interns take 24-hour weekend call +/-one to two times per month.
There are two 2-week blocks of night float annually.
No more than 80 hours per week is spent on patient care duties.
Residents have at least one full day out of seven free of patient care and responsibilities.
Elective Months
Electives occur in the primary care and specialty offices (which may include inpatient consults), as well as in the JFK community clinic.
Residents work Monday through Friday with weekends off.
Interns are on back up call/jeopardy one week a month, covering inpatient duties as need be.
Seniors are on back up call/jeopardy on average one week out of every two elective months.
Didactic Syllabus
Daily: Formal didactic conferences
Twice a week: Inpatient morning report
Weekly: Medical grand rounds
Department of Medicine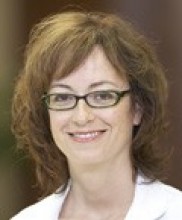 Nickole Forget, MD - Outpatient
Associate Program Director
Resources