Mercy Hospital St. Louis
Graduate Medical Education
615 South New Ballas
St. Louis, MO 63141
Mercy's commitment to Medical Education is key to supporting our healing ministry. Our six fully-accredited specialty residency training programs prepare physicians who are capable of providing compassionate, top-quality patient care. Mercy Hospital St. Louis serves as the teaching hospital and offers a varied patient population and case mix, state-of-the-art technology and units staffed for subspecialty care. Our program offers:
Talented faculty who are committed to providing training and experience necessary to prepare skilled physicians
A comprehensive didactic experience for each specialty
Clinical resident responsibilities with progressive autonomy in patient care as skill level and knowledge increases
A very competitive stipend and an excellent benefits package
Mercy Hospital St. Louis also offers rotation opportunities for residents in the following programs affiliated with St. Louis University School of Medicine: ENT; Emergency Medicine; General Surgery; Orthopedic Surgery; Pulmonary Medicine; Adult/Child Psychiatry; Vascular Surgery; and Plastic Surgery.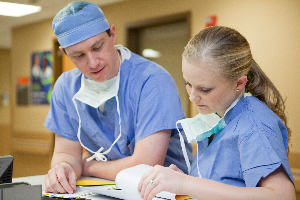 General Program Information
GME Programs