St. Louis GME Program Information
Mercy's commitment to medical education is key to supporting our healing ministry. Our six fully-accredited specialty residency programs prepare physicians who are capable of providing compassionate, top-quality patient care. Mercy Hospital St. Louis serves as a teaching hospital offering a varied patient population and case mix, state-of-the-art technology and units staffed for subspecialty care. Our residency program in St. Louis offers:
Talented faculty who are committed to providing the training and experience necessary to prepare skilled physicians
A comprehensive didactic experience for each specialty
Clinical resident responsibilities with progressive autonomy in patient care as skill level and knowledge increases
A very competitive stipend and an excellent benefits package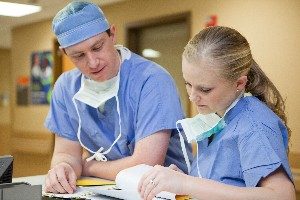 GME Salaries 2023 - 2024
PGY1:  $60,906

PGY2:  $63,086
PGY3:  $64,417
PGY4:  $67,160
PGY5:  $68,952
PGY6:  $70,465
Co-Worker Children's Center
The Children's Center is available on-site for all Mercy Hospital St. Louis co-workers Monday through Friday. from 6:00 a.m. to 6:30 p.m. It is also open on holidays if there is sufficient need.
The Children's Center bases its programs on developmentally appropriate activities for children who range in age from 6 weeks old to 12 years of age.
The school-age summer camp program is offered for children who have completed kindergarten and includes children up to age 5.
The multifaceted summer program, which runs from the end of May to late August, incorporates art, physical activities, and cultural experiences.
Insurance & Medical Care
Mercy Hospital St. Louis offers comprehensive medical, vision and dental care coverage for all residents and their eligible family members provided that appropriate enrollment forms and supporting documentation are turned in within 30 days of hire.
Professional liability insurance is provided by Mercy for residents with respect to their clinical activities while they are in training with Mercy Hospital St. Louis.
Life insurance premiums are paid by the hospital, and benefits are paid to the specified beneficiary in accordance with the salary schedule.
An individual portable long-term disability insurance plan is provided to all residents during residency.
Professional Meetings & Conferences
Residents are encouraged to attend national professional conventions and conferences.
Residents receive up to $1,500 in professional education funds through residency.
Additional financial assistance may be provided in specific circumstances. This must be discussed in advance with individual department directors.
St. Louis Graduate Medical Education Team