St. Louis GME Dental Medicine Program Resources
Application
Dental Residency
Application to the General Practice Residency Program is open to graduates of accredited U.S. and Canadian Dental Schools. We participate in the PASS National application and matching program. Contact them at:
1-800-353-2237
About Mercy GME Dental Medicine Program in St. Louis
The General Practice Dental Residency is a fully accredited program, which combines advanced training in all phases of general dentistry with medically-based experiences. Residents learn to treat patients with a variety of medical conditions in different settings.
The goal of our program is to help residents expand their knowledge and increase their clinical skills and efficiency, learn to manage patients with medical concerns and be confident in their interactions with medical colleagues. The graduating resident will be well prepared for a career in general dentistry or to advance to other specialty training.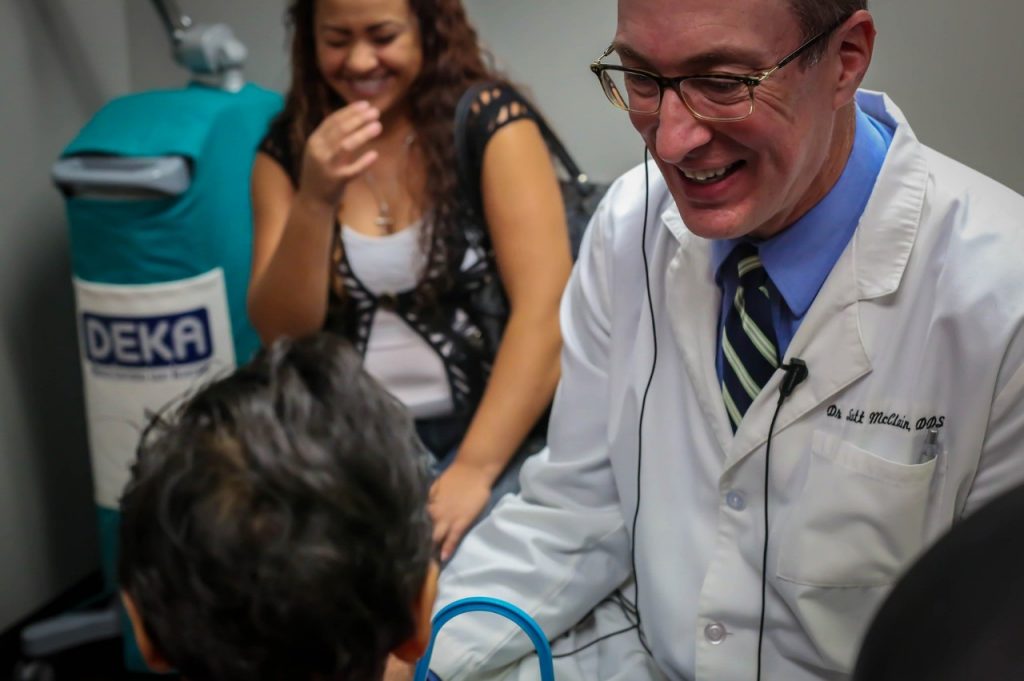 Residents spend 8 months in a general dentistry rotation providing comprehensive care in a private practice model. Residents spend the remaining 4 months on rotations including oral maxillofacial surgery, anesthesiology, emergency medicine, head and neck oncology, psychiatry, and radiology.
Didactic experiences include lectures and seminars by faculty in various dental specialties as well as management of the medically compromised patient, pharmacology, journal reviews, treatment planning/case reviews, practice management, and an end of year presentation by each resident. Residents attend head and neck cancer discussions and cleft palate team meetings regularly.
We feel that our General Practice Residency Program in St. Louis has many strengths which make it an excellent choice for dental graduates looking to further their education and expand their capabilities.
Mercy Hospital in St. Louis has been helping people heal for over 150 years. We are an 800+ bed private hospital with state-of-the-art facilities, access to all medical disciplines, a complete medical library, and a 24-hour Fitness center. The residents primarily practice in the newly constructed Gertrude B. Busch Dental Clinic which has 5 operatories and patient flow from the JFK Medical Clinic.
Mercy has a long history as a hospital dedicated to teaching. As a non-profit organization and through the support of the Sisters of Mercy, the medical center has a mission of providing care to those in need. As such, the medical and dental training programs and the residents are held in high regard.
Our program is administered by three practicing general dentists on staff full-time. Additional specialists also participate with clinical coverage and didactic training part-time. A team of oral surgeons provides direct training to residents part-time.
In addition, faculty from all dental specialties share their expertise in clinical supervision, consultation, and lecture format.
As an integral part of the medical center's mission to provide care to those in need, residents have the opportunity to see a wide variety of patients and to provide comprehensive care with few restrictions.
Residents receive a very competitive stipend, free meals and an excellent benefits package which includes medical, dental, vision, disability coverage, life insurance, and three weeks of vacation.
We are proud to have an exceptional team providing comprehensive care for our patients. One of the major benefits of this residency program is the combined nature of a private practice setting. This atmosphere allows residents to work with clinical assistants and dental hygienists who serve the Department of Dental Medicine. The residency program facilitates bridging the gap between dental school and transitioning to real-life practice as your dental career begins. Residents also have access to the business team including office managers and coordinators who are of great help to the residents.
St. Louis GME Dental Program Attendings
St. Louis GME Dental Medicine Core Faculty
General Dentistry
Stuart Waite, DDS
Scott McClain, DDS
Tiffany Krimminger, DMD, FAGD
Karrisa Cook, DDS
Oral Maxillofacial Surgery
Brett Waite, DDS
Damian Findlay, DMD, MD, FACS
Gregory Tentindo, DMD, MD, FACS
Pedodontics
Mark Fernandez, DDS
Craig Hollander, DDS
Maren Pratt, DDS
Endodontics
Marileana Garcia Corretjer, DDS, MS
Periodontics
Charles Meyer, DDS
William Cohen, DMD, MS
Prosthodontics
Paul Edgerley, DDS
Tom Matthes, DDS
Orthodontics
Cyrus Alizadeh, DDS
Becky Schreiner, DDS
Andrew Frost, DMD, MS
Contact Us
Department of Dental Medicine
General Practice Residency Program contacts:
Josh Waite, MBA
Phone: (314) 251-5775
Fax: (314) 251-5776


Tiffany Krimminger, DMD, FAGD
Phone: (314) 251-5775
Fax: (314) 251-5776