February 20, 2015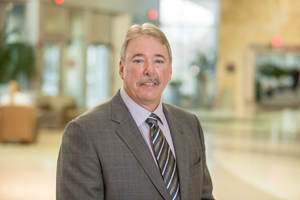 For the second year in a row, Becker's Hospital Review has named Mercy's Gil Hoffman, chief information officer (CIO), as one of the nation's 100 Hospital and Health System CIOs to Know. The recognition goes to the most innovative and accomplished health care CIOs who are leveraging technology to further the mission of their organization while elevating the level of patient care.  

Becker's applauds individuals who have spent their careers seeing the opportunity in challenges and developing new solutions in a constantly changing field, making themselves invaluable.

Hoffman joined Mercy as CIO in November 2012. A few months after his arrival, he and his leadership team released a multi-year strategic plan for Mercy's IT organization, Mercy Technology Services (MTS), which laid the foundation for big change. Aligned to Mercy's goals, the plan put forth a vision to be a collaborative business partner with strategies to deliver innovation, a world-class service experience and a new model of health care.  

In the short time since his arrival, Mercy has received multiple awards for health care innovation, further solidifying a reputation as trailblazers in health care IT. Mercy, a Most Wired health system, has been recognized by ComputerWorld and InformationWeek magazines for its use of emerging web technology and innovations that support telemedicine and sepsis early identification. Mercy has also honed best practice use of Epic, Mercy's electronic health record, which has led to commercial opportunities to extend expertise to other hospitals and health systems in need of Epic services.  

"Because Mercy is so invested in technology, I have the opportunity in my career to use technology to transform health care as we know it, and that makes Mercy a really exciting place to be," said Hoffman.

Well known in the IT world, Hoffman has won InformationWeek's "Most Innovative Use of IT" 12 times and been named by ComputerWorld magazine as one of the top 100 CIOs in the U.S.

He got an early start in IT, landing a job in high school as a computer operator trainee for St. Louis-based Maritz. Over a 39-year stint with Maritz, Hoffman, who has a master's in computer science from Webster University, led the company's information technology team for more than a decade.

Mercy is the fifth largest Catholic health care system in the U.S. which servers millions annually. Mercy includes 34 acute care hospitals, four heart hospitals, two children's hospitals, three rehab hospitals and two orthopedic hospitals, nearly 700 clinic and outpatient facilities, 40,000 co-workers and more than 2,000 Mercy Clinic physicians in Arkansas, Kansas, Missouri and Oklahoma. Mercy also has outreach ministries in Louisiana, Mississippi and Texas. 
Media Contacts