Whether the issue is air quality, waste disposal, groundwater contamination or hazardous waste, the underlying environmental problems are created by us all. If change is going to to happen, we must also choose to solve them.
Last month, Mercy Hospital Springfield co-workers' efforts to do exactly that were recognized with the Springfield-Greene County Choose Environmental Excellence Award.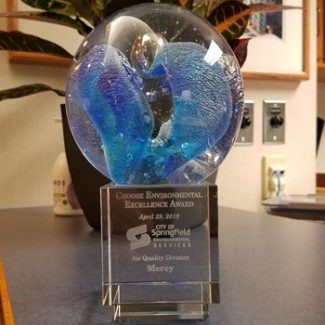 Springfield-Greene County Choose Environmental Excellence Award
Paul Vitzthum, environmental compliance manager at Mercy Hospital Springfield, accepted the award.
In presenting the award, Brian Adams, the city's air quality control coordinator, recognized Mercy as having gone beyond normal practices to promote, improve or support sustainable, environmentally conscious activities. Namely, the Springfield and Joplin hospitals were both commended for reduced air emissions by using high-efficiency boilers in both energy centers.
Also highlighted were Mercy's system-wide green department and sustainability program, which allows co-workers to participate in energy management, waste reduction and recycling efforts while sharing best work practices and innovations.
Mercy co-workers interested in supporting green efforts are encouraged visit our internal Sustainability page, or contact Paul Vitzthum or Doug Neidigh, executive director of energy and sustainability.
Mercy, named one of the top five large U.S. health systems in 2017 by Truven, an IBM Watson Health company, serves millions annually. Mercy includes 44 acute care and specialty (heart, children's, orthopedic and rehab) hospitals, more than 700 physician practices and outpatient facilities, 40,000 co-workers and more than 2,000 Mercy Clinic physicians in Arkansas, Kansas, Missouri and Oklahoma. Mercy also has outreach ministries in Arkansas, Louisiana, Mississippi and Texas. 
Practices