ARDMORE, Okla. -- Every day is a new opportunity to help more patients receive the care they need inside and outside the hospital doors for Tina Callender and Jennet Dugger.
As emergency department care navigators at Mercy Hospital Ardmore, Callender and Dugger wear a lot of different hats as they expertly navigate uncertain waters for patients, while providing comfort and compassion.
On any given day, the dynamic duo may help a patient access their medication upon hospital discharge; arrange transportation; set up medical appointments for follow-up care; help patients complete their advanced directives or do-not-resuscitate (DNR) forms; or follow up with patients if doctors determine additional treatment is necessary based on test results that come in after the patient is discharged.
If a patient does not have a home or access to food, they may provide a list of homeless shelters and food pantries, and may even arrange transportation to a shelter. They also work closely with child advocacy groups and Child Protective Services in cases where child abuse is suspected.
"We take a load off the trauma nurses so they can spend more time caring for patients at the bedside," said Dugger. "Before hiring care navigators, if a patient needed help getting their medicine filled, a nurse would have to stop to work on that, which would divert them from patient care. Or, if a person needed help with a DNR or had questions about a nursing home or a referral to home health, the nurse would have to do those tasks. Now, they don't have to do that."
Personalized Emergency Care
About a year and a half ago, leaders at Mercy Hospital Ardmore hired Callender as a care navigator in the emergency department and were so amazed by the results that they hired Dugger about a year later to fill a second full-time position.
Both long-time registered nurses with emergency department experience, Callender and Dugger offer a clinical perspective to their interactions with patients, which adds an extra layer of patient safety.
One of their main roles is to review all lab test results that come back positive to make sure the patient received the correct treatment in the emergency department before discharge. In some cases, it can take a few days for lab results to come back, which is well after patients are discharged.
Recently, a 2-year-old came into the emergency department with symptoms similar to strep throat. The rapid strep test in the emergency department came back negative and the patient was sent home. After growing the culture and testing it about 24 hours later, doctors determined that the rapid strep test produced a false negative and the toddler did have strep throat.
In this instance, Callender reviewed the lab results and the diagnosis in the emergency department; worked with the emergency department physician to get a prescription written; and followed up with the family to share the results and find out what pharmacy they would like the prescription sent to.  
In addition to following up on lab results, Callender and Dugger review all imaging test results to ensure the emergency department physicians interpreted them the same as the radiologist, who often looks over the tests after a patient has been discharged from the emergency department.
If there is a discrepancy in their assessments, or if imaging results were unavailable upon discharge, Callender and Dugger will reach out to the patient and may arrange additional treatment or follow-up care for them.
"With the care navigator roles, we are improving patient safety," said Callender. "By following up with patients after lab results come in, we are preventing someone from being admitted to the hospital due to an infection getting really severe. We are advocates for the patient because we keep them as healthy as possible by making sure they have the medication or treatment they need as quickly as we can."
Building Relationships
Beyond analyzing lab and imaging test results and connecting patients with the right treatments or follow-up care, both Callender and Dugger enjoy building relationships with patients while providing much-needed assistance to improve their health and their lives.
"It makes me very happy that I do what I do," said Dugger.
A few months ago, a lady came to the emergency department with significant pelvic pain and needed a hysterectomy. Unfortunately, she did not have money for the procedure. Dugger connected her to a specialist and even helped her complete a financial assistance application so she could receive the recommended treatment. After seeing the specialist, she called to thank Dugger for her help.
Similarly, Callender recently helped a patient fill out an application to receive a free supply of medication for one year from a pharmaceutical company because she did not have the financial resources to afford the medication on her own.
"Tina and Jennet are compassionate, assertive, caring and very helpful to all staff," said Lea Brown, emergency department manager at Mercy Hospital Ardmore. "They take time to sit and talk to patients about their diagnosis, prognosis, treatment plan and expected course of illness, then help them get the care and services they need when they leave our facility. Since joining the team in the care navigator roles, they have improved communication between care team members and increased efficiency in the emergency department."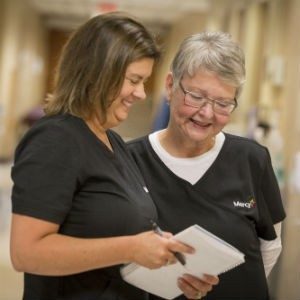 Tina Callender (left) and Jennet Dugger (right), emergency department care navigators at Mercy Hospital Ardmore, spend their days talking to patients about their diagnoses, prognoses and treatment plans. They also help patients receive the care they need once they leave the hospital.