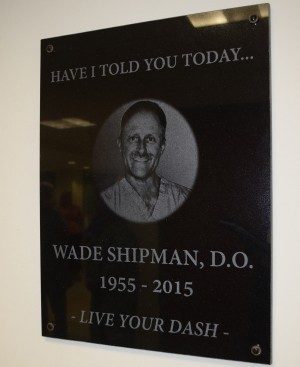 By Mercy's Madelynn Innes
Last summer, when Dr. Shipman, a member of Mercy's Anesthesiology Group, died tragically in a bicycle accident, his family and colleagues knew his legacy must live on. This year, his wife, Shanne, and daughter, Cara, joined several from Mercy to dedicate the stones at each of Mercy's four surgery locations in Springfield. 
"They're made from granite to signify his timeless legacy," said Perioperative Services Administrative Director Kimberly Peterie, who worked with the Shipman family to create the stones. "Now, as we continue in his footsteps, he would want us to think about living our dash and how we would want to be remembered."
As co-workers gathered in the third floor hallway for the dedication of the legacy stone at Mercy Hospital Springfield's main operating room, others shared these memories:
"The first time I met him, he walked up to me and asked, 'Have you met Dr. Shipman?' I said I hadn't, and he replied, 'He's going to become your best friend! And he did – he was my best friend."
"He was like a father figure to me."
"Anyone can yell loudly at others to gain attention, but that was never Wade. In fact, in the 25 years that I had the distinct pleasure of practicing with him, I can never recall a time that he ever said anything negative about a co-worker or patient."
"He lifted people up to help them be the best that they could be."
"We are each his legacy because he planted seeds of appreciation in each of us."
At the end of the dedication, Bill Hennessey, vice president of Mission Services, closed with this prayer: "We ask that all who pass by these stones be reminded of a life lived faithfully and joyfully. May those who pass by also be challenged to live their dash—to be proud of the work they do; to love more, appreciate more and forgive more."
Dr. Wade Shipman, lived every day as though it could be his last. And, in doing so, he "lived his dash," rarely missing the chance to share a kind word or ask how he could help.
In Dr. Shipman's honor, you are welcome to drop by the main operating room on the third floor of Mercy Hospital Springfield where you can purchase packets of sunflower seeds for $1 each. All proceeds will be given to the Dr. Wade Shipman Memorial Fund (www.wadeshipman.com).
Gifts to this fund will support scholarships for Missouri State University's School of Anesthesia, general education opportunities in the medical field and other worthy causes approved by an advisory council.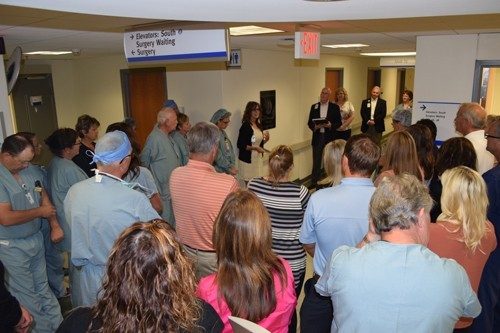 During the dedication ceremony, co-workers gathered in the Third Floor OR hallway at Mercy Hospital Springfield, where one of the four Shipman legacy stones is mounted on the wall.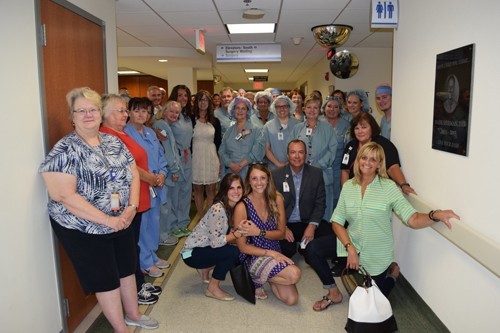 Dr. Shipman's wife, Shanne (kneeling at right), and daughter, Cara, along with a family friend, participated in the dedication.