It's the second day for the young doctors in a new community internal medicine residency program, but already the group's rapport is apparent.
The new friends tease each other and there is easy laughter. They just met in person but have been exchanging messages for weeks. As they answer questions, the doctors listen thoughtfully to one another, comfortable enough to interrupt and finish someone else's sentence.
To a person, they are humble, optimistic and community-oriented. They want to help people, to give back. They think they can make a difference in their patients' lives and the world.
Their reasons for becoming doctors are as diverse as their backgrounds. Dr. Sonia Chaudhary explains that it was her late mother's dream for her to become a physician. It's a difficult topic. Chaudhary's mother was very sick and didn't have good medical care. She secured a promise from Chaudhary's husband that he would see her daughter through medical school, a promise he clearly kept.
"If I can make anyone's life better, that is the most important thing," she says.
Dr. Kristopher Stepps listens intently as Chaudhary speaks. "Thank you for sharing with us," he says. "I feel like I've become part of your journey."
The doctors are already working together as a unit, something Dr. Naveen Kallarackal suspects the program's founders envisioned when selecting the residents. "This team feels very strong going in," he says.
All of the residents cite the influence of two men in their decision to accept a position in the fledgling residency program. They are Dr. Steve Goss, president of Mercy Clinic Northwest Arkansas, and Dr. Thomas Schulz, director of the internal medicine residency program at the University of Arkansas for Medical Sciences at its Northwest Arkansas campus.
Goss says the internal medicine residency program has been at least four years in the making. UAMS, Veterans Medical Center of the Ozarks in Fayetteville and Mercy Northwest Arkansas in Rogers collaborated to initially create eight residencies. The program will add eight residents over the next two years for a total of 24 residents by the program's third year.
The doctors will do clinical rotations at the two hospitals and a clinic at UAMS in Fayetteville. They will also continue their medical education in coursework via videoconference from UAMS in Little Rock.
Internists focus on prevention, diagnosis and treatment of diseases in adults and typically don't do surgery. Mercy supported the focus on internal medicine because it's an area that will give young doctors broad experience, Goss says.
Other hospitals in the Mercy health system have residency programs, but this is something new for Mercy Northwest Arkansas, Goss says. Mercy wanted to participate in the program in part to help address the doctor shortage in Northwest Arkansas.
"We need more doctors everywhere and particularly in Northwest Arkansas, as fast as we're growing," he says. "One of our larger needs is to find doctors to take care of adults and older adults."
A good majority of residents will choose to work near where they trained, so Mercy hopes to attract and retain some great candidates, Goss says.
"We see this as foundational to how Northwest Arkansas continues to grow. We need new doctors and we must offer top notch health care to the people who are moving here," he says.
Indeed, Dr. Michelle Valentine notes that most of the residents come from elsewhere but are already putting down roots. They have brought their families and bought homes.
"We want to be part of the community," she says.
Program organizers reviewed 240 applicants for the eight residencies and interviewed about three dozen candidates before choosing Chaudhary, Stepps, Kallarackal, Valentine, Chris Finlay, Nhanmy Huynh, Matthew Neoh and Mark Shelnutt.
Since it's a start-up program, it was important to recruit a very strong first class, Goss says. "And we have been very pleased," he says. "They are very motivated."
The young doctors recognize their role as pioneers - the first class of internal medicine residents in a program long needed in Northwest Arkansas. Expectations are high, and that's good.
"I wanted to look for a program where I wasn't just a number or employee. They took a genuine interest in me as a person and how to develop me into a better physician," Stepps says.
The program's chief clinicians inspired the young doctors. They are smart, caring, well-rounded, compassionate and involved, Valentine says.
 "I think that's why a lot of us ended up here," she says. "We saw in them what we want to become."
Officials continue to raise money to support the residency program. There's a significant gap between what the hospitals will be reimbursed and what the program actually costs, Goss says.
"We stepped out on some faith in this. We will be depending on philanthropy to ensure this program's success," he says.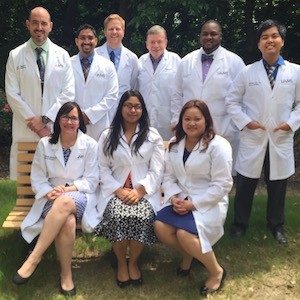 Residents with Dr. Robert Donnell (center, standing)